Supporting the skate ban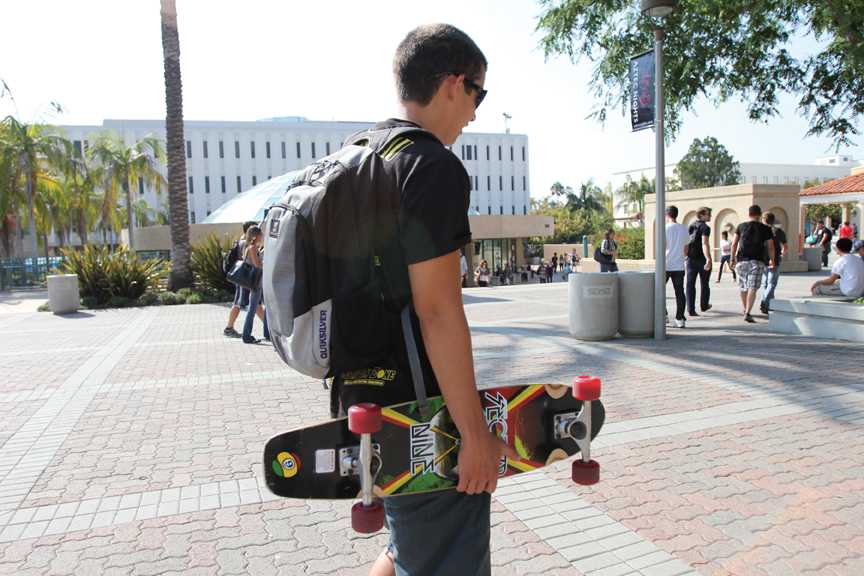 by Dr. William B Snavely
October 20, 2011
As Chair of San Diego State's University Senate, I've been asked to share my perspective on the skateboard issue.
I have had to put a filter to immediately delete all the "Lift the Ban on Skateboards" emails that have been spamming my email account, so I understand the desire of many students (although I do not appreciate your tactics).
The ban (SDSU Police Code 100.02E) has existed for many (15?) years. It is inaccurate to say the Senate banned skateboards this year. Last year, AS requested a trial period for the bike lane during which the police agreed not to give tickets for bikes and skateboards in the designated lane.
Police reportedly gave 95 citations campus-wide, but none in the lane. Senate's environment / safety committee reviewed the experiment last spring, observed that skateboarders rarely got off at the end of the bike lane, and proposed a resolution supporting the bike lane, but without skateboards.
This exclusion of skateboards did not pass the Senate. The bike lane was made "permanent" by the university starting this fall. SDSU Police went back to enforcing the existing Code that bans skateboards.
Clearly, skateboards are a part of many students' culture and they enjoy the ability to move quickly across campus on their boards. For many, it is an issue of fun and freedom. I personally have no problems with skateboards in general, although I have heard two problems:
Safety. When bikes and skateboards are off the bike lane, they can be dangerous. I'm convinced most skateboarders are well-skilled and rarely, if ever, run into pedestrians, but the fact is it happens more often than most boarders would like to admit. Example: last winter I had to traverse campus while disabled from a broken ankle. Despite being illegal off the path, skateboarders were all across campus, not just on the bike lane. In one case, the individual swerved around a group of people in front of Hepner Hall and just did not notice my crutches — they ran into one of them — thankfully I was able to keep my balance. In another, I was literally knocked down by a skateboarder while I was going up the curving handicap ramp near East Commons.
Damage. Skateboards are fun and part of it is tricks, even if those tricks damage walls, rails, benches, etc. The campus has installed hardware to prevent damage, but some still occurs. I recently observed an example in front of the Administration Building. This happened while the ban was in effect and being enforced — how much more damage would be done without the ban? If opponents of the ban are to be believed, there will be hundreds or even thousands more skateboards all across campus as soon as the ban is lifted. Proponents say we can make rules about wheels on the ground and staying off handicap ramps — how is that going to be any better enforced than it has under the ban?
So what do I think?
I like skateboards. As chair of Senate, I remain open to the arguments and will likely not take a position except to facilitate discussion and the reaching of consensus on our recommendation to the President, should the issue come to us. What might work? Limiting skateboards to the bike lane clearly did not work. I've heard complaints about the fine this year and have noticed fewer students riding on campus since it has been enforced, albeit sporadically. So, maybe the best idea is to lift the ban on skateboards but increase the fines for skateboarders who (1) run into pedestrians, (2) skateboard on a handicap ramp, or (3) perform any "wheels up" riding. Can boarders live with this? If skateboards did not run into people, did not use the ramps and did not cause damage, I am at a loss to know what objections there would be. Clearly, pedestrians should always have the right of way, it cannot be argued skateboarders should use handicap ramps and it is clearly in the university's interest to protect its property from damage.
As for the online petition that sends me emails each time someone "signs" it, no worries — I never see them — they go straight to the trash bin. Constructive and civil discourse always wins with me, and I suspect with most faculty and staff on campus. I look forward to the debate!

– Dr. William B. Snavely, Chair University Senate