ALBUM REVIEW: Appleseed Cast
by Staff
November 21, 2006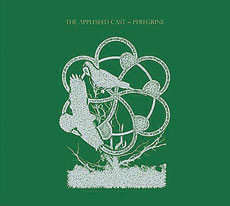 Guided by grinding guitars, solemn vocals and a healthy dose of electronica, it's easy to see why the members of The Appleseed Cast are more than happy to be called "America's closest answer to Radiohead" by All Music Guide.
However, with bluesy tunes and Dadaist lyrics in its new album, "Peregrine," such as, "An empty set of colors crawl / through the door into the wall" – which are almost lost within the orchestrated chaos – the band might be better labeled as hard rock's answer to Sparklehorse.
The album sets the tone from the start with the instrumental "Ceremony" – a "28 Days Later" soundtrack-esque guitar going through some CD-skip style effects, followed by the hints of cars driving by and storm clouds setting in before going into overdrive. It's enjoyable to hear modernity clash with the old ways.
One gets the impression of driving through a foggy, mountain road in the middle of the night, which permeates through the album. Many of the song titles take on a naturalistic theme, such as "Woodland Hunter," "Sunlit and Ascending" and "The Clock and the Storm," which clash with the aggressively artificial sounds.
In pop music terms, The Appleseed Cast is more similar to Green Day than Rush in the sense that its artistry isn't overtaken by the pretentiousness that overthinking an album can lead to. Instead, the band members seem to know that, beyond any would-be messages or narratives, the main purpose of an album is to give the listener's ears a good time.
Comparisons aside, The Appleseed Cast's latest album is a fulfilling enjoyment, crafting an atmospheric experience for those times you want to feel mystical, but don't want that hippie aftertaste.