Turkey and volleyball
by Staff
November 22, 2006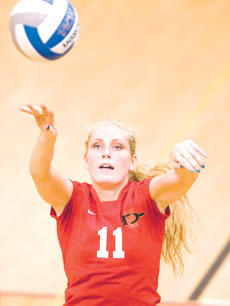 Andrew Huse, Contributing Photographer
No. 20 BYU is an intimidating opponent.
The Cougars went 13-3 in conference play, beat No. 3 Stanford in four games, and have a five-match winning streak heading into the Mountain West Conference Tournament.
In addition, BYU has won both its matches against the San Diego State volleyball team, capturing six of the seven games played by a total of 38 points.
On Nov. 23, SDSU (11-17, 5-11 in MWC) will get to play BYU in the opening round of the MWC Tournament in Las Vegas.
Happy Thanksgiving.
It doesn't seem to be a promising matchup, but the Aztecs are heading into it with their heads up.
SDSU is thankful it doesn't have to face UNLV – who will be playing in front of a home crowd – and believes it has an advantage matching up against BYU, despite the lopsided scores from the first two matches.
"We match up better with BYU than with (other teams)," associate head coach John Ross said. "If we had won (our last match) it would've been us against UNLV on their floor, and we don't like that matchup at all."
The Aztecs caught a break by avoiding the hometown Rebels, and they also think that the Cougars' height – they have eight players who are more than six feet tall – can be turned into an advantage for SDSU.
The team has fared better against taller teams throughout the year, recording better outings offensively and defensively.
"The reason we like (BYU) is the size factor," Ross said. "We play better against a big team like that, and we block them better on the whole."
The Cougars have an impressive record – 24 victories, which is more than double the Aztecs' total – and have swept 18 matches this year, but SDSU is not shying away.
The Aztecs said they were competitive in their last match against BYU, and they're not concerned with the Cougars' imposing regular-season record.
"I don't even know if (the players) realize how many wins and losses (BYU) has," Ross said. "If anything, we owe them after dropping the two matches this year."
Ross and his club are hoping they can give thanks for a victory. However, if the team wins, they'll have to stay in Las Vegas for the holiday.
"I don't know what the conference is planning for us," Ross said. "If we win we'll probably go someplace that has a nice Thanksgiving meal, but if we lose, we might just try to catch a flight home."