ALL THE WORLD'S A STAGE: San Diego gets 'Wicked'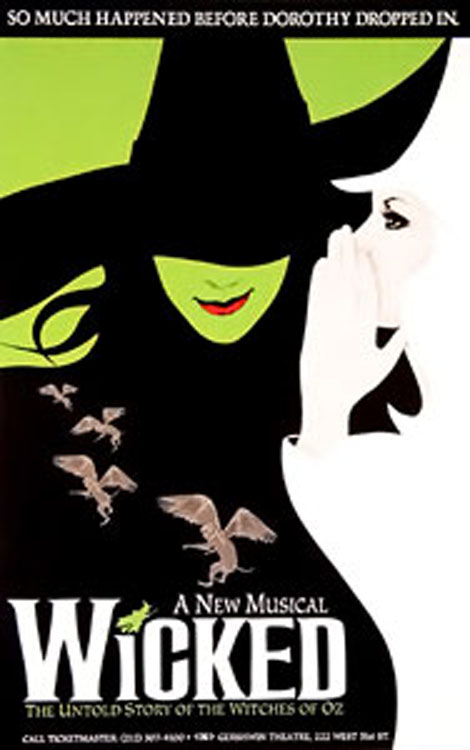 Courtesy of Wikipedia
With a musical score spanning multiple styles and an interesting story befitting both children and adults, "Wicked" has something for everyone to fall in love with. The story takes place at Shiz University where ultra-popular Glinda, soon to be renamed Glinda the Good Witch of the North, and the green-skinned social outcast Elphaba, aka the Wicked Witch of the West, are forced to be roommates. Ultimately, a strong friendship blooms, creating the crux of the entire plot.
Actress Katie Rose Clarke's turn as Glinda is lively and effervescent with a voice as lovely as that industrial-sized bubble she flies in on at the start of the first act. Meanwhile Donna Vivino plays a powerful Elphaba, working her character just where she needs to be as the misunderstood enemy with an absolute powerhouse set of pipes.
What also makes "Wicked" so mesmerizing is the production itself. Costume designer Susan Hilferty's creations are visually stunning, and Kenneth Posner's lighting effects easily suck the audience into another world onstage. The eye candy of this production alone is worth the ticket price.
"Wicked" has staying power because of its ability to show the unseen parts of a literary and film classic that has captivated generations. Originally, L. Frank Baum's classic novel told a story about a girl and her dog lost in another world in "The Wonderful Wizard of Oz." Next, Gregory Maguire's bestseller novel "Wicked" completed that picture by giving the back story on the Land of Oz. Now, Stephen Schwartz's music and Winnie Holzman's book take the story one step further by placing it on the stage.
The audience enjoys the homage to the original 1939 film when the party punch is described as having "Lemons and melons and pears, oh my!" Little additions such as this, coupled with the depth of the music and the palpable connection between the two friends, "Wicked" becomes an escapist fantasy with something for everyone to enjoy.
"Wicked" will be playing at the San Diego Civic Theatre until its final curtain call in on Aug. 30. Balcony seats are approximately $30, while the best seats in the house are upward of $130.
It is perfect for those who dig other ultra-popular musicals such as "Hairspray" or "Rent." Even The New York Times calls "Wicked" "Broadway's biggest blockbuster." And what works on Broadway has definitely transferred well to San Diego with this touring cast.