New networking site is just for students
Hang on for a minute...we're trying to find some more stories you might like.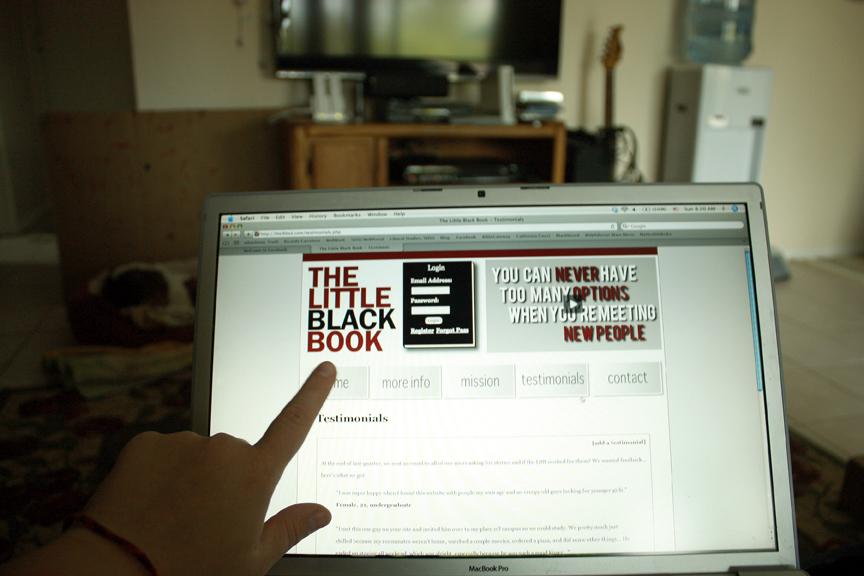 Julie Romig / Staff Photographer
San Diego State students are finding new ways to connect online with the local college community. Breaking into the San Diego college scene just this year, thelbbsd.com, or The Little Black Book, is a social networking site exclusively for students who attend SDSU, University of San Diego, Point Loma Nazarene and UC San Diego.
Though The Little Black Book may seem like another Facebook or eHarmony, this network offers some unique features. Students are matched with others with similar interests, who are close in age and easy to get in touch with, all through a new, social avenue.
"I wanted to create a website where college students could meet other college students," JP Carroll, the founder of The Little Black Book, said. "Given the lack of options when it came to safe (i.e. without hate speech, pornographic images or much older users) and free online dating services exclusively for college students, this was the direction I originally decided to go in."
Members create a profile based on preferences of music, movies, hobbies and other general interests. Dating options are possible with its "match" section, which pairs users with as many as five potential candidates every day.
The website also includes a "hot spots" section where meeting places are suggested. The "daring pairing" service gives users a chance to be set up on blind dates. With 1,219 members and counting, this website serves as an innovative outlet for safe and engaging interaction among San Diego's educated student body.
"We think the LBBSD is special in that it provides introductions and thus has the ability to connect like-minded people who might never have met otherwise," Carroll said. "As a college graduate, I've learned that having a diverse array of social connections is extremely important.
"In college, it can be pretty easy to get caught up in a specific scene," Carroll said. "There is absolutely nothing wrong with this, but if you'd like to expand your scene, thelbbsd.com would love to help. If there's also a little romance worked in there, we're OK with that. This is college after all."