MEN'S BASKETBALL: Spain shines as Aztecs roll over Bulldogs
by Staff
November 22, 2008
Hang on for a minute...we're trying to find some more stories you might like.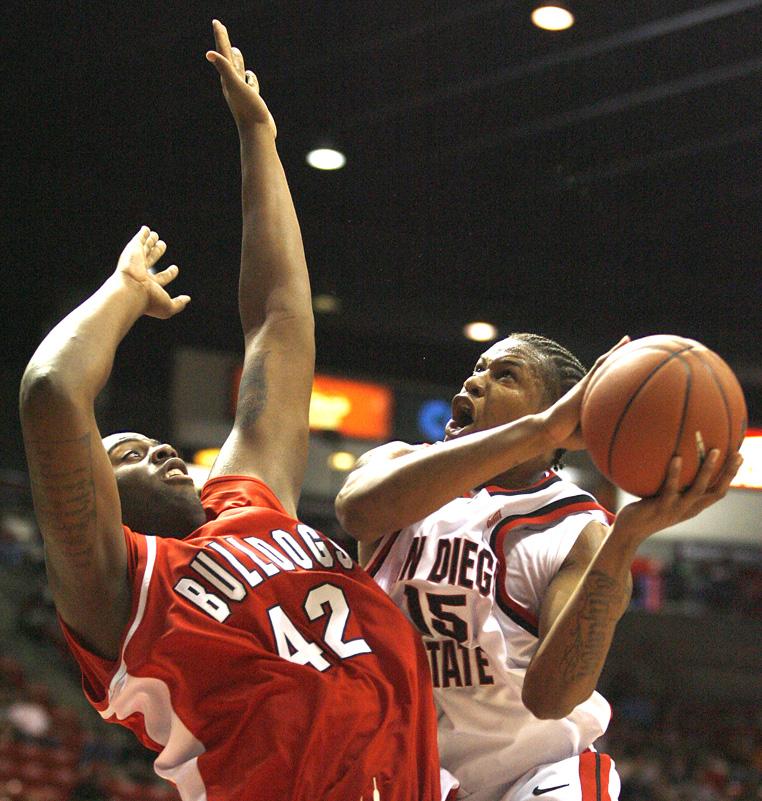 Glenn Connelly / Assistant Photo Editor
When Kyle Spain left his feet, fighting off two members of the Fresno State men's basketball team, he couldn't quite gain possession of the offensive rebound.
The ball, swatted almost simultaneously by six arms, flew violently toward the San Diego State basket, bounced off the backboard and somehow found its way in for two points.
As the PA announcer yelled out Spain's name to 5,034 fans at Cox Arena, one thing was clear: It was going to be that kind of day for the senior forward.
Spain finished with his third career double-double 8212; and first since his freshman year 8212; to help SDSU run away from the Bulldogs 80-56 on Saturday.
Even more impressive than the 24-point victory against an athletic Fresno State team was Spain's line. He tied his career-high with 22 points, was one short of his personal best 12 rebounds and added three assists for good measure, all without turning the ball over a single time.
"I made an effort to really go get the rebounds today," Spain said. "That was my main focus in the game."
After watching him average just three rebounds in the Aztecs' first two games, head coach Steve Fisher took notice of Spain's knack for getting boards against Fresno State.
"He hadn't rebounded very well in the previous exhibition and two games," Fisher said. "Today he had five offensive and six defensive rebounds, so he was really good."
The offense was solid for SDSU, but the defense was even more impressive. The Bulldogs (1-2) were coming off an 85-point performance against a Saint Mary's team that sits just outside the polls. But Fresno State shot under 37 percent from the field and turned the ball over 14 times against the Aztecs (2-1).
"Fresno State is an extremely athletic, although young, team," Fisher said. "I think we had something to do with how they played. If you watch the tape of them against Saint Mary's, they were much more efficient offensively (in that game) and had a lot easier time getting shots."
Freshman guard Paul George, who scored 25 points and grabbed 10 rebounds against the Gaels, was recruited by SDSU, but chose to go to Fresno State because of playing time.
"I wanted to come to Fresno State just to be able to play," George said. "San Diego State has a pretty nice rotation, so that probably would have meant about 10 minutes for myself."
Although George led the Bulldogs with 32 minutes against the Aztecs, he was limited to just two points.
"I just tried to force it, which is totally out of my character," George said. "I have to let the game come to me and play comfortably."