FOOTBALL: Injury can?t keep senior guard off the field
by Staff
November 23, 2008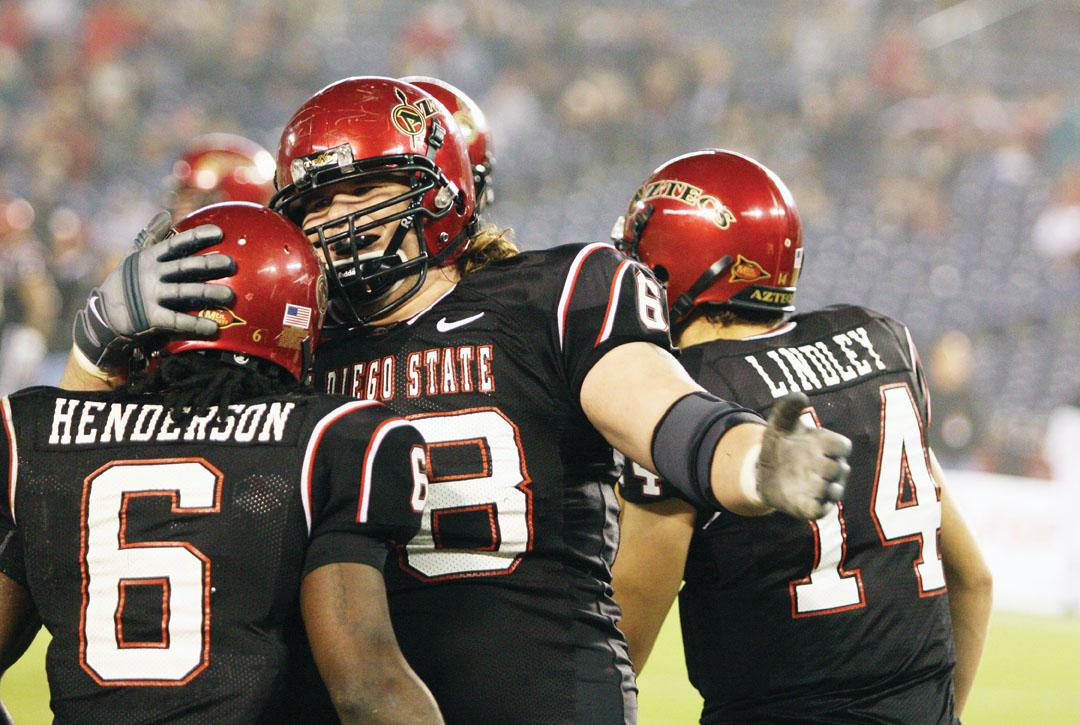 David J. Olender / Photo Editor
Mike Schmidt wouldn't go as far as to say unsung, but on a team full of seniors such as wide receiver Darren Mougey, running back Tyler Campbell and linebacker Russell Allen, Schmidt knows where he stands on the San Diego State football team's senior totem pole.
"They are the guys with the bright futures," Schmidt said of his senior teammates.
But what Schmidt 8212; a 6-foot-2-inch, 320-pound left guard 8212; did on Saturday night against UNLV might be more impressive than anything his senior counterparts have done in their entire careers. Schmidt, who tore his medial collateral ligament two weeks ago, was supposed to never play football again. The knee injury should have kept him out for four to six weeks, and possibly longer with a pending surgery.
But there was Schmidt, who had missed SDSU's two previous games against BYU and Utah, on the offense's first drive of Senior Night. As redshirt freshman quarterback Ryan Lindley put it, he was "strapped up and ready to go."
"I don't even think Mike has bent his knee the past three weeks and all of the sudden I just see him out there," Lindley said. "When guys do stuff like that you build a bond with them. He's a warrior."
Schmidt has been fighting his whole career with the Aztecs. As a walk-on in 2005, Schmidt played on the defensive line and earned playing time in three games. When he switched to the offensive line in 2006, it didn't take Schmidt long to earn a scholarship in 2007. In his collegiate career, the senior started 23 games and was the unquestioned leader of the offensive line this season.
"I've really enjoyed coaching him for his three years here," said Chuck Long, who was fired as head coach yesterday. "He earned it the hard way."
Schmidt injured his knee in practice following the team's 35-10 loss to Wyoming and thought he would never play football again. But last Thursday, Schmidt said he made up his mind that he was going to play against the Rebels on Senior Night.
"It probably is my last football game and I wanted to go out playing," Schmidt said. "I didn't want to go out sitting. I went out in warm-ups and (offensive line) coach (Jonathan) Himebauch said if I go out there and move around and do the job then I can play."
Despite playing only a few snaps in the first quarter, Schmidt was able to go almost the entire second half. He admitted he felt pain, but adrenaline allowed him to keep competing. Schmidt and the offensive line didn't allow a sack and paved the way for an offense that piled up 479 total yards.
"I was so happy to get back in there with the guys," Schmidt said. "I really didn't believe I would play again."
Schmidt said he will undergo an MRI later this week to determine if surgery is necessary. As for the pain, a win on Senior Night might just be the cure-all.
"It's sore, obviously," Schmidt said. "But with this win it makes it feel a lot better."