FOOTBALL: Aztecs finish season with first MWC win
by Staff
November 22, 2008
Hang on for a minute...we're trying to find some more stories you might like.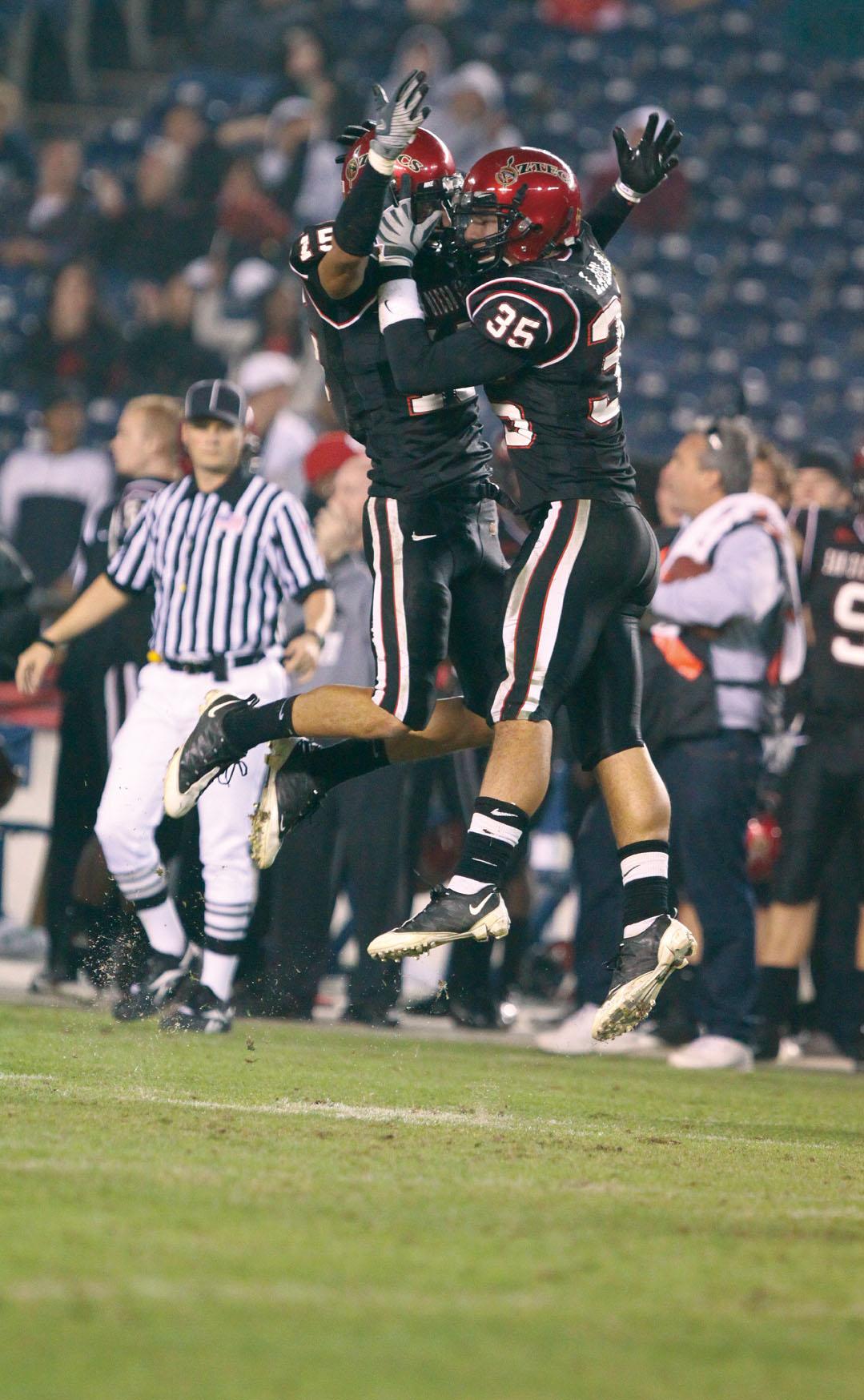 David J. Olender / Photo Editor
With less than 18,000 people in attendance at Qualcomm Stadium (closer to 10,000 if you don't count the thousands of elementary school students who were there to perform at halftime or the parents who were there to watch them), it could have been a nice quiet way for the San Diego State football team to lose again and bring a merciful end to one of the worst seasons in program history.
But on Saturday's Senior Night, SDSU played an all-around solid game and sent its graduating players out on a high note, defeating UNLV 42-21, bringing the Aztec's record to 2-10 (1-7 in Mountain West Conference play). With the win, SDSU knocked the Rebels down to 5-7 (2-6 MWC) and out of bowl contention.
"It was a great victory for the Aztecs and I'm very proud of their effort," said Chuck Long, who was fired yesterday as head coach. "It was a senior bowl theme this week and we had a great time in practice. We made it fun for them and they really responded tonight."
In their final game, many seniors combined for big performances to cement the Aztecs' first and only conference win of the year.
Senior running back Tyler Campbell amassed just 23 rushing yards but scored two touchdowns and converted on a crucial 4th-and-1 in the fourth quarter.
Defensively, senior Corey Boudreaux scored on a late pick-six, notching in his first career touchdown and sealing the victory for the SDSU. Meanwhile, his classmate, Siaosi Fifita, who has been in and out of the starting lineup because of injuries, recorded a tackle and recovered a fumble that led to an Aztec touchdown.
Although the seniors grabbed most of the headlines, a few underclassmen came up huge on offense. Redshirt freshman Ryan Lindley completed 35 passes (tied for third most by an SDSU quarterback in a single game) for 387 yards and two touchdowns, while sophomore receivers Vincent Brown and Alston Umuolo each had eight catches for 119 and 74 yards, respectively.
"Lindley had a great night," Long said. "You saw a glimpse of his future tonight and I'm really proud of what he did with the offense."
As the Aztecs reflect on their past and say goodbye to their seniors, Lindley stands as a beacon of hope for the future of the team.
"From the moment he came to this school, his maturity level has been through the roof," Campbell said of Lindley. "He is so impressive in how he soaks up the game and the time he puts in on and off the field. This program is lucky to have this man here for the next couple of years."
Senior linebacker Russell Allen, the SDSU player with most hype surrounding a possible future in the NFL, had four tackles on four attempts, but what stood out for him on Saturday night wasn't something you could find in a stat sheet.
"This is a huge part of my life," Allen said. "It's a good end to it. It's a good feeling."
A visibly choked-up Allen was full of emotion in the post-game press conference, as he reminisced on his time as an Aztec.
"(What I'm going to miss most is) just the guys," Allen said. "The relationships that you build, the times in the locker room, the practice field, the conditioning times and all those things. Those relationships that you build will last a lifetime."