FOOTBALL: Wyoming preview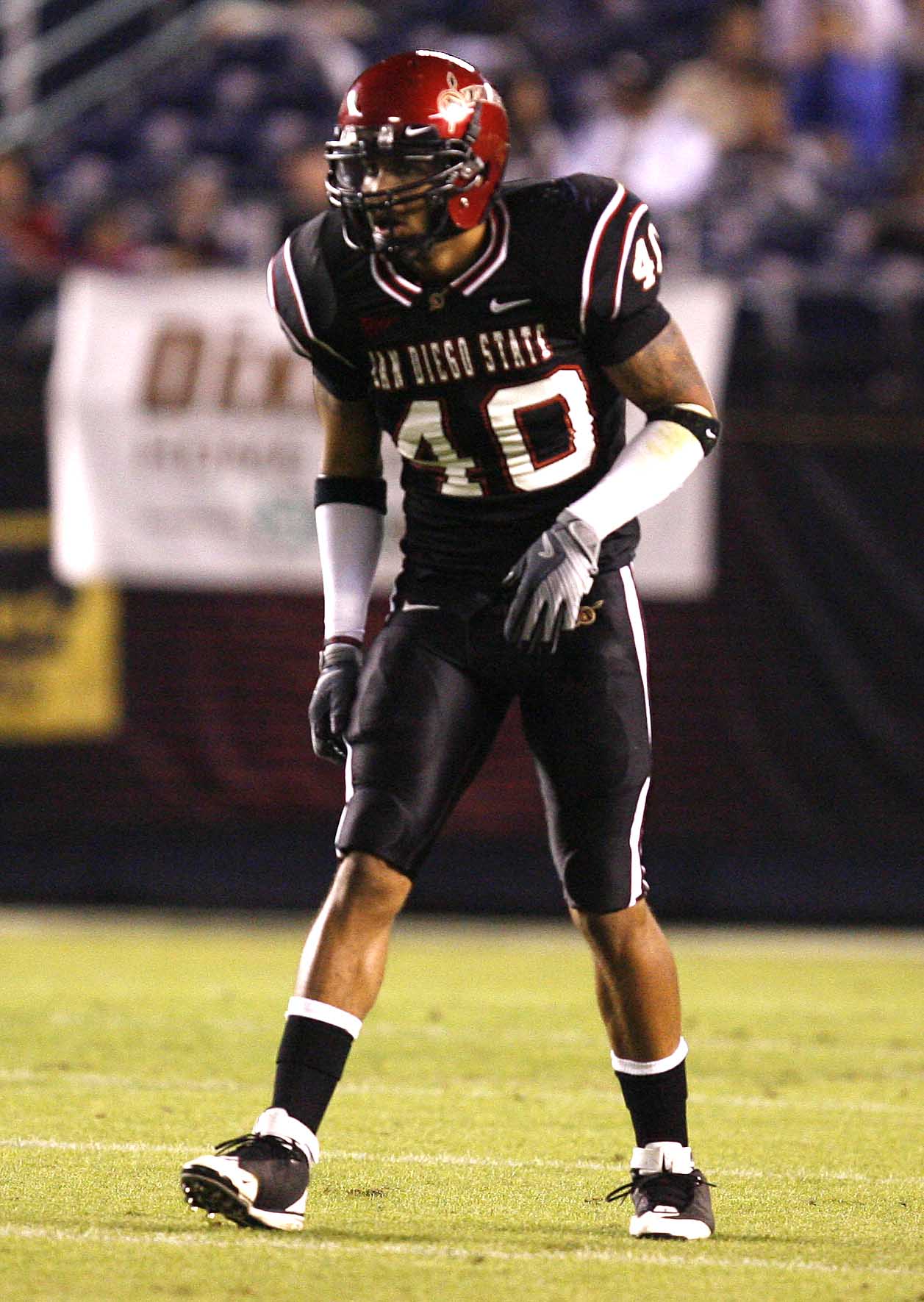 Glenn Connelly / Assistant Photo Editor
At a glance:
Who: SDSU vs. Wyoming
What: The Aztecs open the second half of Mountain West Conference play against Wyoming.
Where: War Memorial Stadium
When: 11 a.m., Saturday
TV: The Mtn.
Radio: AM-600 KOGO (San Diego)
Live in-game blog: www.thedailyaztec.com
The big issue
While the San Diego State football team's record may have dropped to 1-7 with a four-point loss to Colorado State this past weekend, the team's inspired play has head coach Chuck Long excited about Saturday's matchup against Wyoming.
"I was proud of our staff and our team for getting off the mat from the week before," Long said, "going through a tough week of hearing about it and showing some pride in our football game Saturday night in front of our hometown crowd."
After falling 70-7 to New Mexico two weeks ago, SDSU tallied 34 points and even ran the ball for 232 yards against the Rams 8212; 157 more than their season average of 75. Despite their efforts, the Aztecs were unable to pull out a victory in a game in which they scored on a 93-yard kick return and a 72-yard run late in the third quarter to keep the match close.
"We have had the lead in the fourth quarter a few times, but we just haven't been able to finish and we need to learn how to do that," Long said. "We need to get over that hump of finishing football games and we will continue to strive toward that."
A struggling Cowboys squad might be the cure for what ails SDSU. Wyoming has been outscored 207 to 30 in its last five games and gave up 444 yards to TCU in last weekend's 54-7 blowout.
"They are a team that is in a similar situation that we're in, but it doesn't change our approach," senior linebacker Russell Allen said. "It is just an opportunity for us to go out and hopefully get a win."
Key matchups
When the Aztecs have the ball:
With the sudden emergence of junior running back Atiyyah Henderson, Ryan Lindley can breathe a little easier. Playing with an injured shoulder, the redshirt freshman quarterback admitted he still feels pain when he throws. However, seeing a 232-yard rushing performance from his backs this past Saturday had to make him feel better. Henderson ran for 177 yards and two touchdowns, providing the offense with a dimension they have lacked nearly all season.
"I sense that our offensive line is gelling more and more," Long said. "So, as their confidence grows, we can start to expand a little bit more and that is why the running game is effective."
One of the key components of the offensive line, sophomore center Trask Iosefa (below left), has performed well this season, but will need to be ready for Wyoming outside linebacker Mike Juergens (below right). The 6-foot-4, 230-pound senior leads the Cowboys with 5 1/2 sacks and is fifth on the team with 41 tackles. The Aztecs, who didn't allow a sack this past Saturday, have given up 18 sacks through eight games this season.
When the Cowboys have the ball:
It's no secret SDSU hasn't been able to stop the run this year, allowing a nation-worst 282.1 rushing yards per game, so stopping Wyoming running back Devin Moore (above right) will be key. If the Aztecs want to pick up their first MWC victory of the season, they will have to contain the the conference's second leading rusher, who has compiled 802 yards and four touchdowns this season.
"We know they are going to try and run the ball on us because that is their strength," Long said. "Moore is very dangerous and is coming off a good rushing effort against the No. 1 defense in TCU."
Senior defensive back Corey Boudreaux (above left) has been one of SDSU's best run stoppers this season, tallying 63 tackles. Against Air Force earlier this season, Boudreaux recorded a career-high 21 tackles. With the injury situation across the defensive line not looking any better for this weekend's game, the Aztecs will have to rely on Boudreaux and the linebackers to consistently make stops.
Prime Numbers

| | | |
| --- | --- | --- |
| | SDSU | Wyoming |
| Record | 1-7, 0-4 MWC | 2-6, 0-5 MWC |
| Pass yards per game | 220.8 | 98 |
| Rush yards per game | 72 | 154 |
| Total yards per game | 292.8 | 252 |
| Pass yards against per game | 179.8 | 181.5 |
| Rush yards against per game | 282.2 | 515.5 |
| Total yards against per game | 461.9 | 333 |
Aztec injury report
Defensive Tackle Neil Spencer: Shoulder (Out)
Left Tackle Mike Matamua: Foot (Out)
Center Tommie Draheim: Shoulder (Out)
Defensive End Tony DeMartinis: Knee (Out)
Defensive Tackle Ryan WIlliams: Head (Out)
Defensive Tackle Ernie Lawson: Ankle (Questionable)
Running Back Davon Brown: Shoulder (Questionable)
Wide Receiver Mekell Wesley: Back (Questionable)
Cornerback Jose Perez: Shoulder (Probable)
Quarterback Ryan Lindley:Shoulder (Probable)
Quarterback Drew Westling: Foot (Probable)
Forecasting the mountain
Editor's note: Each week, The Daily Aztec will pick the winners of everyMountain West Conference game.
SATURDAY, NOV. 1
San Diego State at Wyoming, Air Force at Army, No. 20 BYU at Colorado State, No. 10 Utah at New Mexico, No. 13 TCU at UNLV
Name: Edward Lewis (40-14)
Title: Sports Editor
Prediction: SDSU, Air Force, BYU, Utah, TCU
Quotable: "This will be the only time in my life I pick against a team named the Cowboys."
Name: David Pope (41-13)
Title: Assistant Sports Editor
Prediction: SDSU, Air Force, BYU, Utah, TCU
Quotable: "Last week, I almost looked smart for picking the Aztecs to win; this week, I hope to look like almost a genius."
Name: Eric Shannon (42-12)
Title: Managing Editor
Prediction: Wyoming, Air Force, BYU, Utah, TCU
Quotable: "Tsk, tsk. When are you chumps gonna learn not to pick SDSU?"
Name: Glenn Connelly (35-19)
Title: Assistant Photo Editor
Prediction: Wyoming, Air Force, BYU, New Mexico, TCU
Quotable: "I haven't completely given up hope yet … Expect some Hail Mary's in the new two weeks."