The deep blue dive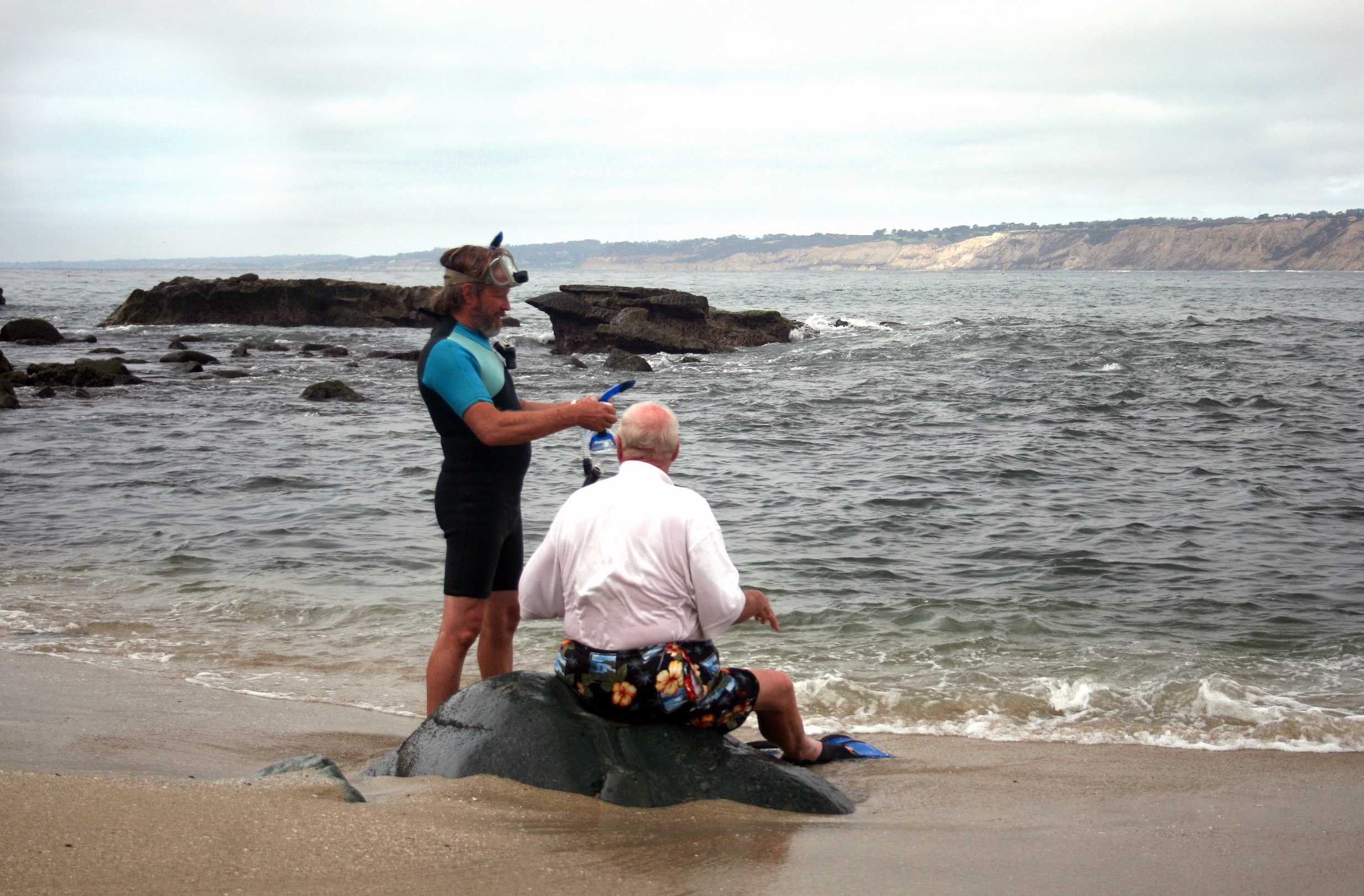 Jason Payne / Staff Photographer
Many people who reside in San Diego usually travel thousands of miles, be it to Hawaii or the Caribbean for snorkeling and various water adventures. For some people, it may come as a surprise that in the high-end burg of La Jolla, snorkeling is as big of an attraction to those visiting San Diego, as it is in other resort-oriented regions of the world.
One of the most popular places to snorkel in San Diego is La Jolla Cove, situated inside the Ecological Reserve inside the San Diego La Jolla Underwater Park. People hoping to see various marine wildlife will not be disappointed in what they find here.
The Ecological Reserve was set up in 1971 by the San Diego City Council to protect all the landforms and plant and marine life. To this day, it still offers much to see for any visitor.
"La Jolla Cove is a big attraction," Curtis Lee, manager of Bike and Kayak Tours, Inc., one of the several coastal outfitters in La Jolla, said. "People are very ecstatic to see all the wildlife."
On a good day, an adventurous snorkeler can see leopard sharks, dolphins, lobsters and even sea turtles. The Garibaldi, California's state fish, is not in short supply either.
While anyone referring to a calendar will see that summer is officially over, there is still time to experience the underwater wonders of La Jolla Cove. You better hurry though, as the water visibility changes and swells get bigger by the end of October, leaving you to wait until things pick up again early next year.
Lee also said that once the weather changes, kayakers will be the ones to take over most of the space in the region.
He noted that snorkeling in San Diego is a lot different than in tropical regions. At times, it can be disappointing to some. While there may be a large difference in the kinds of marine life, it doesn't mean that it's less of a journey.
"It's a very different experience (than the tropics)," Lee said, "but seeing leopard sharks is unique and for some it's an once in a lifetime experience."
If you are new to the snorkeling experience, there are a few options available to better enjoy your aquatic adventure. Outfitters like Bike and Kayak Tours, Inc., La Jolla Kayak and CalActive offer guided snorkel tours in La Jolla Cove and surrounding areas in the Ecological Reserve. Some of these tours, which run for about two hours, can cost between $20 and $40 depending on your company of choice.
Most of the tours will show newcomers the ropes of using the fins, snorkel and mask that many veterans already own or rent.
While you may get a knowledgeable guide to show you through some of the depths of the water, it's no guarantee of a crisp view during your journey.
With that in mind, if you have a friend or two who have already snorkeled in the area, or have snorkeled extensively elsewhere in the world, La Jolla Cove would not be a daunting task without a tour.
The cove area and the nearby sea caves are the perfect size to explore on your own or with a friend without fear of getting carried away too far from shore.
La Jolla Cove is a great place for anyone in San Diego looking for an adventure close to home, no matter how you plan to see everything.
When you do get your chance to go see everything, don't forget to remember one thing. The area that the cove occupies is part of an ecological reserve, so be sure not to disturb or touch any of the plant or animal life found in the water. Others should get a chance to experience and see everything you did too.