Condoms featured on runway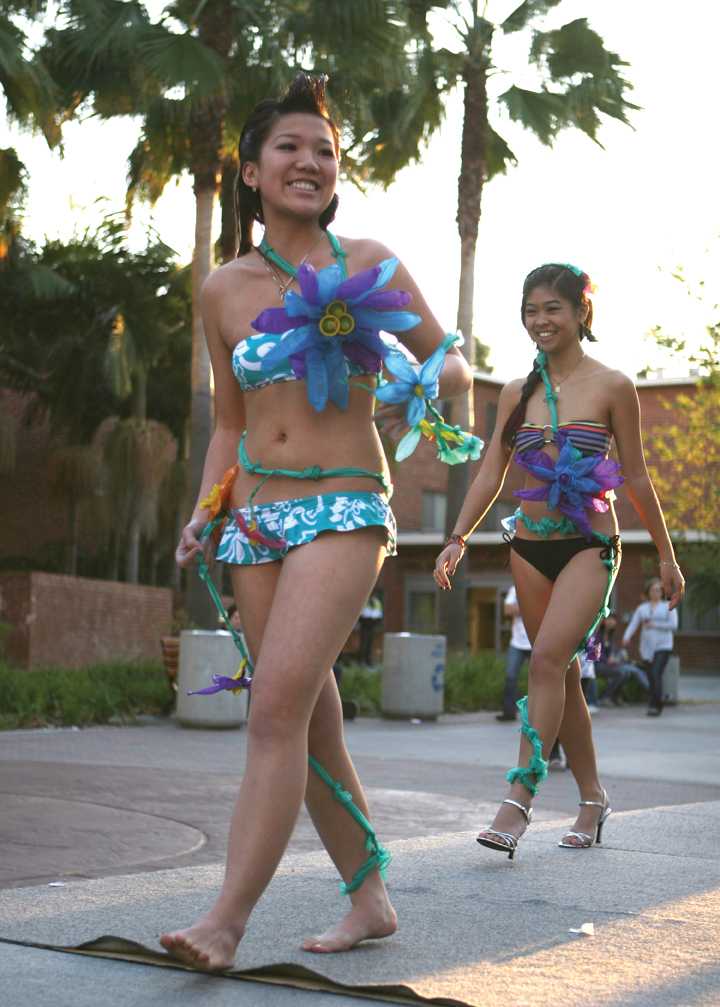 In an effort to promote safe sex, students put on a condom fashion show while handing out contracept
A man painted metallic blue posed with condom-decorated attire last Thursday on the Cuicacalli Residence Hall walkway. He was costumed as an avatar, complete with a spear and condom headdress for the Residence Hall Association's second annual Condom Fashion Show, aiming to promote safe sex.
"I came to this event because we saw this Condom Fashion Show sign and we thought how fun it would be and how interesting it was because we didn't know what it was about," a student in attendance said before the show.
"Residents in the halls basically just go to the information sessions the professional staff has and it's kind of awkward because they don't want to get the information from somebody they're living with," Celena Martinez, the Condom Fashion Show director, said.
"So this actually helps people come out of their shells and become more informed and educated (about safe sexual practices)."
"I think contraception is a very, very important topic that most students our age should be aware of," model Nick Vu, said. "I mean, everyone loves a fashion show. Who doesn't like a fashion show? It kind of combines their interests."
The jungle-themed event featured eight models, seven women and one man, clad in condom dresses, bikinis and other outfits fastened with the contraceptive tool and designed by San Diego State students.
"It is very hard to find something that will stick latex un-lubricated condoms to cotton," journalism and media studies freshman and one of the designers, Katlyn Jordan, said. "I tried sewing them, which did not work very well, and we found out that Krazy Glue works, but it also stings and burns a little bit and is very, very, very sticky so that was hard."
Lily Khuu, last year's Condom Fashion Show's co-director, designed and modeled one of her outfits on the runway.
"We wanted to spread awareness for STDs, AIDS and sexual education because of our (school's) reputation; we want people to realize we are safe," Khuu said.
Martinez bought 2,000 non-lubricated condoms online for the outfits, and received 200 condoms from the Calpulli Center and 100 condoms from Planned Parenthood, which were distributed to the audience during the event.
To educate the audience about safe sex, the RHA quizzed the audience about sexually transmitted diseases and contraception between clothing changes.
"I wasn't able to get publicity approved in time and I ended up having to make posters that day and put them in the residence halls, so publicity was lacking this year," Martinez said.
Next year, RHA hopes to expand the event to involve all students, not just residents, and collaborate with Associated Students' Cultural Arts & Special Events to bring more awareness, Martinez said.