"Wade"-ing the waters
by Staff
November 12, 2008
Hang on for a minute...we're trying to find some more stories you might like.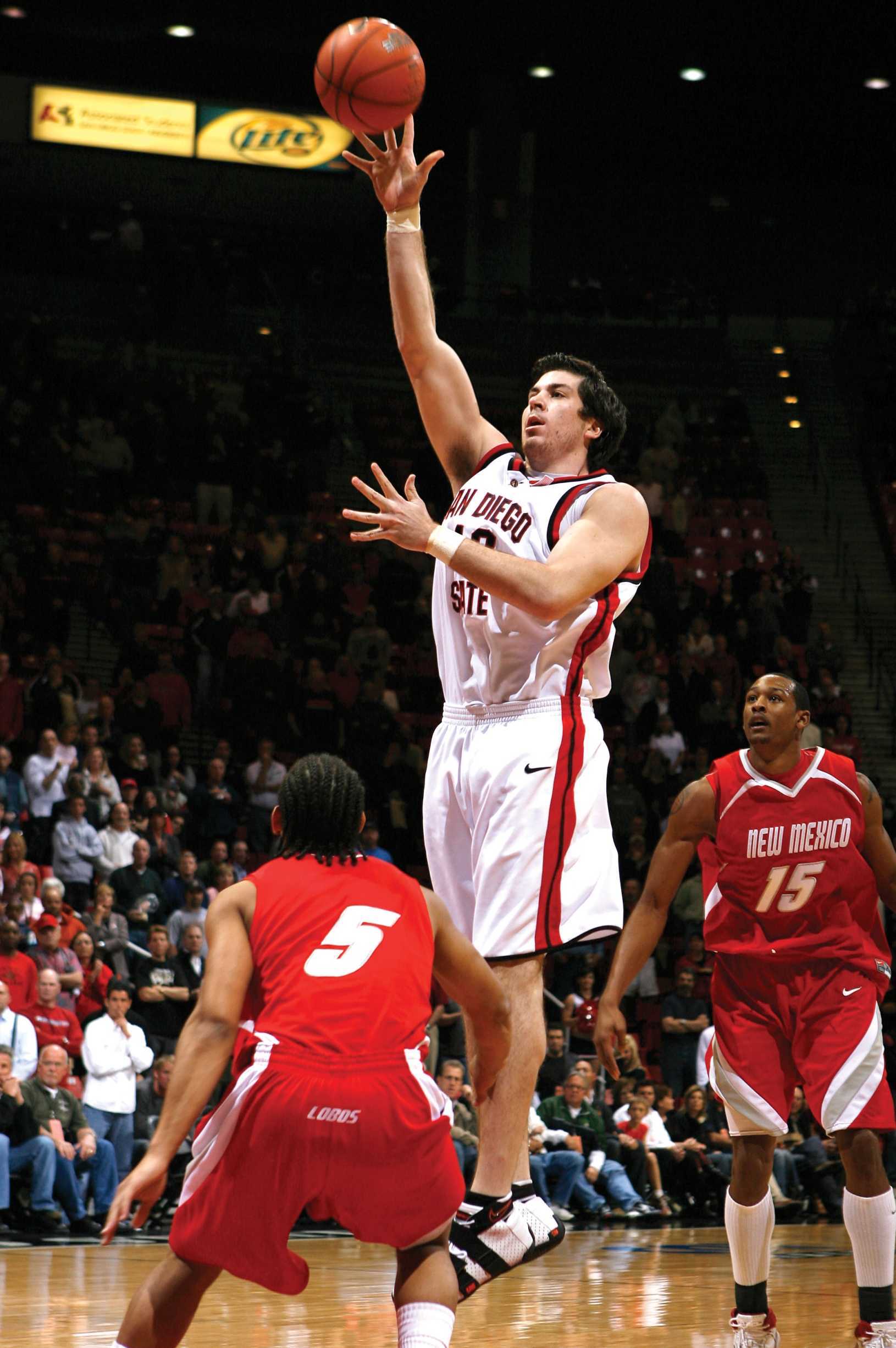 Photos by Glenn Connelly / Assistant Photo Editor
How did Billy White get himself into this situation?
What would possess him to agree to this?
Did he really think it was a good idea?
If he could do it all over, there's no way he would say "yes" again. Not with the current look on his face 8212; one of pure anguish.
Yet somehow, the sophomore forward finds himself playing one-on-one after practice. With Brandon Heath. Yes, that Brandon Heath. The Brandon Heath that left the school two seasons ago as the all-time leading scorer in Mountain West Conference history and one of the best to ever step on the court for the San Diego State men's basketball team.
Poor Billy White. The shy, lanky big man gets picked apart by the guard, and everyone lets him know about it. His coaches are laughing, his teammates are berating him and Heath, well, let's just say he talks a mean game.
On the surface, it looks like fun and games. The wily veteran comes back for a visit and shows off at the expense of the up-and-coming, reigning MWC Freshman of the Year.
There was something else at play here, however. White didn't want to be on the court with Heath, as the center of attention. He didn't want to have to take that jumper when everyone was watching. His contorted face told that story. This wasn't his role.
So how did White get himself into this situation? The real questions is, who else was Heath supposed to play?
Heath shouldn't have been there picking on White. He shouldn't have been there proving he is faster than Ryan Amoroso or can shoot better than D.J. Gay or is more complete than Kyle Spain. He should have been there testing the next Brandon Heath: the one player who takes over games, comes up with the big shot and tells everybody within hearing range about it.
Heath should have been there playing Lorrenzo Wade.
Unfortunately for SDSU, Wade was nowhere to be found. The first-team all-MWC forward is suspended indefinitely for violations of team policy after he was arrested in September on a suspected burglary charge. And as Heath proved in practice, that void is glaring.
"It's tough and we're just working through it right now," senior guard Matt Thomas said. "We're trying to get a person to fill that spot, but I don't know what we're going to do."
Some of that attention will no doubt be put on Spain, a fellow senior forward. Wade is slightly bigger and more of a slasher, but Spain has a better jumper and will likely be the candidate to take a shot with the game on the line.
But similar to Heath, Wade didn't just create scoring for himself. Not only did Heath end up as the Aztecs' all-time leading scorer with 2,189 points, he was also third in school history with 394 assists. Wade led SDSU in both categories last year.
Statistics don't tell the entire story, however.
"It's not even about just the basketball part, it's about the family atmosphere," senior guard Kelvin Davis said. "Everyone on our team is like a family. When one person is out of the family, everybody hurts."
If the entire team feels the absence of one player, the Aztecs have played through a lot of pain recently.
Spain was suspended for the final 11 games last year for violations of team policy, and wasn't reinstated until Sept. 30. Senior guard Richie Williams was suspended for the first three games of last year after being arrested for underage drunken driving. And no one can forget Jerome Habel, who was dismissed from the team before last season after off-the-court problems kept finding him.
"I've been doing this for 30 years in college and there are issues everywhere, you just hope you don't have them," head coach Steve Fisher said. "When you do have them, you deal with them, and then you move forward.
"(Spain and Williams) are here and they're good kids, and I think they will be better as a result of the experience."
With the recent suspensions, Fisher has developed a method of setting his players straight. He often displays newspaper articles across the country that report issues from other schools.
"(Newspapers) will have little stuff about what's happened at Penn State, what's happened at Florida, what's happened at Alabama," he said. "But when it happens to you, it's front page above the fold.
"I say, "Don't let this be you.' And it makes me mad when it is us."
Still, the team is optimistic Wade can return. Previous situations have shown Fisher believes in second chances, and if the charges are dropped, SDSU could find its star back on the court.
"Everybody has their ups and downs and trials and tribulations," Davis said. "We're hoping for him to come back and spark us and make us a better team."
Until then, the Aztecs will just have to make do with what they have.
Even if that means no more games of one-on-one.