FOOTBALL: Colorado State preview
Hang on for a minute...we're trying to find some more stories you might like.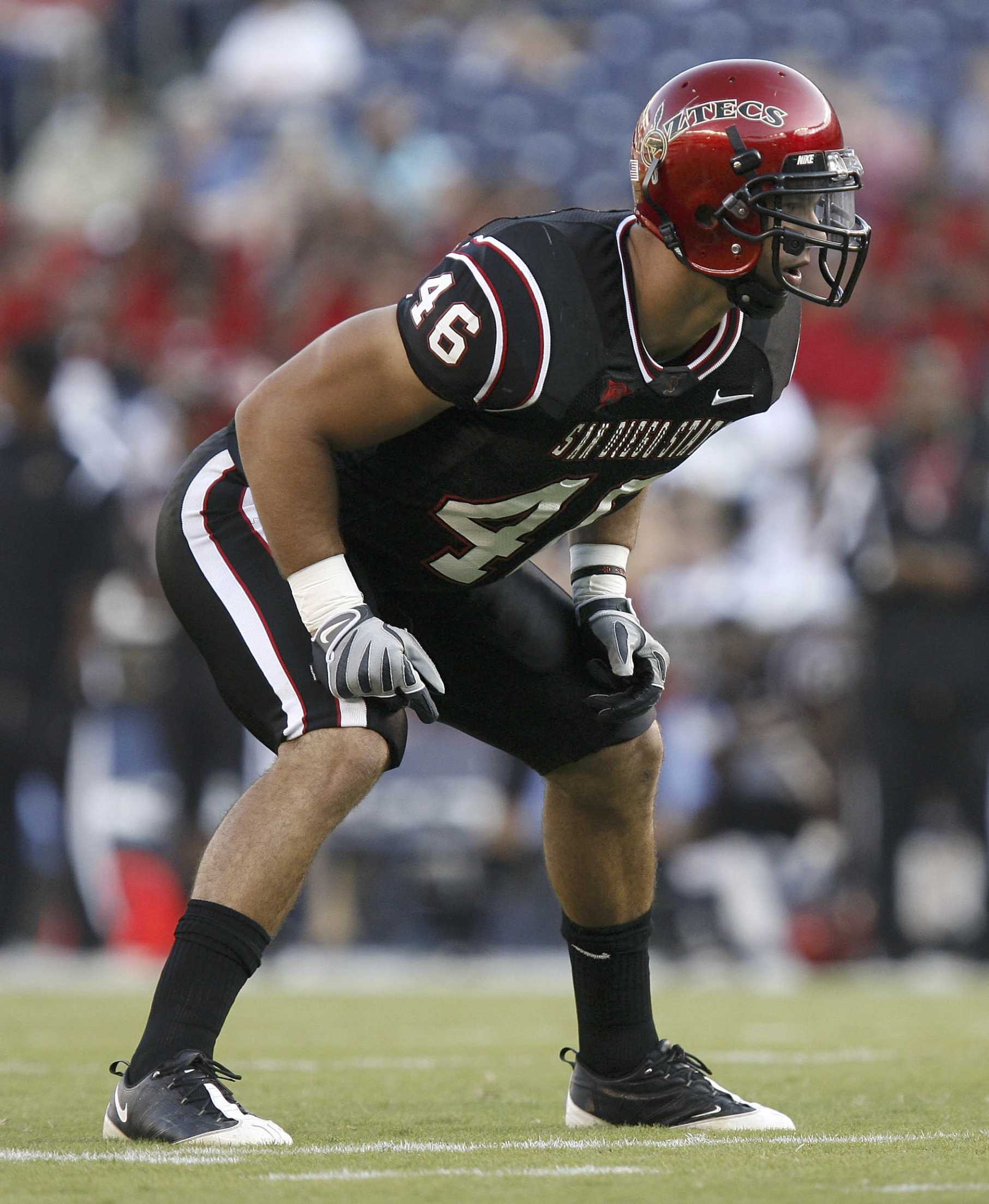 Glenn Connelly / Assistant Photo Editor and Courtesy of Colorado State Athletics
At a Glance:
Who: SDSU vs. Colorado State
What: The Aztecs host the Rams in the annual Homecoming game.
Where: Qualcomm Stadium
When: 6:30 p.m., Saturday
TV: The Mtn.
Radio: AM-600 KOGO (San Diego)
Live in-game blog: www.thedailyaztec.com
The Big Issue
The 70-7 beatdown the San Diego State football team suffered this past Saturday to New Mexico in Albuquerque, N.M., was one of the worst losses in SDSU history. The 63-point shellacking marked the first time in Aztec history that an SDSU team had given up 70 or more points in a game. After the match, a subdued head coach Chuck Long called the game embarrassing and at Tuesday's press conference, he offered an apology.
"I want to apologize to San Diego State, the great supporters that we have and former players for what happened Saturday," Long said. "Although we are going through a mass injury and youth issue right now, that is no excuse and I want to make sure I apologize again."
The Aztecs have lost nine players to season-ending injuries and have plenty more who have missed some game action. While Long doesn't want to use the injury bug as an excuse, it has played a big role in the team's 1-6 record.
"My challenge as the head coach is to get our guys fresh going into the Colorado State game," Long said. "We don't have much rotation going on, especially on defense, so I have to find a way as a head coach to get them fresh and playing at their best on Saturday night. I believe we will get them to that point."

Key Matchups
When the Aztecs have the ball: Redshirt freshman quarterback Ryan Lindley (below left) said before this past Saturday's game he felt 90 to 100 percent. This is good news for SDSU, which needs Lindley healthy if it has any chance of turning around a one-win season. Before Lindley injured his shoulder in the TCU game three weeks ago, the team was averaging 302.8 passing yards. Since then, though, the team is averaging just 124.7 yards through the air.
"Ryan Lindley is healthy again," Long said. "He wasn't 100 percent in terms of being in the groove, but he is back this week for full practice."
With Colorado State senior safety Mike Pagnotta (below right) roaming the field, Lindley will need to be in top form. Pagnotta is second on the team with 47 tackles, tied for the team lead with two interceptions and has even recorded two sacks this season. Led by Pagnotta, the Rams defense is giving up a respectable 217.7 pass yards per game.
When the Rams have the ball: Colorado State running back Gartrell Johnson (above right) has to be salivating at the prospect of playing the Aztec's defense on Saturday. The senior has rushed for 616 yards and six touchdowns this season on 135 carries. With SDSU giving up a nation-worst 292.3 rushing yards per game, Johnson is already giving the Aztec defense nightmares.
"We have to find a way to stop the run," Long said. "They will watch our tape and see our statistics and feel that they can just run the ball on us."
After giving up 419 rushing yards to New Mexico standout running back Rodney Ferguson and company this past Saturday, senior linebacker Russell Allen (above left) and the rest of the SDSU defense need to stop Johnson if they have any hopes of their first Mountain West Conference victory. Allen, who is undoubtedly the leader of the defense, has had a solid year tallying 60 tackles and 1 1/2 sacks.
Prime Numbers

| | | |
| --- | --- | --- |
| | SDSU | Colorado State |
| Record | 1-6, 0-3 MWC | 3-4, 1-2 MWC |
| Pass yards per game | 228.6 | 240 |
| Rush yards per game | 50 | 110.6 |
| Total yards per game | 278.6 | 350.6 |
| Pass yards against per game | 163.1 | 217.7 |
| Rush yards against per game | 292.3 | 169.6 |
| Total yards against per game | 455.4 | 387.3 |
Aztec Injury Report
Defensive Tackle Neil Spencer: Shoulder (Out)
Left Tackle Mike Matamua: Foot (Out)
Center Tommie Draheim: Shoulder (Out)
Defensive End Tony DeMartinis: Knee (Out)
Defensive Tackle Ryan WIlliams: Head (Out)
Defensive Tackle Ernie Lawson: Ankle (Questionable)
Running Back Davon Brown: Shoulder (Questionable)
Defensive End B.J. Williams: Head (Questionable)
Cornerback Jose Perez: Shoulder (Probable)
Quarterback Ryan Lindley: Shoulder (Probable)
Forecasting the Mountain
Editor's note: Each week, The Daily Aztec will pick the winners of every Mountain West Conference game.
THURSDAY, OCT. 23
New Mexico at Air Force
SATURDAY, Oct. 25
San Diego State vs. Colorado State, UNLV at No. 21 BYU, Wyoming at No. 14 TCU
Name: Edward Lewis (37&-13)
Title: Sports Editor
Prediction: Colorado State, New Mexico, BYU, TCU
Quotable: "You feel that Pope? That's me breathing down your neck after a 4-0 weekend."
Name: David Pope (38&-12)
Title: Assistant Sports Editor
Prediction: SDSU, Air Force, BYU, TCU
Quotable: "On Saturday I'm filling in for Edward's KCR radio show and his live-game blog, so I guess on Sunday I'll take his girlfriend for a date in his car."
Name: Eric Shannon (38&-12)
Title: Managing Editor
Prediction: Colorado State, Air Force, BYU, TCU
Quotable: "Could this actually be the first win for SDSU in the MWC? Did the NCAA grant Marshall Faulk, Kyle Turley and Kirk Morrison another year of eligibility? Didn't think so."
Name: Glenn Connelly (32&-18)
Title: Assistant Photo Editor
Prediction: Colorado State, New Mexico, BYU, TCU
Quotable: "Let's not talk about last week. I'm not picking SDSU the rest of the way."