St. Mary's beats SDSU in extras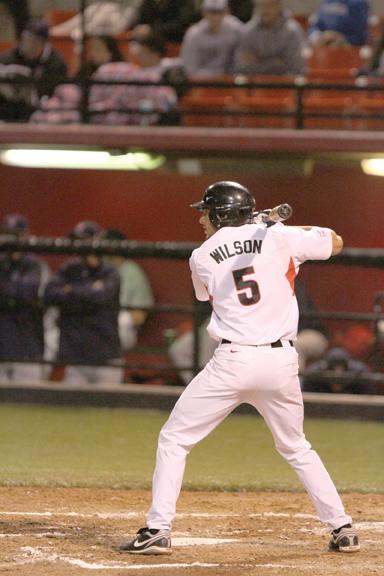 by Michael Manbert
March 13, 2012
Hang on for a minute...we're trying to find some more stories you might like.
The San Diego State baseball team lost 8-5 in a tough matchup against St. Mary's on Sunday in 13 innings. The game featured 12 different pitchers and three home runs as the Gaels scored the winning runs in the 13th inning, giving them the weekend series victory against SDSU.
Junior first baseman John Spirk hit a solo home run in the second inning and the Aztecs added two more runs in the third to make it 3-0. St. Mary's then scored five unearned runs in the fourth, while SDSU added another run in its half of the inning to make it 5-4.
It looked as if the score would stay that way until senior designated hitter Chris Wilson, a known power hitter, led off the bottom of the ninth. The crowd was buzzing with anticipation before it exploded with cheers as Wilson sent a game-tying home run over the fence. The game went into extra innings and Aztec pitcher Ryan Doran threw admirably with the game on the line as he pitched three shutout innings, but the score remained tied into the 13th.
However, the final runs would cross the plate as The Gaels struck quickly. Ricky Boas led the inning with a double followed by a Cole Norton triple. Norton was then driven in by Nick Rosso, who was later caught stealing. With two outs, Adam Anawalt surrendered the third and final home run of the contest to Patrick Wisdom, making the final score 8-5.
"It was a tough loss but we kept battling and battling. We had some big opportunities to win but we couldn't cash them in," freshman catcher Seby Zavala said. "This loss will be a positive in the long run. We'll learn from this experience."
SDSU drops to 9-8 in the season with the loss, and will begin Mountain West conference play at 5 p.m. on Friday in Albuquerque, N.M. against New Mexico.