Aztecs keep the Bulldogs on a short leash
Hang on for a minute...we're trying to find some more stories you might like.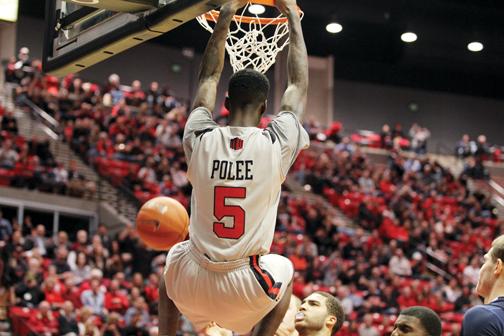 After the San Diego State men's basketball team finished the first half of Mountain West Conference play with a 5-3 record, many wondered if the team could catch conference leader University of New Mexico. The Lobos had a two-game lead at 7-1, with road games against the University of Nevada, Las Vegas and Colorado State University. SDSU will play against Boise State University and UNM.
But the Aztecs took their first steps to catch the Lobos, defeating the Fresno State Bulldogs 75-53 to move to 18-5 overall and 6-3 in conference play.
Senior guard James Rahon scored double-digits for the third consecutive game, totaling 14 points on six of 10 shooting from the field and two of four from 3-point range, while junior guard Jamaal Franklin added a double-double, scoring 14 points and grabbing 11 rebounds.
"It's always nice to win," SDSU head coach Steve Fisher said. "The bottom line is finding a way to win. It's a lot easier on the coaches and a lot less exciting maybe, but a lot easier to win in the fashion that we did today … I thought we had great energy, but really good and smart defensive play."
Fresno State scored the game's first two points of the game, before SDSU scored the next 10 points to take a 10-2 lead. For the rest of the first half, the Aztecs continued to hold a single-digit lead until grabbing a 23-11 lead with 2:33 left in the first half. At the half, SDSU led 25-17.
The Aztecs used a 13-2 run at the start of the second half to race to a 38-19 lead. The home team coasted the rest of the way, outscoring the Bulldogs 50-36 in the second half and leading by 29 at one point in the game.
Junior guard Xavier Thames, who hadn't played in the last two games because of a back injury, returned to action, but didn't get the start.
"It was obviously nice to have Xavier (Thames) to have a chance to play," Fisher said. "I'm crossing my fingers that he'll be OK. He seemed to be after the game, but he felt good being able to be out and play. I thought he was pretty good for having done nothing competitively for two weeks."
Thames finished with five points, a season-high four rebounds and a career-high of two blocked shots.
"It feels good to be back out there with my teammates," Thames said. "It feels really good to be back out there and we got a nice win as well."
Franklin became the 28th player in team history to record 1,000 career points and the 11th player to record 1,000 points and 500 rebounds. He reached his 1,000-point milestone on a layup with 6:17 left in the game.
"It is a good accomplishment, but I am just glad we won," Franklin said. "… But a lot of people have done it. At the end of the day, the accomplishment would have been bad if we lost (but) we won. So that is the biggest accomplishment to me."
The Aztecs return to action on Wednesday when they travel to Fort Collins, Colo. to take on Colorado State.
Notes
– SDSU defeated FSU for the sixth consecutive time.
– The Aztecs scored a season-high 50 points in the second half.
– SDSU is 14-0 this season when shooting 25 percent or better from 3-point range.
– The Aztecs have won 30 straight games when leading at the half.
– SDSU is 56-1 in its last 57
home games against an unranked opponent.