Interstate 805 construction promises less traffic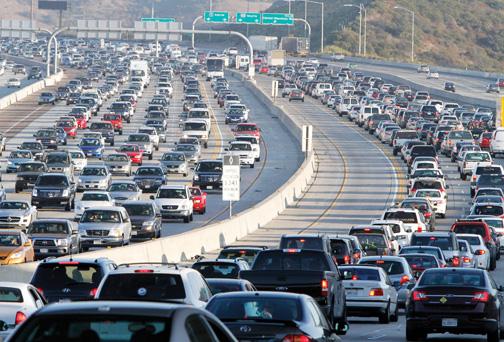 Monday marked the beginning of a long-term construction project on northbound Interstate 805 aiming to alleviate the San Diego region's traffic. The project will add new carpool lanes on both the north and southbound lanes between state Route 52 and Mira Mesa Boulevard. The California Department of Transportation estimates the cost of the project to be $86 million.
The construction is only one part of multiple projects that will take place during the next few years on the I-805 corridor.
Phase one of the north I-805 project includes construction of direct access ramps at Carroll Canyon Road, as well as bridge-widening and modifications to existing ramps and noise barriers.
This construction is projected to be completed by Fall 2013 and will cost approximately $74.2 million. According to the CDT fact sheet, San Diego city will be fronting $10.3 million of the cost.
Funding for all the construction comes from a combination of both federal and state programs, including the San Diego half-cent tax initiative known as TransNet. Money from TransNet specifically funds local transportation projects.
During another phase of the construction, express lanes along I-805 from south of SR-52 will be created. The 4.4-mile project will add two express lanes in each direction from SR-52 to La Jolla Village Drive.
Public Information Officer Cathryne Bruce-Johnson explained that the express lanes are used as carpool lanes, except solo drivers can also purchase a FasTrak through the San Diego Association of Governments and can use the express lanes.
According to the CDT, this phase will also include a ramp on Nobel Drive, as well as a Nobel Drive Transit Station and a Park and Ride.
The organization behind the project is called Keep San Diego Moving. According to the Keep San Diego Moving website, the average daily traffic on I-805 can range from 160,000 vehicles to 261,000 vehicles per day. SANDAG reports the daily congestion caused by all those cars can last up to four hours. By the year 2030, the average number of cars on the road is expected to exceed 330,000 vehicles, while the congestion is estimated to last more than six hours, according to SANDAG. These projects are aimed to prevent this from happening.
International business junior Ilena Gudiño considers the I-805 project as beneficial for commuters like herself.
"I think it is needed in that section because retrofitting of San Diego's buildings and freeways have been needed for a long time," Gudiño said.
Construction will take place from 9 p.m. to 5 a.m. in an attempt to avoid traffic delays during the daytime.