Human rights instilled in students
"I'm very happy here, I think the sunshine must be contributing to it," San Diego State political science professor Cheryl O'Brien said with a smile.
O'Brien is one of 22 new professors SDSU welcomed this fall.  This semester, O'Brien is teaching two sections of International Security and Conflict Resoluation 301 "Conflict and Conflict Resolution," that she has never taught before.  She feels a lot of freedom while developing the course around human rights theorization. Drawing from her work with refugees in Africa and conflict resolutions in Latin America, O'Brien hopes to instill in students the "importance to connect theory with practice."
O'Brien grew up in Pennsylvania, where she attended Delone Catholic High School where her roots in social justice began to grow. Life was far from easy for O'Brien, who came from what she classified as a "working poor" family. She and her mother were constantly working multiple jobs in order to keep food on the table. She even recalled a time when her family had to live in a converted garage.
Although O'Brien lost her father early on in life, she fulfilled his wish for her to get a solid education and carry on his Catholic values. While she always wanted to go to college, the cost discouraged her. It wasn't until her brother drove home in the middle of the night to convince her to apply to her dream college, University of Notre Dame, that she even considered the possibility of a college education.
She knew tuition would be expensive and it would probably be hard to make ends meet; however, she was determined and found ways to make it happen.
"Debt can be intimidating, but I looked at education as my investment," O'Brien said.
She exhausted every resource that was available to her. That meant taking out the maximum amount of loans, working multiple jobs and applying for any scholarship she qualified for. Even with so much on her plate, O'Brien still managed to find time to give back to her community and volunteer.
"I ran on three hours of sleep, and Mt. Dew," O'Brien said.
These experiences helped O'Brien develop a deep compassion and empathy for students facing similar circumstances.  As a professor, she finds ways to try to help her students.
"I have a lot of empathy for students who can't buy textbooks. I try to put them on reserve at the library," O'Brien said.
Although she and her husband are still paying off their student loans, it has helped her build credit, a silver lining that students may fail to notice.
O'Brien has two major points of advice for her students, first that they study abroad at least one semester and second, to "become a lifelong volunteer." She suggests that students spend time on something they are passionate about, because "that is where you develop skills that are useful later on in life."
When she is not in the classroom or attending national conferences, O'Brien can be found hiking the local mountains with her husband, who is also a new member to the SDSU faculty as an adjunct professor teaching environmental policy. She loves the outdoors and is soaking up all that California has to offer, as opposed to Indiana, where she last taught at Purdue University.
"We love it here.  We are both outdoorsy and my husband loves to mountain bike," O'Brien said.
The struggles that O'Brien faced early on in life, coupled with her genuine passion for teaching, makes her a perfect addition to SDSU. She is full of advice and encouragement, believing that "any student can make it as long as they have the drive, and the wherewithal to ask for help."

About the Writer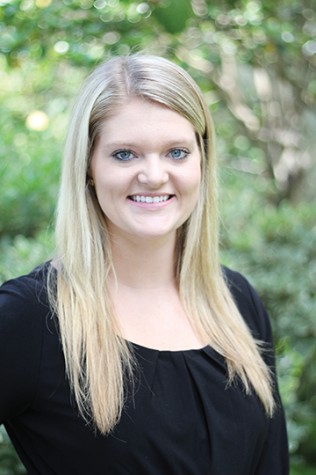 Chelsea Baer, Staff Writer
Chelsea Baer is a journalism junior with a minor in Spanish. She started as a features staff writer in 2013 and is currently a contributor for The Daily...