Countdown to Aztec Football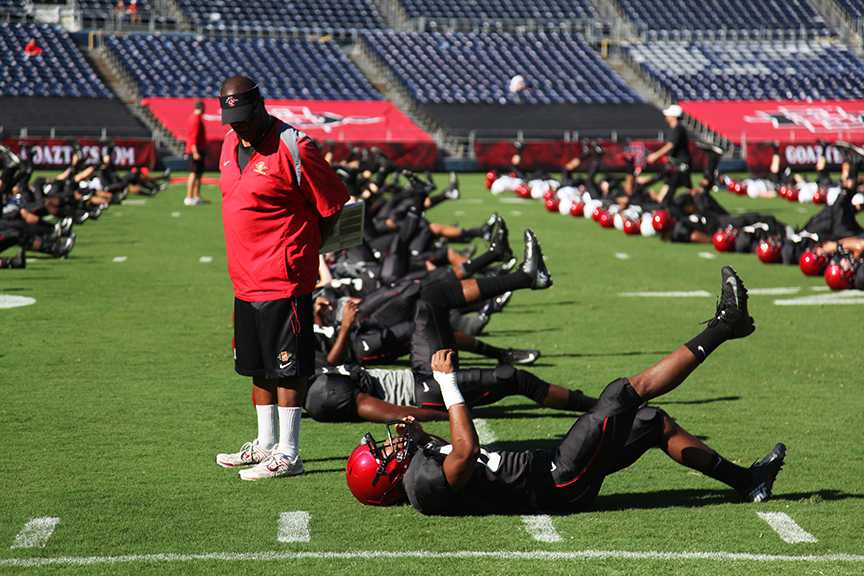 There's a countdown clock on GoAztecs.com that shows the days, hours, minutes, and seconds until the football season kicks off. Confession: I check that every day. I'm thrilled for what could be a big year for San Diego State football.
The Aztecs could really catapult themselves forward with success in their very difficult 2013 schedule.
SDSU will play the USA Today Coaches Poll's No. 2 Ohio State, No. 19 Boise State, and No. 25 Oregon State universities. The Aztecs will also play Fresno State and San Jose State universities, both of which received votes to be in the Coaches Poll's Top 25.
What's more is the Mountain West Conference reached a deal with ESPN last year, so many of the Aztecs' big games will be on the most popular sports network in the country.
SDSU has a chance to take on the challenging 2013 football season with the momentum it's developed throughout the past three years and come out at the end with both feet planted in the national spotlight and the BCS Top 25 rankings.
The MWC looks a lot different this year with the addition of the Spartans and the Aggies.
The conference also now consists of two six-team divisions: the West and Mountain divisions. SDSU plays in the West Division with Fresno State, San Jose State, University of Nevada, University of Nevada at Las Vegas, and University of Hawaii'.
In the MW media day preseason poll, the Aztecs were picked to finish second in the West Division of the 2013 MW west preseason poll, behind Fresno State.
I definitely agree with one idea in the preseason poll- the MWC West Division will come down to SDSU and Fresno State. In fact, it will most likely come down to Oct. 26, when Fresno State comes to Qualcomm Stadium.
It's difficult for me to predict which team will take first place. SDSU has the major advantage in running with junior running back Adam Muema. But the Bulldogs have an advantage in the passing game with preseason MW Offensive Player of the Year, senior quarterback Derek Carr. Fresno State also has the edge on defense as it returns three starting defensive linemen and three starting defensive backs.
I would give SDSU the wild card though, because the game is being played in San Diego, and Carr will be without last year's Fresno State running back Robbie Rouse.
However, I have to give the overall edge to the Bulldogns. My preseason top three for the MWC West Division is as follows:
Fresno State: 10-2 (7-1 MWC)

San Diego State: 9-3 (7-1 MWC)

San Jose State: 8-4 (5-3 MWC)
Every game will be exciting this year, but the games you should keep your eye out for are:
Sept. 7:
SDSU travels to Columbus, Ohio to play the college football powerhouse the Buckeyes. This game will be aired on ABC and ESPN2. A good performance in this game would do wonders for SDSU's season.
Oct. 26:
The Bulldogs come to town. Expect a high octane show of two great college programs going at it. This will be a huge game for the Aztecs' season. I wish I could get my ticket now- I don't want to miss it.
Nov. 23:
Boise State travels down to sunny Southern California to exact revenge on the Aztecs for beating the Broncos in Boise last year. This is starting to develop into a good old-fashioned rivalry.
Big games are scattered throughout the 2013 Aztec football season. Here are the players to watch in those big games:
Junior running back Adam Muema:
Muema dazzled fans and sports analysts last year with his 1,458 rushing yards and 16 touchdowns. Muema's agility and foot speed make defenders look like peewee players.
This will be his first year starting the season as the go-to guy, and I expect for this member of the Maxwell Award watch list to thrive in that position.
 Junior linebacker Jake Fely:
Many people, including myself, believed that Fely would be named the preseason MWC Defensive Player of the Year. Unfortunately that wasn't the case, but believe me when I say Fely will definitely change minds by the end of the year.
Known as a premium shutdown defender, I look for Fely to close in on 100 tackles this season and be a leader on the field.
Senior defensive back Nat Berhe:
SDSU's secondary is going to be very young this year. That means SDSU's pass defense will have a lot of pressure from its opponents.
Look for Berhe, who is a member of the Jim Thorpe Award Watch List and one of three recently named team captains, to increase his numbers from last year, lead the team in interceptions and punish opposing offenses for trying to go after the secondary.
That's it. No need for more furious writing on the laptop. Now, it's time for Aztec football.

About the Writer Matthew Bain, Managing Editor
Matthew Bain is the managing editor for The Daily Aztec. He's a senior journalism major with the Honors minor in interdisciplinary studies. His work...