Panthers claw Aztecs 40-19 in season opener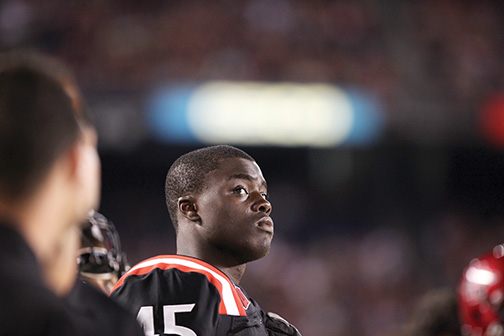 Cheers echoed throughout the locker rooms and hallways in the aftermath of last Saturday's game. Unfortunately for the Aztecs, those cheers were coming from the Eastern Illinois University locker rooms.
More than 42,000 Aztec fans piled into Qualcomm Stadium to watch their team start its promising 2013 campaign with a win. The game started as many expected it would: very well. Junior quarterback Adam Dingwell threw a 14-yard pass to junior running back Adam Muema.
The Aztecs drove down the field and senior kicker Wes Feer kicked a 41-yard field goal, the first of his college career. However, almost everything went downhill from there for the Aztecs en route to a 40-19 loss to the Panthers.
Turnovers, dropped passes, relentless quarterback pressure and injury plagued SDSU's home opener. Dingwell threw for a career-high 318 yards, but only completed 27 of his 63 passes and threw four interceptions.
Senior wide receiver Colin Lockett had a phenomenal double reverse rushing touchdown, but he and the other SDSU wide receivers dropped several key passes. SDSU's young offensive line was outmatched at the line of scrimmage and gave Dingwell little pocket security.
Muema injured his ankle early in the game and could do little to help his team win the game. SDSU head coach Rocky Long doesn't know how serious Muema's injury is, but Muema was able to walk around on the sideline during the game.
Long told the press after the game that his team's performance was "as bad a performance as I've ever been around."
Long attributed his team's poor play to the talent of a severely underrated EIU team, but mostly put the blame on himself.
[quote] "I'm responsible…it was a horrible job of coaching."[/quote]
If there was one bright spot for the Aztecs on Saturday, it was special teams. Feer put all four of his field goals through the uprights. No SDSU kicker since 2003 has made four field goals in one game and Feer did it in his first start.
Junior punter Joel Alesi punted the ball five times and pinned the Panthers within their own 20-yard line three times. SDSU's special teams also blocked one point after touchdown and forced a miss on another point after attempt.
On the other sideline, EIU played masterfully in every facet of the game. Its defense made SDSU's explosive offense look tame. Their hurry-up style of offense shredded SDSU's defense.
The Panthers' wide receivers outmatched the Aztecs' cornerbacks and EIU junior quarterback Jimmy Garoppolo found his open receivers almost every time, throwing for 361 yards and three touchdowns.
The Panthers' rushing tandem, redshirt sophomore running back Sheperd Little and junior redshirt running back Taylor Duncan, combined for 207 yards both through the air and on the ground, which helped in thoroughly defeating the Aztecs on Saturday night.
It's hard to determine why this game went so horribly awry. It could be because EIU is a great, underrated team. It could be because SDSU underestimated its opponent. It could be that SDSU was so focused on its Week 2 meeting with Ohio State University that it paid less attention to their Week One meeting with the Panthers.
Whatever the reason for their performance, the Aztecs need to work on making sure it doesn't happen again in front of 110,000 screaming fans in Columbus, Ohio. They have a week to mourn this loss, learn from it and get better because of it.
EIU  head coach Dino Babers told reporters after the game that he thinks losing Week 1 will help the Aztecs play better against Ohio State.
[quote]"I think it's perfect for (SDSU). I think they'll beat Ohio State (next week). You couldn't write a better script for them," Babers said.[/quote]
Maybe this loss will kick the Aztecs into gear and make them hungry to prove sports fans wrong against the Buckeyes—this is all speculation, though.
What's not speculation is that the Aztecs begin their season 0-1. They also began last season, the season in which they won the Mountain West Conference, 0-1.
Even though the 2013 season didn't start as many hoped, that doesn't mean it won't end that way—it's a long season. Tune into ESPN2 and ABC on Sept. 7 at 12:30 p.m. to see the Aztecs try to bounce back at Ohio State.

About the Writer Matthew Bain, Managing Editor
Matthew Bain is the managing editor for The Daily Aztec. He's a senior journalism major with the Honors minor in interdisciplinary studies. His work...