SDSU competes through sports clubs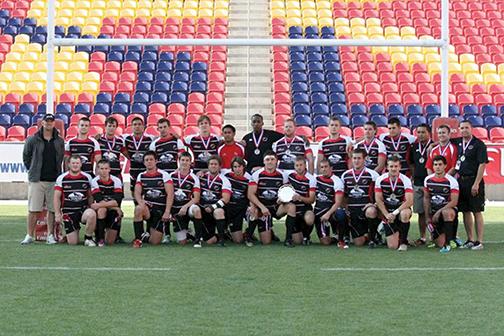 by Allison Muhar
September 9, 2013
Hang on for a minute...we're trying to find some more stories you might like.
If you're anything like me you've played sports in high school. In doing this you learned new skills, stayed in shape and met a ton of great people. However, for those of us who weren't recruited out of high school it seems like the move to college signified the end of our athletic career.
What many students on the San Diego State campus don't know is that our university is home to many competitive sports clubs.  Now you may be asking yourself, "I've never heard of sports clubs on campus, I wonder what they are?"
[quote]Sports Club Executive President Kyle Sessa said, the sports clubs are "student-run organizations on campus where members find sports they are interested in and want to play in college that they either can't, because they couldn't make the team or don't have the time to commit, or we just don't have a Division I team for their particular sport."[/quote]
In essence this program allows students to compete in a wide array of sports, whether they had prior experience or not.
These sport clubs include sports that our school doesn't have Division I teams for, such as hockey, surf or even dance.  The sports clubs are open to all students enrolled in six or more units with a cleared physical from a medical professional. Students play on a competitive level, in fact many of the sports clubs on campus have competed for national championships, such as our dance, ice hockey and rugby teams.
Although these sports are competitive, they are open to new players. Jake Poliakoff, one of the stars of the rugby team, had never played rugby before trying out at SDSU. However he says this only made the experience that much better because he was able to develop new skills and discover talent he may not have known he possessed if he hadn't played on the rugby team.
These teams aim to do more than just teaching players new skills and allowing them to perfect the ones they already had. They can also give students work related experience for a future career.
For example, SDSU's Ice Hockey Club is not only looking for people interested in playing the sport, but also for students who are interested in broadcast and marketing, thus giving students an opportunity to build their skills.
Some of these sports clubs, such as ice hockey, which currently do not have a Division I team at SDSU, are looking to pursue Division I standing in the future. The sports clubs compete against other sports clubs at a number of universities within the southwestern area of the U.S. including schools, such as Long Beach, California State University, Davis and Utah State.
Just this year the sports teams have been approved to use the official SDSU logo on their gear, the same logo used by Aztec NCAA teams, that signify a closer relationship between the sports clubs and school.
Since these clubs are student-run organizations and not school run they are funded partly by an allocation by the school that is dependent on student enrollment. However the majority of the funding comes from fundraisers and sponsors for each individual sport.
All in all sports clubs at SDSU are a great way to get out, get in shape and meet new people.