The makings of an Aztec warrior: Nat Berhe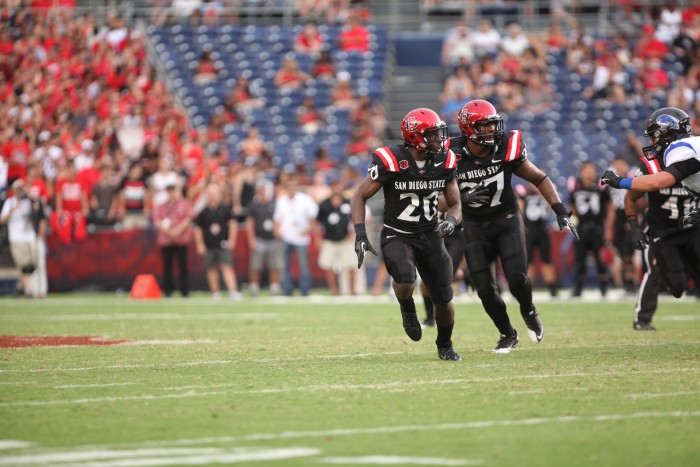 by Adriana Bush
September 12, 2013
He was born to play in a stadium; he was bred to win under the lights. San Diego State senior defensive back Nat Berhe has spent his entire life preparing and pursuing his dream: To become a professional athlete.
Being raised in a family dedicated to sports has given Berhe a mental and physical advantage on the field that can only be attained by growing up as part of a "football family."
[quote]"I think about it a lot," Berhe said. "I think I was born to play (football) just for the simple fact that I bring certain skills to the game that not a lot of people have."[/quote]
Berhe entered the 2013 football season as the top returning tackler in the league. He was awarded five preseason honors, some of which included the 2013 Lott IMPACT Trophy Watch List and the 2013 Preseason Watch List for the Jim Thorpe Award.
But long before Berhe was a key player of the Aztec defense, he was just a kid trying to find a sport to play that he could succeed in.
"I actually wanted to be a basketball player to be honest," Berhe said. "I was all over the place, I kind of didn't know what I wanted to do, but I knew I wanted to be a professional athlete."
Growing up, Berhe was surrounded by athleticism. His mother was a former high jumper and his father was a former soccer player.
Berhe says having parents who were former athletes has given him a particular set of skills.
"The instincts and some of the stuff I do when I watch myself on film, you just can't teach that," Berhe said. "I do well and sometimes I look at it and I am like 'oh wow' it must be meant to be."
Despite playing completely different sports, both of his parents were devoted football fans.
Berhe played soccer at Colton High School, but he was influenced by his school and his parents' love of football. Soon enough, he was playing and succeeding in football—he had found his sport.
[quote]"My parents were very open to anything I did and they always encouraged me," Berhe said.[/quote]
As a senior at Colton High School, Berhe had 47 tackles, 14 of which were assisted, and one interception. He was a team captain who was nominated to the All-CIF defensive team and was a two-time first-team Press-Enterprise selection, as well as a two-time all-county selection.
That same year, Rivals.com rated Berhe the No. 47 cornerback nationally and Scout.com rated him the No. 83 cornerback prospect in America.
Throughout the entire season, Berhe was also getting extra coaching at home after games.
"My dad was a little hard on me," Berhe said. "We kind of would walk through some of the things I did bad and kind of go over that and talk about it when I would go home."
Berhe also had an older brother, Tam Berhe, who challenged him in everything and to this day has deeply influenced his competitive nature.
Berhe said he and his brother competed in everything, from sports to grades to racing to the car after a trip to the supermarket.
"It taught me never to shy away from competition and to always believe in myself that I am good and that I can play with the best," Berhe said.
For Berhe, losing a game was always the worst part.
But since his parents could relate to him from their experiences in sports, they knew how to ease the pain.
"My mom was always like 'Do the best you can, give your best and that's all you can really do,' and my dad was kind of the same way," Berhe said. "So they both were very supportive."
Today, Berhe is on his way to accomplishing his dreams.
For the 2013 season, he was voted by his teammates as one of three captains of the Aztec football team.
Each season Berhe improves his tackle total, which went from 39 in 2010 to 67 in 2011 and then 94 in 2012—an average increase of 27.5 tackles a season.
Berhe's game play may continue to change each year, but his goals have remained the same since he was a kid.
"That's goal No.1, playing in the National Football League," Berhe said. "Goal No.2 is to hopefully take over my family's (children's) group homes."
Berhe advises everyone, either part of a "football family" or not, to always dream big.
[quote]In order to succeed in life Berhe said, "You always have to have goals to go to the next level."[/quote]