There's still hope for the Aztecs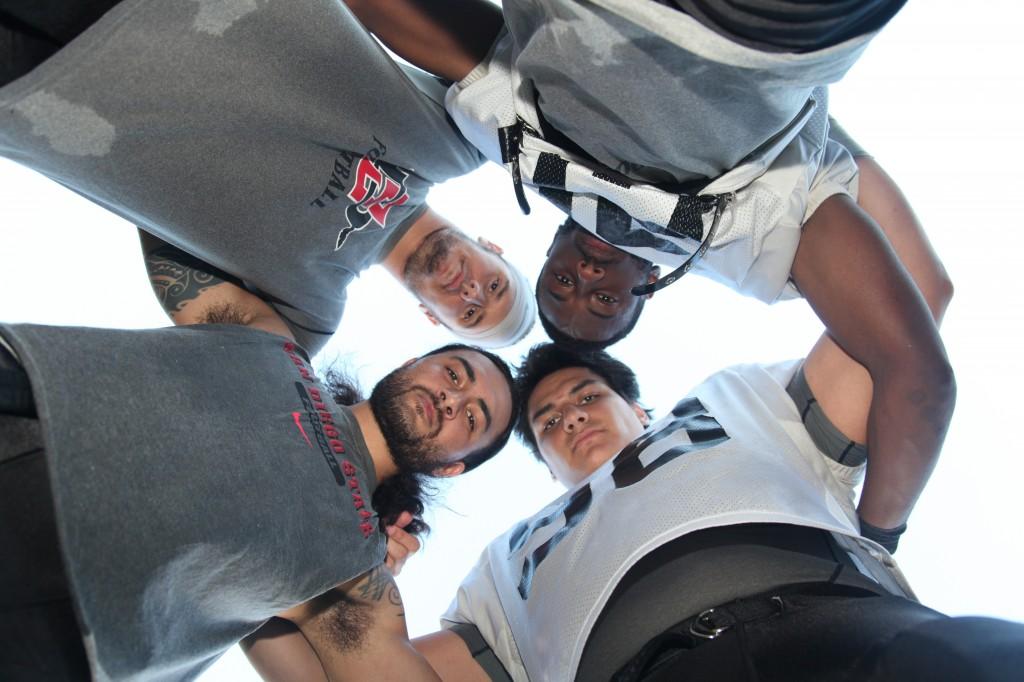 What a difference three weeks can make
Expectations were high for the Aztec football team at Aztec Fan Fest on Aug. 17. Coming off last year's Mountain West Conference Championship, SDSU was poised to build off its success and thrive in its tough 2013 schedule. Unfortunately, expectations don't always come to fruition. Don't get me wrong: it's still early in the season and by no means is the season lost.
It's just hard to believe how many things have gone wrong. To illustrate my point, here are some expectations versus the cold reality of the beginning of the 2013 football season.
SDSU vs. Eastern Illinois University
Expectation: The Aztecs beat the EIU Panthers 41-21. Junior running back Adam Muema leads the offense with 33 carries for 167 yards and two touchdowns. Junior quarterback Adam Dingwell goes 21-32 for 236 yards with two deep touchdown passes and one prance into the end zone.
SDSU has some difficulty in the second half, especially with the young secondary and offensive line, but fortunately the Aztecs hold on for the win.
Reality: The EIU Panthers shocked the Aztecs, beating them 40-19. Muema ran the ball 10 times for 17 yards. Dingwell was forced out of the pocket frequently and made some questionable passes, completing only 27 of his 63 for 318 yards and four interceptions.
This game was a big wake-up call for the Aztecs.
SDSU at Ohio State University
Expectation: The Aztecs prove they're for real and put up a great effort against one of the top teams in the nation. The final score of the game is 38-24. Muema dazzles the national TV audience with his breakaway speed and lightning-fast feet.
Dingwell tosses a couple interceptions, but also leads the team on an impressive fourth quarter drive to pull the Aztecs within two touchdowns. Overall, the Aztecs have a lot of positives to take away from the game.
Reality: It was clear the Buckeyes would win the game from early on in the first quarter. Dingwell couldn't get into his groove and was eventually replaced by junior college transfer quarterback Quinn Kaehler. Kaehler played well, going 22 for 36 for 216 yards, one touchdown and one interception. Muema's injury from Week 1 kept him from having much of an impact.
Both Dingwell and Kaehler had very little pocket security for the entirety of the game. The Aztecs lost 42-7. SDSU's defense was better than the score indicates, however.
Adam Muema
Expectation: Muema has a fantastic first two games. He breaks more ankles than all other running backs in the MWC combined.
Reality: An ankle injury has prevented Muema from showcasing his talents. Fortunately, it's still early in the season.
Adam Dingwell
Expectations: Dingwell builds on his 2012 success to lead the SDSU offense.
Reality: He has yet to throw a touchdown pass and was pulled from the game against OSU in the first quarter.
As I said earlier, it is very early in the season. It's possible we will be witnessing a complete turn of events in Aztec football soon. SDSU has the talent, it just hasn't been able to put it together yet, causing a disappointing start for players and fans.
However, there have been some pleasant surprises during these first two weeks of Aztec football and those should be addressed.
The play of SDSU backups
With Muema hampered by an ankle injury, backup running backs freshman Donnel Pumphrey and sophomore Chase Price have shown they are quite capable of taking some of the load off of Muema's back this year.
The two players combined for 40 yards on eight carries against the tough OSU defense. They also combined for 50 yards on 13 carries in Week One. Given more of an opportunity, these guys could really shine.
Week Two against Ohio State was rough in every aspect. However, Kaehler made a strong bid for the starting job. Kaehler reminds me of Kansas City Chiefs' quarterback Alex Smith. He's not super flashy, but he gets the job done—and he does it well.  Do I think Kaehler will take the starting job from Dingwell? I'm honestly not sure. I still believe Dingwell will hit his stride. However, Kaehler has enough skills to lead the Aztecs to victory.
Special teams
Senior kicker Wes Feer is 100 percent this year in field goal attempts. Also, junior punter Joel Alesi has punted the ball 12 times this year. His average punt distance is 40 yards and he has pinned the opposition within its own 20-yard line three times.
Second half defense against Ohio State
Yes, the score against OSU was very lopsided—the Aztecs lost 42-7. However, one must take into consideration that the offense couldn't stay on the field for long during the first half, giving the defense little time to rest.
Also, the Buckeyes only scored 7 points on 116 yards of total offense in the second half. Holding a top-five team to numbers like that is impressive. In addition, this all happened without starting junior linebacker Derek Largent, who is out for two to four weeks with a knee injury.
In a press conference on Sept. 3, SDSU Head Coach Rocky Long addressed his team's areas for improvement and his outlook for the 2013 season.
[quote]"We're back to basics. We've got to get better at lining up right, doing our assignment, blocking, tackling and chasing the ball," Long said. "The pass protection has got to get better, we've got to catch more passes, we've got to play the right coverage, we've got to cover punts. I can go on and on … our ultimate goal is winning the conference championship and we've got to get a whole lot better to defend our championship."[/quote]
Long is right. The goal of the season is to defend the MWC Championship crown. It's fortunate that the team is getting out its kinks now rather than during conference play. Don't worry—this is not the best the Aztecs will be. They haven't hit their stride yet. The hope is that they will hit it by Oct. 4: the MWC opener against University of Nevada, Reno.
Here are some of the keys to the Aztecs' success this year.
Get back to ground-and-pound offense
I know Muema is injured. I still don't think that's an excuse for the Aztecs' offense to be approximately 63 percent passing and 37 percent running this year. The Aztecs had such an effective offense last year because they kept pounding the defensive line with their skilled and powerful runners.
Then, with the defense forced to respect the run, former Aztec quarterback Ryan Katz, or Dingwell, were able to throw a play-action pass and catch the defense off guard for a big gain. The Aztecs need to get back to that type of offensive scheme.
Have a short memory
These first two weeks have been brutal. There's no sugarcoating it. However, the Aztecs' talent is truly staggering this year and that they can change the course of the season.
They're already going to have a tough schedule this year. The last thing they need is their own minds getting in the way. This is especially important for Dingwell.
Run simpler schemes
[quote]Long told reporters after the Week One loss to the Panthers he thought the coaches "might be asking some of our players to do things that they can't do."[/quote]
SDSU's secondary is raw, so running simpler defensive schemes could help acclimate the young players to college football. Also, as Long suggested, giving Dingwell a little less control of the offense could simplify things for him. That might help him build confidence to become the quarterback SDSU fans know he can be.
The quarterbacks and the offensive line need to go out to dinner
There has been way too little pocket security for SDSU quarterbacks, whether it's been Dingwell or Kaehler. Yes, Dingwell and Kaehler have made mistakes that were avoidable.
However, pocket security is a big issue and something needs to happen to improve it. Maybe some bonding during an awesome meal and a Monday Night Football game could help.
The Aztecs have two weeks until their next game against the Oregon State University Beavers at Qualcomm Stadium. They can use these two weeks to turn it around. They have a lot of talent. Now, they need to fit the puzzle pieces together.
The Beavers are a good team, but they're having an off year. OSU was upset by Eastern Washington University in Week One.
It will be a hard-fought game on Sept. 21 at Qualcomm, but if the Aztecs can become the team they have the ability to be, they will beat the Beavers.

About the Writer Matthew Bain, Managing Editor
Matthew Bain is the managing editor for The Daily Aztec. He's a senior journalism major with the Honors minor in interdisciplinary studies. His work...