Zahn Center challenges Aztecs to innovate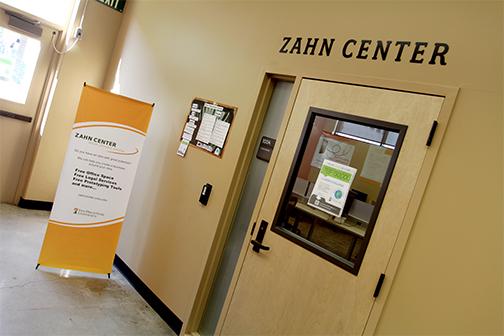 by David Alvarado
September 19, 2013
The Zahn Center in San Diego State is hosting its second annual Zahn Challenge competition for the best entrepreneurial ideas.
Zahn Center Executive Director Cathy Pucher says the center's purpose is to award projects with a potential for business success.
The center, named after San Diego native and entrepreneur Edwin Zahn, has been in operation for a little more than a year. The Zahn family's vision to incentivize students to take risks now, when they are relatively low by taking advantage of the university and its resources.
"Our goal is to help people with very early stage ideas, grow those ideas into businesses," Pucher said.
Pucher also said she's spoken to a large number of individuals about projects. Projects have included web-based programs such as Jobioz, a mobile photo sharing apps, along with surfing and skateboarding related products.
"I've probably talked to 50 to 75 different people over the last year since I've been here about their ideas and all 50 to 75 are different," Pucher said. "So a very wide range of ideas."
Pucher said last year, there were about 20 applications to the Zahn Challenge. Out of those applications, only five were selected as winners. The center's goal this year is to have 100 applications and select 10 winners.
A competitor during last year's challenge, former SDSU business administration alumnus and Zahn Center marketing specialist Omar Miyasaki said the winning team made wheelchairs fit for non-accessible places.
"The winning project was Nextero," Miyaski said. "They made wheelchairs that were better for non-ADA (Americans with Disabilities Act) compliant places. Basically the chair had cranks, like a bicycle, depending on situations."
Miyazaki was part of the second-place team called "REACH Health Technologies, LLC" that made low cost, aesthetically pleasing prosthetic hands for amputees.
One of this year's competing teams is proposing a 3-D printer. The team consists of three aerospace engineering students: senior Jennifer Wood, junior Travis White, and senior Alex Weiss.
"We just wanted to improve the design that's already out there in the industry because we know how to make it better," Wood said. "We would like it to be in consumer homes, so we've added something that can make life more convenient."
The winners will be divided into two groups, five first-place winners and five second-place winners. The first-place winners will be awarded $7,000 each. Second places will be given $3,000, amounting to $50,000 total.
The challenge is open to anyone from SDSU with an idea for a potential entrepreneurial project. Each project submitted must have a team of at least one person and in every group and at least one person must be active SDSU student, faculty member, or staff member.
Anyone interested can submit an application through the Zahn Center's website. Ideas must be submitted by 11:59 p.m. on Oct. 6.