SDSU approves Pride Resource Center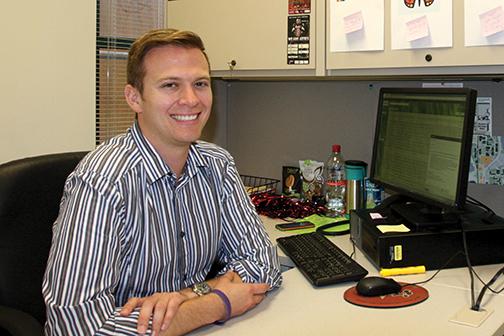 by Denise Chang
October 7, 2013
Come January, San Diego State will open the doors of its new Pride Center, a resource service center to the lesbian, gay, bisexual, transgender and queer community and its allies at SDSU.
Much of the programming that will take place at the center is still in planning by the LGBTQ Advisory Board, a group of SDSU faculty, staff members and students that serve as an advising arm to the university regarding LGBTQ campus development. As part of the Strategic Planning Initiatives, the center's proposed continual budget is $200,000.
Former Residence Hall Coordinator Anthony Keen was appointed to be the full-time coordinator for the Pride Center.
"I have been working for a while in student affairs and grew up in the world of understanding what social justice meant," Keen said. "My previous role with Residential Education provided a lot of opportunity to be an educator on social justice, but this role is focused on a community that I am passionate about. Being in this role is definitely exciting."
Among Keen's new responsibilities is representing SDSU in the San Diego LGBT Community Leadership Council, which includes representatives from the University of California, San Diego LGBT Resource Center, San Diego LGBT Pride, various health organizations and those who serve as leaders in the LGBTQ community in San Diego.
"The Pride Center is a place to find a home that is inclusive and welcoming with programs and services specifically dedicated to the LGBTQ community," Keen said. "It is also a space where people who are questioning themselves or want to support a friend can to talk to somebody. There are places in our community where people don't feel normal or accepted for who they are, but the Pride Center doesn't exist in a vacuum with regard to other identities. It is designed to serve everyone."
Proposals for the center began during the leadership of former SDSU President Stephen Weber when the SDSU Faculty/Staff Pride Network—an LGBT faculty organization, previously known as the Gay & Lesbian Issues Committee—suggested the idea. The idea was welcomed, but the funding would have to come from a private donation, Testing Coordinator Doug Case said. Case has been actively involved in SDSU's LGBTQ community for more than 30 years.
The process was halted because of a lack of funding. A second attempt was made in 2008 when the Pride Action Committee presented the proposal to then-Vice President for Student Affairs James R. Kitchen. Although the plan was specific in terms of facility, staffing and programs for the center, the lack of necessary funding was still an obstacle.
The proposal was again made during the new leadership of President Elliot Hirshman whose administration approved the standalone center with funding from the institution.
"We've been spinning the wheels for twenty years; it's time for the institution to provide the funding to create the center," Case said. "It's really exciting for me as I've been around since the early proposals. People always said it was a good idea, but we didn't have the proper funding."
The Pride Center will be on the corner of Lindo Paseo Avenue and Campanile Drive where the Student Organization Annex currently stands
Photo Courtesy of Arturo Garcia Sierra, Assistant News Editor