Weekend Picks: Mythbusters and Heavy Metal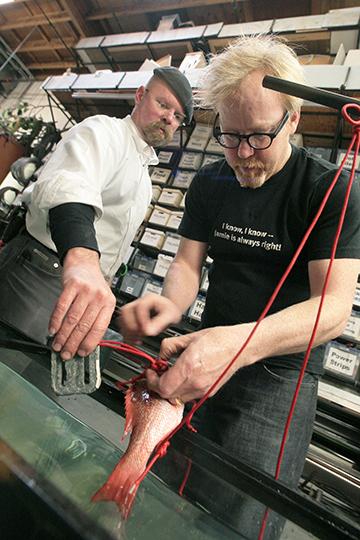 Every week, staff writers Alek Sanchez and Ryo Miyauchi highlight local events.
Alek's Pick: Mythbusters Live
After entertaining television audiences for nearly a decade, the Mythbusters duo of Jamie Hynemen and Adam Savage bring their one-of-a-kind antics back on stage as they kick off their "Behind the Myths" tour. Performing at San Diego's Civic Theatre, audience members will have an once in a lifetime experience of personally assisting Jamie and Adam as they go about their own special way of the scientific method. Following the strides of last year's show, the duo is set to reignite and educate audiences the only way they know how, with jaw-dropping, head-turning experiments.
"Mythbusters" has always been a series about the balance of entertainment and education, and Hyneman and Savage are nothing short of professionals at harmonizing the two. With their quick wit and infallible knowledge of the sciences that surround our lives, the "Mythbusters" duo put on one of the most entertaining shows of the year.
Right after the show, audience members are also given the opportunity to join in a Q&A with Hyneman and Savage. A truly interactive experience, "Mythbusters: Behind the Myths" Tour shows you first hand just how fun science can be.
For more information and tickets, go to mythbusterstour.com
Ryo's Pick: Kylesa at Brick by Brick
Get ready for a thrashing weekend as Savannah, Ga. metal band Kylesa will play at 21 and up club Brick by Brick this Sunday, Oct. 13th. Kylesa is touring in promotion of its new album "Ultraviolet" released back in May this year. The band will be supported by Pinkish Black and Sierra, both great groups also worth checking out.
The sound of Kylesa is a sludgy metal that swirls into psychedelic textures. The band's previous record "Spiral Shadow" took the band's psychedelia into the forefront. In its newest album "Ultraviolet," Kylesa continues to push its sound into new grounds. The moody atmosphere is still there, but the new songs sound more accessible. A single like "Unspoken" could end up on the heavier side of the alternative rock charts.
Watching Kylesa create twisted sounds and thrash away heavy, thick riffs live is a spectacle. No piercing screams are needed for Kylesa as psychedelic vocals by singer and guitarist Laura Pleasants add a surreal feel. It also has two live drummers that fill the floor with a solid groove to keep things moving.
Kylesa is a great metal band for those interested exploring the diverse depths of metal, who also happens to be stopping by San Diego. Maybe it is time to try something new.
More ticket information available at brickbybrick.com.

Also read: Weekend Picks: High Fi Festival and Blue Caprice 
Photo courtesy of John Walker/Frenso Bee/MCT