SDSU travels to Face Air Force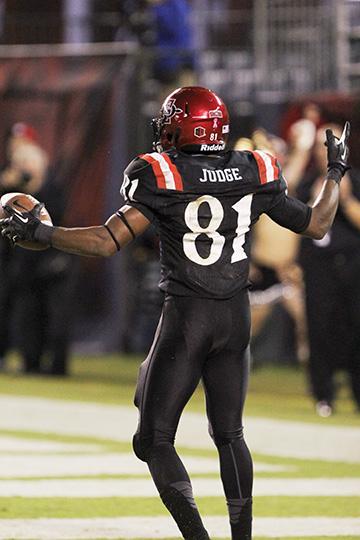 The San Diego State Aztec football team will play the U.S. Air Force Academy Falcons in Colorado Springs tomorrow night.
The Aztecs, who are 2-3 overall and 1-0 in the Mountain West Conference, are fresh off their thrilling overtime victory in the MWC opener against the University of Nevada, Reno. Barring the fourth quarter, SDSU seemed to click and went on to play a thoroughly impressive and exciting game.
The Falcons, who are 1-5 overall and 0-4 in MWC, lost to the U.S. Navy Academy Midshipmen last week in their 28-10 loss in Annapolis. Committing three turnovers, the Air Force left itself little chance to win.
Tomorrow's game is between two programs in completely different situations: the Aztecs look to continue their winning ways and the Falcons yearn for their first conference win in front of their home crowd.
The game will break down like this:
Offense:
SDSU's running backs are dominating. In last week's win against Nevada, junior running back Adam Muema returned to his stellar form and ran for 134 yards and two touchdowns on 24 carries. Freshman running back Donnel Pumphrey ran for 112 yards and one touchdown on 11 carries. The game came easier to junior quarterback Quinn Kaehler with the help of a threatening running attack. Also, the offensive line looks the best it has all season, providing holes for running backs and pocket time for Kaehler.
The Falcons are mostly a running offense. Their 285.2 running yards per game is No. 11 in the nation. Six players have 20 or more carries and 100 or more yards. Junior running back Broam Hart has the most carries. He stands 6 feet 1 inch tall and weighs a formidable 220 pounds; he uses his size to power through defenses and averages 4.5 yards per game.
Advantage: Aztecs
Defense:
Air Force's defense allowed 493 yards per game and it allowed fewer than 30 points in just one game this year. However, the Falcons allow the most yardage through the air. This defense is ideal against an Aztec offense that will try to establish the run game early.
SDSU's running defense has been impenetrable lately. In the last three games, the Aztecs have allowed 75.6 yards on the ground. While SDSU's pass defense often allows big plays, it shows resiliency during crunch time. For instance, SDSU's secondary completely shut down Nevada's passing attack in overtime.
Advantage: Aztecs
Special teams:
Aztec junior punter Joel Alesi played his best game last week. He punted the ball four times and averaged 50.2 yards. He played so well that he was named the MWC Special Teams Player of the Week.
Air Force senior punter David Baska averaged 40.2 yards per punt so far this season, including a booming 57-yard punt last week against Navy.
It's hard to bet against the player of the week, though.
Advantage: Aztecs
Intangibles:
SDSU has shown it's prone to underestimating the underdog—case in point, week one against Eastern Illinois University. Also, this game is the Aztecs' third game in 13 days, leaving them less time to practice and rest.
Air Force always has a great crowd and will be incredibly eager to prove that it's better than its 1-5 record indicates
Advantage: Falcons
Prediction: Aztecs 30 Falcons 13
The game starts at 7 p.m. MST Thursday on the CBS Sports Network.

About the Writer Matthew Bain, Managing Editor
Matthew Bain is the managing editor for The Daily Aztec. He's a senior journalism major with the Honors minor in interdisciplinary studies. His work...