San Diego's own in new season of 'SNL'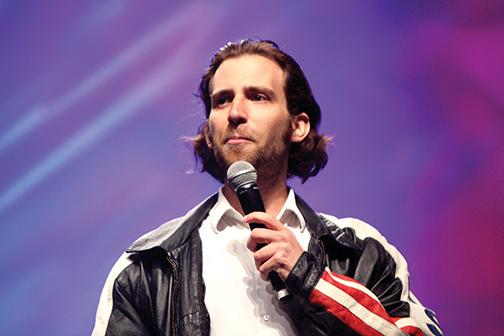 Live from New York, the 39th season of "Saturday Night Live" premiered on Sept. 20, hosted by Tina Fey with musical guests Arcade Fire. This season has been much anticipated by fans as the show recruited six new cast members for the comedy series. Among the new cast is San Diego native Kyle Mooney.
Mooney is popular for his involvement in the sketch comedy group Good Neighbors that he created alongside director Dave McCary and comic actors Beck Bennett and Nick Rutherford. "SNL" also picked up McCary as a new director and Bennett as a new cast member. Viewers may already be familiar with Bennett for his role as a deadpan interviewer in AT&T's current "It's Not Complicated" adverts. With three out of the four members of Good Neighbors in-house for "SNL," several web publications such as Bullett Media and Split Slider are dubbing the group "the new Lonely Island."
For his first episode gig of the season, Mooney was featured in the show's famous "Weekend Update" sketch as his recurring character, Bruce Chandling the stand-up comic. As a satirical and over-the-top comedian, Mooney's character chatted with "Weekend Update" co-host Seth Myers to give his take on the new Iranian president Hassan Rouhani's speech to the United Nations.
The first episode of "SNL's" new season was set up as an introduction to the new members of the series. Fey brought the six new members on stage for her opening monologue where they performed an embarrassing dance as part of a fictitious initiation ritual. Mooney and others were dressed up in gold, glittery jackets and short shorts.
The episode also had the funny game show sketch, "New Cast Member or Arcade Fire?" where Fey had to correctly distinguish a new "SNL" cast member from a musician from Arcade Fire. "Can I see them holding old-timey instruments?" asked Fey during the second round. Arcade Fire singer Win Butler showed up in the last round and performed a Robert De Niro impersonation from "Meet the Parents" when Fey asked, "can I see some De Niro impressions?"
Overall, the new members were promising throughout the acts. It will be interesting to follow what Mooney and his friends from Good Neighbors will bring to the series. "SNL" kicked off its new season with a fresh start, and the possibilities for the future are endless.
Information about "SNL" can be found at nbc.com/Saturday-night-live/
Also read: a fun, interactive night at the Thursday Night Thing 
Photo courtesy of Gage Skidmore