Aztecs overthrow Air Force 27-20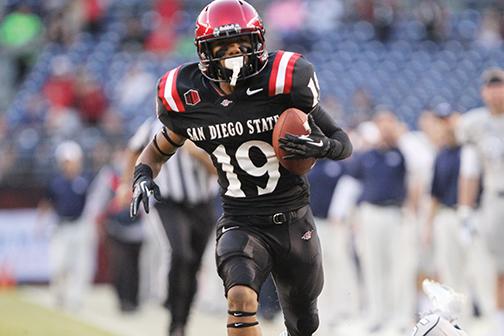 Hang on for a minute...we're trying to find some more stories you might like.
Last Thursday the San Diego State Aztecs beat the U.S. Air Force Falcons 27-20, improving their overall record to 3-3 and their Mountain West Conference record to 2-0. The Aztecs have now won nine consecutive games against a MWC opponent.
SDSU started the game well and marched to the Falcons' 19-yard line on its first possession. However, senior kicker Wes Feer's 37-yard field goal banged off the left upright and the Aztecs remained scoreless.
Air Force's first drive lasted three plays. Aztec senior linebacker Nick Tenhaeff forced a fumble on the third-down run and junior defensive lineman Cody Galea recovered the ball. However, SDSU failed to score; the offense turned the ball over on downs on Air Force's 4-yard line.
After stifling the Air Force running attack, the Aztecs controlled the ball for the third time in the opening quarter. Junior quarterback Quinn Kaehler ended this drive with a 44-yard touchdown pass to freshman redshirt wide receiver Eric Judge. Feer missed the point after touchdown attempt, however, and continued SDSU's woeful night on special teams.
The Aztecs would not score again until the fourth quarter. Meanwhile, the Falcons' offense found its rhythm behind the leadership of true freshman quarterback Nate Romine and senior running back Anthony LaCoste.
The Falcons scored twice in the second quarter. Romine weaved through the Aztec defense for a 16-yard touchdown run early in the second quarter. After two unsuccessful SDSU drives, Falcons junior kicker Will Conant began his stellar night with a 48-yard field goal. Air Force led 10-6 at halftime.
In the third quarter SDSU's offense struggled while Air Force played great football. Conant kicked a 52-yard field goal and Romine dazzled Falcons fans with a 71-yard touchdown pass to junior wide receiver Sam Gagliano.
But the Aztecs proved they were the better team in the fourth quarter. They outscored Air Force 21-0 to make a comeback for the win.
Kaehler led the Aztecs on an 80-yard, 6-play touchdown drive to start the quarter.
After forcing a punt on defense, SDSU only needed two plays to score another touchdown. Junior wide receiver Ezell Ruffin evaded the Falcons secondary and Kaehler found him for a 62-yard touchdown pass. Sophomore kicker Seamus McMorrow kicked the point after touchdown attempt, but his kick was blocked. The Aztecs still trailed, 20-19.
Kaehler, freshman running back Donnel Pumphrey and junior running back Adam Muema all contributed to the Aztecs' dominant, game-winning drive. Pumphrey scored the game-winning touchdown on a crafty 10-yard touchdown run with 1:39 left in the game.
SDSU shut down the Falcons offense on their final drive and the Aztecs won 27-20.
[quote]"It's nice to have a chance to win at the end when you've played so poorly in the middle," head coach Rocky Long said. "I thought we started the game really well and I thought we were playing well on defense and our offense was moving the ball, but you have to give Air Force credit for keeping us out of the end zone."[/quote]
Of the 13 Football Bowl Subdivision teams that started the season 0-3, SDSU is the only team to improve to 3-3 after six games. The Aztecs and the 2012 University of Houston Cougars are the only teams since 2010 to accomplish this feat.
Several Aztecs played great football this game. Kaehler completed 15 of his 26 passes for 249 yards and had three touchdowns and one interception. Muema and Pumphrey combined for 203 yards and one touchdown on 35 carries. Pumphrey also caught two passes for 43 yards and a touchdown.
Ruffin emerged as a threat for the Aztecs' offense. He caught six passes for 108 yards and a touchdown.
[quote]"We don't want to lose any conference games," Ruffin said. "We have momentum right now and we just want to keep riding this momentum and keep winning."[/quote]
Junior linebacker Josh Gavert has been a defensive leader in junior linebacker Jake Fely's absence. He had 10 tackles while the rest of the SDSU defense held the Falcons to 51 yards in the fourth quarter.
After winning three games in 13 days, SDSU receives a 16-day break until its next game against No. 21 Fresno State University on Oct. 26 at Qualcomm Stadium.
Photo by Jordan Owen, Senior Staff Photographer

About the Writer Matthew Bain, Managing Editor
Matthew Bain is the managing editor for The Daily Aztec. He's a senior journalism major with the Honors minor in interdisciplinary studies. His work...