No habrá quien pare a Maria Estrada
Hang on for a minute...we're trying to find some more stories you might like.
María Estrada llego de México a los EE.UU. a los 3 años de edad. Al criarse  en este lado de la frontera, creció no sabiendo lo que significaba el ser indocumentada—esto, hasta que hubo una dedada de inmigración al este de San Diego en los departamentos donde su familia vivía.
Estrada aun recuerda a los helicópteros y a los agentes de la patrulla fronteriza que a través de un megáfono solicitaban que los residentes indocumentados salieran. Su familia cerro la puerta y apago las luces.
"Ya empiezas a pensar, 'Soy un criminal, me tengo que ocultar, tengo que vivir bajo la sombra y no puedo decirle a otras personas de mi identidad,'" dijo Estrada.
Sin embargo, Estrada ya ha recorrido por un largo camino que la ha ayudado a adoptar otra perspectiva.
"Es ahora que soy mayor que me doy cuenta de que no he cometido ningún delito … Soy americana y contribuyo a esta sociedad", dijo Estrada.
Un segundo miedo por su identidad surgió en una edad adulta.
Tras una serie de complicaciones, Estrada logro recibir ayuda financiera para sus estudios. Ya una estudiante de enfermería en la Universidad Estatal de San Diego, Estrada fue expuesta al Islam al trabajar con el grupo Estudiantes por la Justicia en Palestina (SJP).
Estrada dijo haberse empezado a relacionar con la religión porque los musulmanes, al igual que los inmigrantes indocumentados, suelen ser "no queridos" por los demás.
Durante su lucha para ser aprobada en el programa de Acción Diferida (DACA) —el cual  le permite ser exenta de la deportación durante un mínimo de dos años por haber llegado a EE.UU. de niña— Estrada dijo haberse confrontado con su abogado pues este le sugirió quitarse su velo de la cabeza al presentar su caso.
"Me quite el velo", dijo Estrada. "Ya no fui sincera acerca de ser musulmán porque tenia miedo otra vez.
El pasado 4 de julio, Estrada fue aprobada al DACA. Desde que fue aprobada, su potencial en EE.UU. se ha amplificado. Esta protegida contra la deportación , pero también ahora puede solicitar trabajo y conseguir una licencia de conducir.
Sin DACA, Estrada tampoco pudiera tomar su examen de licenciatura ni practicar como enfermera después de graduarse.
"Ha sido un reto mental", dijo Estrada. "El hecho de desear tener más de lo que tengo … ese es el desafío más grande, el saber y poder soñar".
Estrada dijo que cuando ella llegue a tener un paciente como enfermera, no va a revisar si es de los EE.UU., si es documentado ó indocumentado.
"¿Qué persona es más necesitada de la ayuda"? es lo que Estrada dijo que preguntaría. "Cuando te sientas con alguien y te cuentan de sus luchas … no es cuestión de números o estatus legal".
Foto por Monica Linzmeier, editora de fotografia

About the Writer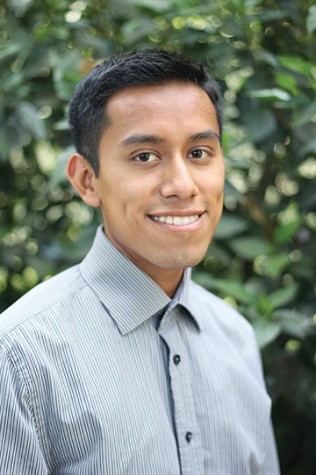 David Hernandez, News Editor
David Hernandez is news editor of The Daily Aztec. He joined the newspaper in 2012 and has previously been a staff writer, copy editor and blogger. He will...