7th grade visit aims to motivate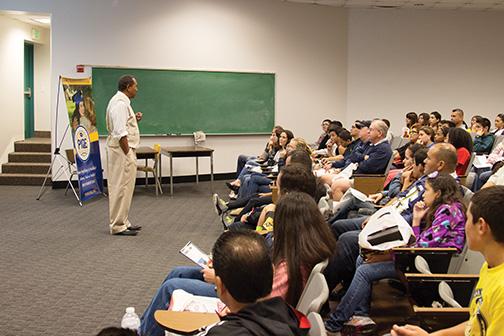 by Andrea Ciardiello
October 28, 2013
Hang on for a minute...we're trying to find some more stories you might like.
On Saturday, Oct. 26 San Diego State hosted its 14th annual Compact for Success seventh grade visit.
The campus visit brought seventh grade Sweetwater Union High School District students and parents to SDSU for a welcome ceremony at Viejas Arena. The visit included student workshops, an information fair, live entertainment and campus tours.
SDSU President Elliot Hirshman opened the welcome ceremony with words of encouragement for the prospective students.
"For many of you, today may be the first time you are on a college campus, but with hard work and dedication we can work together to ensure that it will not be the last," Hirshman said. "You can, each and every one of you, go to college."
The Compact for Success program began in 2000 by former superintendent of SUHSD Ed Brand and former SDSU president Stephen Weber. It was created to bring new educational opportunities to SUHSD graduates. The goal was to increase the number of SUHSD students enrolling in and graduating from SDSU.
Compact for Success involves SUHSD teachers working in partnership with SDSU faculty to build a curriculum in high schools that meets the specific requirements for college admission at SDSU.
SUHSD students participating in the Compact for Success program must maintain a 3.0 GPA throughout their senior year of high school, complete all CSU course requirements, be enrolled in a SUHSDl since the seventh grade, satisfy both the entry-level math and entry-level English placement tests and take the SAT or ACT exams. All Compact for Success participants meeting these five benchmarks earn the opportunity for guaranteed admission to SDSU.
Compact for Success Director Lou Murillo discussed the importance of parent involvement in the program.
"The purpose today is to make sure the student and the parent form a bond, so that we're not just talking to the student about what it takes to get to college, but that the parent has a role to play in that journey as well … They can then form a team and start to plan how they approach getting to college together as a family," Murillo said.
The annual visit is only one of many activities the program hosts to promote its mission and commitment to future SDSU students.
Compact for Success program advisor Lisa Santa Cruz highlighted the history of the seventh grade visit..
"This program has definitely evolved," Santa Cruz said. "I've been here for seven years and this event keeps growing every year. This is our largest one yet … And every year our main goal is just that the students and parents have a good experience here."
SUHSD parent Hollie Wehnes, whose daughter attends Southwest Middle School, expressed her support for the program.
"It's a good opportunity to plan for my daughter's future and to get her ready for college by completing the program requirements," Wehness said.
Photo by Jonathan Bonpua, staff photographer