Altar de muertos muestra desigualdad fronteriza en uso de agua potable
Hang on for a minute...we're trying to find some more stories you might like.
El Departamento de Estudios de Chicanos y Chicanas y el Centro de Estudios de América Latina crearon un altar de muertos el miércoles pasado y tendrán una celebración el lunes.
"El objetivo del altar es reproducir una tradición mexicana que nos parece muy bonita", la profesora y jefa del departamento de estudios de chicano y chicanas Norma Iglesias-Prieto dijo. "Es una manera muy diferente y saludable de celebrar la muerte".
Su segundo propósito es utilizar esta tradición cultural como una especie de instrumento didáctico para crear conciencia de un tema que afecta a la comunidad, Iglesias-Prieto dijo.
El altar anual que está colocado en el tercer piso del edificio de la Facultad de Artes y Letras tiene un tema cada año. Anteriormente los temas han sido la inmigración, la violencia en la frontera y la crisis de la educación estatal, entre otros.
Este año el tema es la justicia ambiental y el agua.
"Estamos viendo que esta afectando directamente a nuestras comunidades", Iglesias-Prieto dijo.
Iglesias-Prieto dijo que el agua crea muchas tensiones, especialmente en la región de la frontera porque es un recurso compartido.
El altar es innovador através de los diferentes proyectos que estudiantes de la Universidad Estatal de San Diego (SDSU) crearon, tal como poemas, objetos, arte, fotografías y gráficas de datos que hablan con el tema.
Las piezas que completaron los estudiantes fueron parte de una tarea que Iglesias-Prieto le dio a su clase sobre el tema de la frontera internacional de EE.UU. y México.
Para inspirarlos, la profesora les dio una cifra.
Los países más ricos, donde solo el 20 por ciento de la población habita, usan el 86 por ciento del agua potable del mundo, mientras que el 80 por ciento del resto de la población solo tiene 16 por ciento de agua potable, Iglesias-Prieto les dijo.
Este es el primer año que un jurado de cuatro personas, compuesto de dos profesores y dos administradores de ambos departamentos, evaluó y otorgó un primer, segundo y tercer lugar a los proyectos.
Además de traer conciencia a través del altar, Iglesias-Prieto dijo que es importante reproducir una expresión cultural porque es necesario que las personas se sientan orgullosas de su cultura y que asocien algo positivo con ser mexicano o mexicana.
También es una expresión cultural que da luz a la tradición mestiza y que crea un sentido de comunidad, Iglesias-Prieto añadió.
El lunes, habrá una celebración que incluirá pan de muerto y café con leche. Además, la profesora de estudios de Chicano y Chicanas Coral MacFarland y el músico de jazz, Jaime Valle, interpretarán música tradicional de México.
El evento se llevará a cabo al medio día el lunes en el tercer piso de la Facultad de Artes y Letras.
La foto es cortesía de Walter Koenig 

About the Writer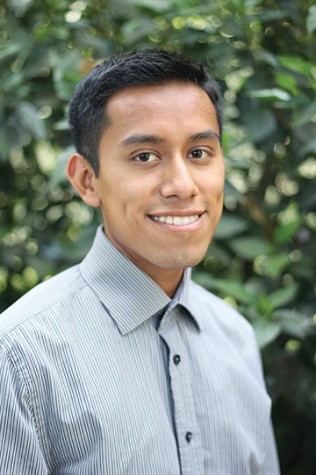 David Hernandez, News Editor
David Hernandez is news editor of The Daily Aztec. He joined the newspaper in 2012 and has previously been a staff writer, copy editor and blogger. He will...