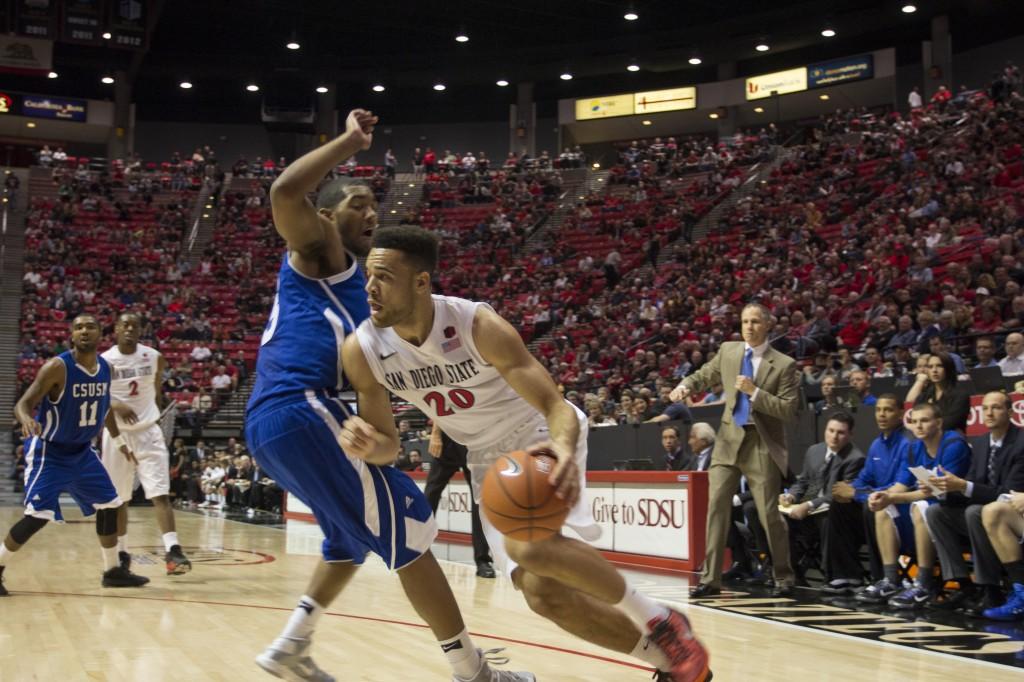 The San Diego State men's basketball team beat the California State University, San Marcos Cougars in an exhibition last Friday 81-66.
[quote]"This game is what I hoped it would be, it was good for us," head coach Steve Fisher said. "I think this will be a great teaching tape for us."[/quote]
SDSU began its highly anticipated season with an emphatic dunk by sophomore forward Skylar Spencer 19 seconds into the game, assisted by sophomore forward Winston Shepard.
The Aztecs continued to play well until the first media time-out with 11:41 remaining in the first half. Senior forward Josh Davis wowed SDSU's student section, "The Show," with his strength and surprising speed. By the first media time-out, Davis scored eight points and snatched four rebounds—two offensive and two defensive.
The Cougars, ranked No. 12 in the National Association of Intercollegiate Athletics Division I Coaches' Preseason Top 25 Poll, proved challenging for the rest of the game. In fact, the Cougars outscored the Aztecs 18-14 in the last 9 minutes of the first half.
Cougar senior guard Jason Johnson led the charge, shooting 55 percent from the field and scoring 27 points. CSUSM especially hurt SDSU from 3-point range; San Marcos shot almost 48 percent of its 3-pointers. For most of the second half, the Cougars stayed within eight points of the Aztecs. SDSU broke away, however, outscoring San Marcos 14-6 in the last 5 minutes.
Despite the Cougars quality of play, the Aztecs proved to be the better team. SDSU overwhelmed San Marcos with its size; SDSU scored 46 points in the paint and its 14 offensive rebounds led to 24 second-chance points. Davis ended his first game as an Aztec with a double-double: 13 points and 10 rebounds, five of which were offensive. He played especially well on defense.
[quote]"I think Josh (Davis) has the footwork and feet to guard anyone on the floor," Fisher said.[/quote]
Junior forward JJ O'Brien shot 72.7 percent from the field and led the team with 21 points.
"I wanted to be a stable point for the young guys tonight and try to show them the way and help them," O'Brien said.
Because it was an exhibition, the younger players played a lot of minutes. Fisher said after the game he was less concerned with the score than he was with seeing how all his players played.
In fact, Fisher played 11 Aztecs at least 10 minutes. Freshman forward Dakarai Allen played 16 quality minutes off the bench, scoring nine points on 60 percent shooting. Junior forward Dwayne Polee II scored five points and grabbed three rebounds to the sound of "Polee" cheers from "The Show."
Viejas Arena was quite full and loud for an exhibition game—especially the "The Show." After the game Fisher expressed his gratitude toward "The Show."
[quote]"They were absolutely outstanding and we appreciate that," Fisher said. "They will help us, our crowd will help us as this season moves on. We need to make sure (the fans) know how much we appreciate them and need them."[/quote]
SDSU begins its regular-season campaign at 7 p.m. next Friday, at Viejas Arena against University of California, Riverside. This one counts—don't miss it.
Tickets for SDSU's game against The Associated Press ranked No. 6 team, University of Arizona can be picked up at 7 a.m. on Wednesday, November 13 at the Viejas Arena Box Office. Lines can't form until 6 a.m. and there are only about 1,500 tickets left, so be sure to bring your current Red ID and pick up your ticket early.
Photo by Jenna Mackey, Staff Photographer