Aztecs dominate Highlanders 77-41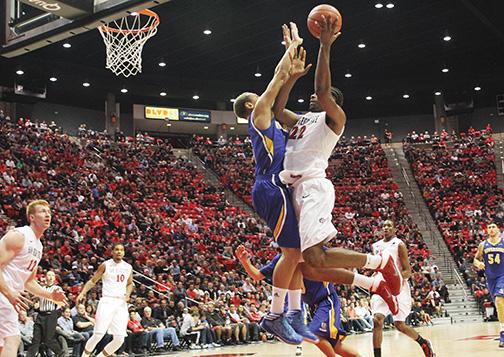 by Terence Chin
November 12, 2013
Hang on for a minute...we're trying to find some more stories you might like.
Last Friday, 12,414 fans packed Viejas Arena to watch the San Diego State men's basketball team dominate, something they've been accustomed to doing during preseason home games.
SDSU tipped off the regular season with a cruising 77-41 victory against the University of California, Riverside Highlanders. This time, the game counted on the team's record.
Head coach Steve Fisher simply summed up his team's dominating performance in two words: played hard.
[quote]"We did for 40 minutes what we did for 40 practices: played hard," Fisher said. "And if you do that when you are talented, when you are deep … athletic, you are going to have the chance to be successful."[/quote]
Just one minute into the game, senior guard Xavier Thames put the Aztecs on top first with a 3-point shot to give SDSU a 3-0 lead.
The Aztecs never looked back from there. The Highlanders never led this game, nor did they ever even the score.
The contest really broke open when the Aztecs threatened with their first 10-point lead as sophomore forward Skylar Spencer blocked a shot leading to a layup by sophomore forward Winston Shepard. UCR called an immediate timeout hoping to regroup and not let this one get away, but it was too late.
The Aztecs continued to apply full-court pressure defense, as they forced UCR to turn the ball over 14 times in the first half, while holding the Highlanders to shooting just 23.1 percent. SDSU held a comforting 38-13 lead at the half.
As Fisher decided to play all 12 of his players in this game, Thames couldn't be happier that all of his teammates saw some action and he finished with a team high 15 points and 4 steals.
[quote]"It's great, we are going to get up and down and press," Thames said. "We can't play eight players … we have to play nine, 10, 11 guys to get up and down to press … everybody's going to be fresh and we're going to wear teams down so that's the main thing."[/quote]
SDSU finished the game shooting 41.8 percent while holding UCR to 30.8 percent. With more than four minutes left to play in this game, the Aztecs led 71-28 against the Highlanders, marking their largest lead of the night at 43.
Senior forward Josh Davis, who played his first official game as an Aztec finished with 11 points and a team high eight rebounds. He explained the defensive intensity level of the Aztecs and how they pride themselves in it.
[quote]"It's big time; I think we took a big step forward from the last game we had," Davis said. "It's what we do every day in practice. We just focus on defense."[/quote]
Coming up, SDSU will turn its attention to one of its most anticipated home games of the season against an Associated Press ranked opponent when the No. 6 University of Arizona Wildcats come to town. Tipoff is set for 7:05 p.m. this Thursday, Nov. 14 at Viejas Arena. Student ticket information is available on GoAztecs.com.
Photo by Jenna Mackey, Staff Photographer