Aztec football faces Boise State in last home game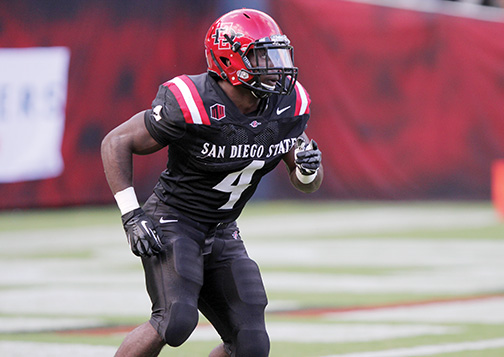 The San Diego State football team, 6-4 overall and 5-1 in the Mountain West Conference West Division, joined very select company with its win against University of Hawaii last Saturday. Since 1980, only 19 college football teams have started a season 0-3 and become bowl-eligible; The Aztecs are now one of those teams.
Winners of six of the last seven games and 12 of the last 13 MWC games, the Aztecs look to ride their momentum into Qualcomm Stadium tomorrow night against Boise State University, 7-3 overall and 5-1 in the MWC Mountain Division.
Many SDSU and Boise State fans have this game circled as one of the biggest of the year, even though the teams play in different Mountain West divisions. Here's how this huge game will break down:
Offense:
With junior running back Adam Muema's return to form, not much can stop the SDSU running attack. In his last four games, Muema has 620 yards and eight touchdowns, ranking him third in the nation over the last four games.
Meanwhile, junior quarterback Quinn Kaehler has played his way to the No. 41 overall passer efficiency rating in the country, ahead of players such as Nick Marshall, the junior quarterback of the No. 6 Auburn Tigers.
Boise State's senior quarterback Joe Southwick, practiced for the first time Monday after breaking his ankle Oct. 19 against University of Nevada, Reno. Whether Southwick plays or not is of little significance. Junior quarterback Grant Hedrick has filled in wonderfully, completing more than  70 percent of his passes for 1066 yards, 10 touchdowns and three interceptions.
Hedrick also averages about 7 yards per carry and has six rushing touchdowns. The Broncos rank in the top 30 in both passing and running offense.
Edge: Boise State
Defense:
Boise State ranks 36th in yards allowed and the Aztecs rank 92nd. These ranks only say so much, however. Another key stat to look at is the takeaway. SDSU has 14 takeaways this year, five interceptions and nine fumble recoveries.
The Broncos have twenty: 13 interceptions and seven fumbles. Takeaways are vital to win a rivalry game where momentum means everything.
Edge: Boise
Special Teams:
SDSU sophomore kicker Seamus McMorrow made all four point after touchdown attempts against Hawaii. However, head coach Rocky Long tried to convert on fourth down twice instead of attempting a field goal. The two field goals would have been from 41 and 49 yards. Long said he hasn't given up on his kickers, though.
[quote]"You just keep working with them and hopefully the next chance they have to do what they're supposed to do they're better at it and they're successful," Long said.[/quote]
Bronco junior kicker Dan Goodale has made 12 of 13 field goal attempts this year.
Edge: Boise State
 Intangibles:
Currently tied with Utah State University, the Broncos are playing for first place in the MWC Mountain Division and a spot in the MWC Championship game.
The Aztecs, on the other hand, are in sole possession of second place in the West Division and are fighting for the best bowl game they can get. I wouldn't say one team is more motivated than the other.
This is a rivalry game. Last year SDSU beat then-No. 19 Boise State 21-19 in Idaho, and the Broncos beat SDSU 52-35 the year before in San Diego. The Broncos will be looking for revenge and the Aztecs will be looking to win two in a row against a powerhouse-program. The good news for SDSU? The game is at Qualcomm.
Edge: SDSU
Prediction: Boise State 38 SDSU 35
The game is tomorrow at 7:30 p.m. It will air on CBS Sports Network and The Mighty 1090.
Photo by Monica Linzmeier, Photo Editor

About the Writer Matthew Bain, Managing Editor
Matthew Bain is the managing editor for The Daily Aztec. He's a senior journalism major with the Honors minor in interdisciplinary studies. His work...