Seniors go out in style against Boise State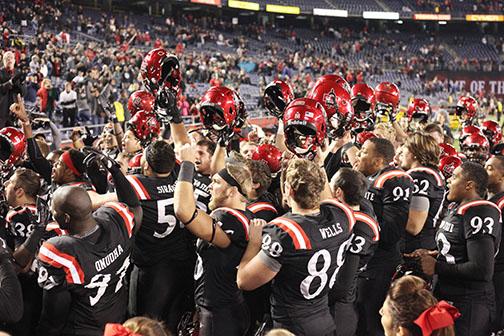 San Diego State's 18 seniors couldn't have dreamed it any better.
[quote]"To beat (Boise State University) here in front of our home crowd as our last game at home, that was really something," senior wide receiver Tim Vizzi said.[/quote]
With its 34-31 overtime victory against Boise State, the Aztecs have beat the Broncos two years in a row. The 2000 and 2001 Washington State Cougars were the last team to do that.
Led by a 45-yard sideline pass from junior quarterback Quinn Kaehler to senior wide receiver Colin Lockett, SDSU scored first and led 7-0 with 4 minutes left in the first quarter.
Boise State immediately tied the game with a 100-yard kickoff return touchdown by junior cornerback Bryan Douglas.
After SDSU scored again in the second quarter, Boise State dominated the third quarter. The Broncos' defense held SDSU scoreless. Meanwhile, Boise state redshirt sophomore running back Jay Ajayi ran a 31-yard touchdown and Lockett fumbled the ensuing kick-off. The Broncos scored four plays later and led 21-14 after three quarters.
SDSU's offense hadn't scored since the second quarter and the team desperately needed energy. Enter junior defensive back J.J. Whittaker. Already with one interception, Whittaker intercepted Boise State redshirt junior quarterback Grant Hedrick's pass and returned it 18 yards to tie the game at 21 with 10:37 to go.
"I had inside leverage, so just had my eyes on him," Whittaker said. "(I) put my foot on the ground, made a play."
On the next Bronco possession, Hedrick led his team on a 69-yard touchdown drive to steal the lead at 28 with 8:02 to go.
The Aztecs threatened to score on their next possession, but Boise State sophomore cornerback Donte Deayon intercepted Kaehler's deep pass to junior wide receiver Ezell Ruffin on the 1-yard line.
Senior Tim Vizzi cranked Qualcomm Stadium up like it hasn't been all year when he tied the game at 28 on a 41-yard punt return touchdown with 4:04 to go. Vizzi became the first Aztec to return a punt for a touchdown since 2002.
"We just talked about getting a nice hold up, stood the guys up front and it gave me some room," Vizzi said. "I just owe it all to them. They made some blocks. I was able to spring one off. Definitely felt great."
After Boise State redshirt junior kicker Dan Goodale missed a 43-yard, potential game-winning field goal, SDSU headed to overtime for the fourth time this season—tied for the most in Football Bowl Subdivision history.
Lockett was the overtime hero. He bounced back from his fumble and made a high-pressure catch in the front right corner of the end zone to win the game.
[quote]"Quinn (Kaehler) threw a heck of a pass," Lockett said. "I did what I was supposed to do. Caught the ball and made sure I got my feet inbounds."[/quote]
Head coach Rocky Long spoke to the press with Lockett after the game. At several points, Long smiled and looked at Lockett with what can only be described as pure happiness and pride for his seniors.
[quote]"To be able to win a game like that against a team like that at home on your last home game, that's something they can carry with them the rest of their lives," Long said. "I can still remember some of the games I played in. That's one they'll remember forever."[/quote]
Aztec fans will miss their seniors, who will be the first in SDSU history to play in four straight bowl games. They helped transform SDSU from a below average football team to a well-respected football program.
I'd like to close this article with what may seem off-topic. However, it's perfectly relevant to a discussion of SDSU's success.
The fullback is often the unsung hero of a team. SDSU's senior fullback Chad Young is a perfect example. This future NFL fullback has makes everyone around him look great.
"Chad (Young) is one of the biggest reasons we've had a thousand yard rushers in back-to-back to back to back seasons," Lockett said. "Nobody else can go out there and put their body on the line for a team like that and still come back week after week. I think that just shows a lot of character. I love Chad the most when he comes down putting his body out there. He does it week in, week out. Just glad to have him on my team and not the other's."
SDSU improves its record to 7-4 and 6-1 in the Mountain West Conference and maintains sole possession of second place in the West Division. With the loss BSU becomes 7-4 and 5-2 in the MWC and falls to second place in the Mountain Division.
The Aztecs have one more big game at 7:30 p.m. next Saturday at University of Nevada, Las Vegas. You can catch it on ESPNU.
Photo by Wesley Beights, Staff Photographer

About the Contributor Matthew Bain, Managing Editor
Matthew Bain is the managing editor for The Daily Aztec. He's a senior journalism major with the Honors minor in interdisciplinary studies. His work...