Going home with Midnight Red
Hailed as "America's boy band," the poppy, danceable Midnight Red is an up-and-coming band already receiving praise from media outlets such as "Entertainment Tonight," E! News and "Access Hollywood," just to name a few. They'll be coming through San Diego on Dec. 7 as part of Channel 933s "Frankie and Geena's Freecember" holiday concert. The Daily Aztec caught up with band member Thomas Augusto to discuss Midnight Red's current success and what's next for the band.
The Daily Aztec: Give me a little bit of background—how did you all meet and decide to form a band?
Thomas Augusto: I met Eric (Secharia) when we were both 16, at another gig. He and Anthony (Ladao) were forming the band, and he called me. I flew to LA—I'm originally from Texas—and we found Joey (Diggs Jr.) through a mutual producer. We found Colton (Rudloff) on YouTube. Well actually, Eric's mom found Colton on YouTube. So basically, we all came out to LA, and that's how we got started.
TDA: What's the story behind the band name Midnight Red?
TA: Well, we actually went through a slew of names before that, and they just weren't working. As it turns out, basically any name you can think of is somehow copyrighted. We'd think of a totally random name, and then find out it had been copyrighted by, like, a cover band in Australia or something.
So Joey actually had a dream and said that a voice came to him, and told him to use midnight in the band name. He thinks it was God; I like to think of it as Samuel L. Jackson. We tagged on "red" as a homage to our fantastic producer, RedOne, and also because red's a very vivacious, in-your-face kind of color and it worked for us.
 TDA: Part of your rise to success was being the opening act for the New Kids On The Block and the Backstreet Boys tour. What was it like, touring with such iconic boy bands?
TA: It was totally an inspiration touring with those guys. It was super cool, and very eye-opening. It's funny actually, our first show was at Mandalay Bay in Las Vegas, and there were a crazy amount of people there, like 12,000 people or something. We were the only opening act. Before this, our biggest gig was a block party for 80 people or so, so it was a big change. That was when we knew, OK, it's time to put on the big boy pants.
TDA: Right now, you're experiencing phenomenal success with "Take Me Home." Did you know immediately that this would be the song to launch your career?
TA: Yeah, absolutely. It was one of those songs where we recorded it, and when we listened to it in the studio, it was really emotional. Like, we knew this was the song that would change our lives.
TDA: Who are some of Midnight Red's musical influences?
TA: Between the five of us, there are a lot of different influences. For me personally, No Doubt is a big influence; they were the soundtrack of my childhood, essentially. But I think our sound overall is inspired a lot by the wave of pop in the late 90s: 'N Sync, the Backstreet Boys, Britney (Spears), acts like that. We're very inspired by the dance element.
TDA: Your tour begins soon—how are you all feeling?
TA: It's a combination of a lot of things. Mostly I try not to think about it, pretend it isn't happening so I don't freak myself out. But we're touring for a whole month … the hardest part I think is driving to the airport, where you're like, 'Wow, this is really happening" and it's pretty emotional. But when you land, it's a whole new energy, like 'Let's do this.'
TDA: Have you come through San Diego before?
TA: I have, yeah. I love San Diego; I was there a few years ago on Halloween—it was awesome. I liked SeaWorld, because I've always felt like a kindred spirit with beluga whales and dolphins. But then I saw this documentary, "Blackfish," and now I'm kind of conflicted. But yeah, San Diego is great.
TDA: What's next for Midnight Red after this tour?
TA: We're doing some international tours and stuff overseas, and we'll also be a part of MTV's "Artists to Watch" tour, alongside acts like Austin Mahone. We'll also be back in the studio making new tunes—very exciting stuff.
Also read: 'Hunger Games' Sequel raises bar for action series

About the Writer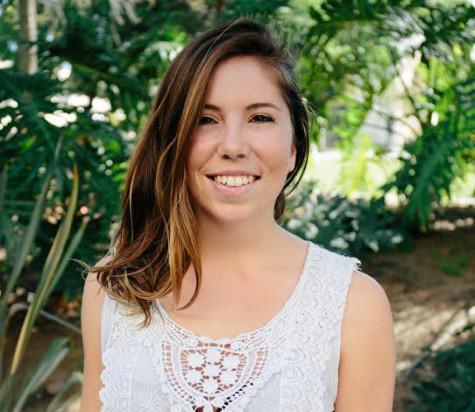 Jamie Ballard, Managing Editor
Jamie Ballard is the managing editor of The Daily Aztec for 2016-17. She has been a member of The Daily Aztec since 2013, first as a staff writer and then...