Aztecs ready to face College of Charleston in Wooden Legacy tournament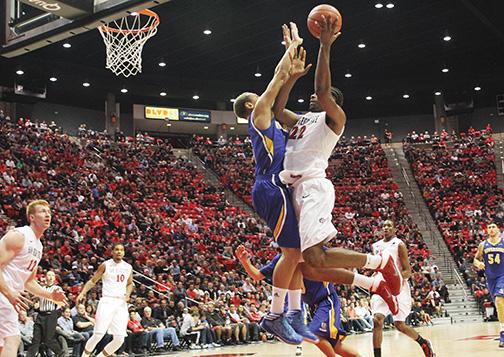 by Terence Chin
November 27, 2013
Hang on for a minute...we're trying to find some more stories you might like.
Frontcourt
Aztecs
Starting with senior forward Josh Davis, the San Diego State frontcourt looks revived this season as the transfer from Tulane has made his presence known thus far. Coming into the Wooden Legacy tournament, Davis is averaging 9.3 points along with 8.3 rebounds. Sophomore forward Skylar Spencer also brings a defensive presence back to the team averaging 2.3 blocks per game as a starter after leading the Mountain West Conference in blocks as a freshmen last season.
Cougars
Junior forward Adjehi Baru leads the frontcourt for the Cougars having almost a duplicate season of last year, averaging 9.2 points with eight rebounds per game despite leading his team in shooting at 66.7 percent. Senior forward Anthony Thomas is a mediocre player averaging 7.2 points and four rebounds per game. Neither player is too defensive-minded, and no player on the Cougars is averaging a block per game. Although both teams don't know each other too well, the rebounding presence of Davis and Spencer's shot-blocking ability will give the Cougars a challenge in scoring when it comes to their frontcourt.
Edge: Aztecs
Backcourt
Aztecs
Senior guard Xavier Thames had a breakout scoring performance against the Associated Press's No. 5 University of Arizona Wildcats, leading his team with 19 points along with junior J.J. O'Brien who has played a lot of point forward this season. The X factor of this contest could be sophomore guard Winston Shepard who's shown signs of potential this season by bumping his scoring average from 5.7 to 10.7 points per game. Shepard is now a starter in place of graduating guard Chase Tapley, so it will be key for him to provide scoring in the backcourt alongside Thames for the Aztecs to succeed this season.
Cougars
The backcourt of the Cougars begins with sophomore guard Canyon Barry who leads his team averaging 15.4 points per game this season. Freshman guard Joe Chealey doesn't seem to be off to a bad start for a first-time college player, averaging 10.4 points while leading the Cougars with 2.4 assists per game. With the senior leadership and experience of Thames who had a solid performance last week against the Wildcats, the Cougars don't seem to possess a deep enough threat in their backcourt to give the Aztecs any problems this contest.
Edge: Aztecs
Intangibles
Aztecs
Their loss against ranked Arizona being the only loss for the Aztecs this season proves SDSU is as tough a team as any to beat this season. With Jamaal Franklin having left his senior year for the NBA, O'Brien and Shepard have looked to take advantage of their scoring opportunities this season. As of now Thames, O'Brien, Shepard and Davis seem to be the fantastic four for the Aztecs this season, who will look to carry this team a long way.
Cougars
Being in first place of the Colonial Athletic Conference looks good so far for the Cougars, but they have proven that they're not accustomed to playing tough teams beyond their conference. With big losses to the University of Miami and the University of Louisville, the Cougars don't seem ready to challenge any teams that were ranked last year.
Edge: Aztecs
Prediction: SDSU 62 Charleston 54 
Photo by Jenna Mackey, Staff Photographer