Josh Davis transfers a surge of energy to the court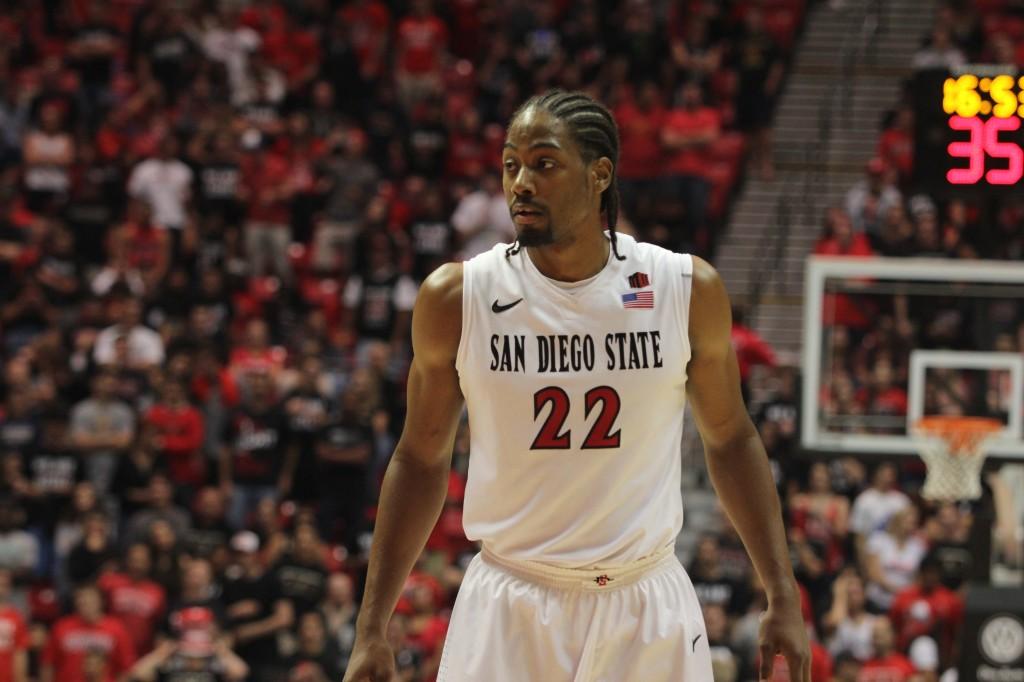 by Terence Chin
December 2, 2013
Josh Davis has traveled more than 2,000 miles to get to where he's at today, playing basketball at San Diego State for his final year of Division I eligibility. He started from the cold fall temperatures in Raleigh, N.C. and attended Tulane University in New Orleans before transferring to SDSU.
The 6-foot-8-inch forward wants to leave it all out on the floor as he hopes to make his presence known in his one-year legacy at SDSU.
"I want to be one of the best rebounders to ever come out," Davis said. "I have to raise my free throw percentage, but I think rebounding is what I want to leave a legacy in at San Diego State."
In his very first game as a starter at SDSU, Davis made sure the Aztecs knew he'd be one to hang around the glass as he recorded a double-double scoring 13 points and grabbing 10 rebounds in an exhibition win against California State University San Marcos. Prior to transferring to SDSU, Davis was his own double-double machine at Tulane, where he led the Green Wave as a junior averaging 17.6 points and 10.7 rebounds per game.
Davis told U-T San Diego about 50 schools were calling him for his services when he decided to test the transfer market as a post graduate student being immediately eligible. Some of these schools included Gonzaga University and Ohio State University, which Davis had planned visits to before committing to play for the Aztecs.
"It was the style of play and coach Fisher … I never really met a coach like him before with the conversations we had, the guy made me feel like family," Davis said. "After Tulane granted me my release, a lot of schools started to call. One day, coach Fisher and (assistant head) coach (Brian) Dutcher called me. They came to visit my mother first before they came to visit me … from there on it was easy for me to come and end up here."
Senior guard Xavier Thames, one of only two seniors on this year's team, enjoys Davis' presence and explained the importance of his experience.
"It's been great. He's been playing college basketball for four years like me now," Thames said. "He's a hard worker and he works on his game every day and brings a good presence on the court … I'm really glad to have him."
Since Davis first arrived on campus, Aztec fans have labeled him "Kawhi Leonard 2.0," after former Aztec forward Kawhi Leonard who now plays professionally in the NBA. When asked what  he thinks of the label, Davis laughed and said he doesn't mind it at all.
"I've been hearing that since day one, since I stepped onto campus," Davis said as he smiled. "We're two different players, but as far as work ethic I feel like we're the same; everyone thinks we look alike."
After defeating the College of Charleston and the Associated Press No. 20 Creighton University this past weekend in the DIRECTV Wooden Legacy tournament, the Aztecs improved their season record to 4-1 overall, qualifying to play for the tournament championship against the AP No. 25 Marquette University on Sunday. Davis helped SDSU hold off the ranked Creighton Blue Jays by adding six points and eight rebounds, bumping his season average to 8.2 points and leading the Aztecs in rebounds, averaging eight per game.
Aside from a uniform change from his freshman year at North Carolina State University to his previous two seasons at Tulane, Davis described the refreshing change of playing on Montezuma Mesa.
"I love the weather; the weather is the biggest difference," Davis said. "It's November, and I can still walk outside with shorts on … I love the weather here."
Davis also wants the Aztec Nation to know what kind of player he's striving to be.
"Just know that I'm going to bring it every day," Davis said. "I look forward to trying to win a conference championship and making a run in the Big Dance."
Jenna Mackey, Staff Photographer