Men's basketball faces crosstown rival USD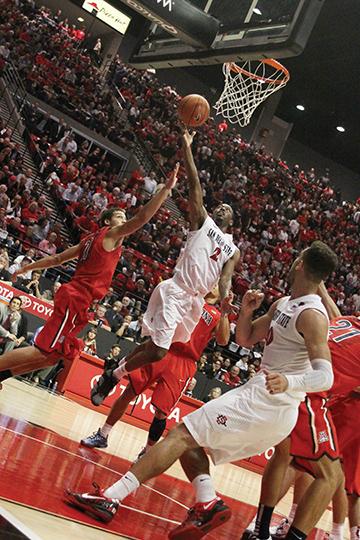 Sports pundits pegged San Diego State, which is 5-1 overall, as a "rebuilding team" this year. The Aztecs have proved those pundits wrong. Fresh off wins against then-No. 20 Creighton University and then-No. 25 Marquette University to win the Direct TV Wooden Legacy tournament, SDSU currently ranks No. 24 in the Associated Press Top 25.
The Aztecs are gaining national recognition, and CBS Sports and NBC Sports named senior guard Xavier Thames the National Player of the Week. Small up-and-coming programs often upset teams that dwell too long on cloud nine, however. The University of San Diego, 7-2 overall, is that kind of program. SDSU cannot overlook this game at USD.
Here's where the advantages lie in this matchup:
Offense
SDSU's offense relies on defense and rebounding. The Aztecs utilize their length to clog lanes and intercept passes to create points in transition with their athleticism and speed. They also look to out-rebound their opponents offensively to score second-chance points. So far they're doing well: the team averages almost eight steals and 12.5 offensive rebounds per game, five players are shooting above 45 percent and Thames and redshirt freshman forward Matt Shrigley are both shooting above 50 percent from 3-point range.
The USD Toreros are also very lengthy. Players playing 10-plus minutes per game stand an average of a little more than 6 feet 4 inches according to ESPN, close to SDSU's 6 foot 5.5 inches.  USD returning and starting senior forward Dennis Kramer stands 6 feet 11 inches and weighs 241 pounds. He'll prevent many SDSU offensive rebounds and will expose SDSU's lack of inside dominance.
SDSU is clicking on offense right now. Despite USD's inside presence, the edge goes to the Aztecs.
Edge: SDSU
Defense
Head Coach Steve Fisher's SDSU teams are known for defense. This year is no different. Six games into the season, the Aztecs have allowed 57 points per game, ranking them fifth in the nation and first in the Mountain West Conference. San Diego Christian College head coach Tim Cook praised SDSU's defense after his team's 93-41 loss at Viejas Arena last month.
[quote]"I've been coaching for 18 years and I've played longer than that, (San Diego State) is the best defensive team that I've been on the court coaching or playing against," Cook said.[/quote]
USD plays great defense, as well. It allows about 60 points per game. Junior guard Christopher Anderson stands only 5 feet 7 inches, but he uses his size and quickness to pick off passes and he averages almost two steals per game.
Both teams' defenses look even on paper. However, SDSU's level of competition has been greater than USD's. For instance, the Aztecs held No. 2 University of Arizona to 69 points; Arizona averages almost 80 points per game.
Edge: SDSU
Intangibles
The Toreros are underdogs. As earlier mentioned, they are the type of underestimated team that swoops in and upsets a powerful team.
SDSU's national ranking could do one of two things: motivate the team to prove its merit and work to raise its rank, or cause the team to underestimate an underdog like USD.
This game is at USD. Home court is a definite advantage. USD students and fans will scream as loud as ever to help their team beat SDSU for the first time since 2005. However, it helps to have "The Show." SDSU student section tickets are sold out, so there will be a heavy red-and-black presence at the Jenny Craig Pavilion on Thursday.
Edge: Draw
This will be an exciting game, much closer than many might think.
Prediction: SDSU 72 USD 63
Fans can watch the game on Fox Sports San Diego at 8 p.m. Tickets are still available. Call 619-260-7550 for more information.
Photo by Jordan Owen, Senior Staff Photographer
About the Writer Matthew Bain, Managing Editor
Matthew Bain is the managing editor for The Daily Aztec. He's a senior journalism major with the Honors minor in interdisciplinary studies. His work...