The perseverance of Quinn Kaehler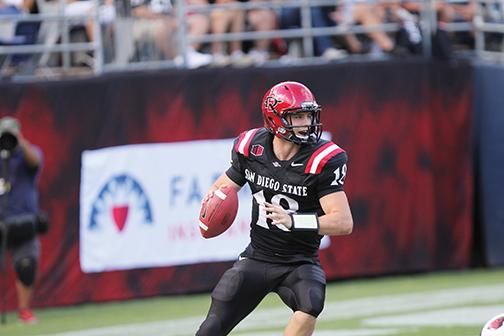 Not many Division I college quarterbacks start their NCAA career midway through the first quarter in front of 104,984 fans against the No. 3 team in the nation. Even fewer complete their first five passes and end the game with a touchdown and 216 yards. And I can almost guarantee that only one of those quarterbacks has seen every episode of "The Office"—twice. Aztec junior Quinn Kaehler is that one-of-a-kind quarterback.
Thrown into the leading role of a floundering offense in the second game of the season, Kaehler hit the ground running and won seven of the 10 games he started. Kaehler epitomized consistency; his passer efficiency rating frequently ranked among the nation's best and he completed 60 percent of his passes. His 17 touchdowns and 2,796 passing yards weren't too shabby, either.
Kaehler quickly won over fans with his skills on the field and his unassuming demeanor off the field.
This humble quarterback's road to success often winded in and out of certainty, but he found his way to Qualcomm Stadium as a San Diego State Aztec.
This is Kaehler's story.
Pre-SDSU years
Let's start way back, when Kaehler was much younger. Kaehler gravitated toward sports as a kid. He loved all sports, but he loved football most of all.
[quote]"Football excited me—especially watching quarterbacks play," Kaehler said with a smile. "Then I started playing quarterback and I've been playing ever since."[/quote]
Despite his love for the game, Kaehler received no Division I scholarship offers as the starting quarterback of California High School in San Ramon. Kaehler excelled academically, however. He earned a 3.9 GPA and was accepted by SDSU for Fall 2010. He enrolled at SDSU and decided to try out for the football team as a walk-on. Unfortunately, the Aztecs already had three solid quarterbacks and turned Kaehler away. Unable to stay away from the game, Kaehler finished the fall semester and transferred to Diablo Valley College in Spring 2011, where he took off as a DVC Viking.
He grew exponentially as a smart and efficient quarterback, and he outplayed three other quarterbacks for the starting job by the middle of his freshman year. He returned for his sophomore season in 2012 and put up video game statistics: 60.5 percent completion rate, 4,044 yards and 38 touchdowns.
Still, however, no Division I scholarship offers came.
"He's always flown under the radar," Kaehler's father, Robert, told The San Diego Union-Tribune. "He's always had to come from behind. But that's his style."
But finally, one Division I school did take notice: SDSU. Kaehler eagerly enrolled at SDSU for the second time in three years in Spring 2013.
"It was a good situation with a new offensive coordinator coming in, so everyone was starting from the same level," Kaehler said. "It seemed like a good fit; I liked the coaches and everything just seemed to be right."
Back at SDSU
As a walk-on, Kaehler started as the sixth-string quarterback that spring. But he'd been used to fighting his way up the ranks for a few years now. He thought he could do it again.
[quote]"You always believe in yourself, but I just wanted to give it my best shot and see if it worked out," Kaehler said.[/quote]
It definitely worked out. By the end of the semester, Kaehler moved up four spots on the depth chart to the backup slot behind junior Adam Dingwell. Kaehler said he just wanted to help the team in any way he could as SDSU began its 2013 campaign.
In a surprising change of fate, Dingwell played below expectations and struggled with a back injury in the first two games, so Kaehler helping out "in any way possible" quickly turned into playing as the starter. And Kaehler didn't get any cupcakes. His first minutes on the field came at the Buckeyes' stadium against then-No. 3 Ohio State University.
"There were a lot of things (going through my head during the game)," Kaehler laughed. "I was shaken a little bit and really nervous, but once you just play a little bit, you realize it's just football. It's the same from the time you're little, the kids just get bigger and faster and stronger."
Kaehler proved that SDSU had a legitimate starting quarterback during that OSU game. Like Kaehler said, he settled into the game and eventually led an impressive scoring drive in the third quarter. He completed all four of his passes on this drive for 55 yards, including the touchdown pass to senior fullback Chad Young. He ended the game 22-36 for 216 yards, one touchdown and one interception.
SDSU head coach Rocky Long named Kaehler the starting quarterback three days later, and Kaehler never looked back.
Thriving as the starter
Kaehler's confidence grew with every game. He stood strong in the pocket and rolled comfortably out of the pocket to extend plays. He flexed his football IQ and completed more than 64 percent of his passes in his first two games. By Kaehler's third game as a starter, offensive coordinator Bob Toledo granted Kaehler the same offensive control that he stripped from Dingwell after Week One. With these new responsibilities, Kaehler could choose to run one of two selected plays depending on the defense's pre-snap schemes.
Kaehler wowed fans in his first game with these responsibilities against the University of Nevada, Reno. He completed 23 of 32 passes for 286 yards and three touchdowns, including the game-winning touchdown in overtime. Kaehler finished the game with a raw quarterback rating of 92.0 out of 100. One could definitely argue that SDSU's emotional victory against Nevada changed the course of SDSU's season.
Students know how the story unfolds from there, "Mr. Consistency" came to play every game and helped lead the Aztecs to a 6-2 Mountain West Conference record.
Kaehler believes his unconventional route to success taught him a lot and helped him develop into the quarterback and person he is today.
"It's like playing a football game," Kaehler said. "You always have ups and downs—you never play perfect games. So when the bad parts hit, you just have to keep going and keep your eyes on the ultimate goal, and hopefully it works out."
Kaehler's character
Just as impressive as Kaehler's on-the-field performance was his humility off the field. Kaehler often deflected praise and gave it to his team. Take his response when asked to describe his development as a starter after the Nevada game, for instance.
[quote]"I think the rest of the guys are playing really well and coach Toledo is calling great plays and we had the running game going," Kaehler said. "So (when we ran a) play action pass, there were guys open, and of course the receivers are making plays."[/quote]
With that kind of mindset, it's no surprise that Kaehler's favorite part about the season was his team.
"This is the first time since high school where I've felt a strong team where everyone's into it for the team to win a game and that's what they care about," Kaehler said. "They're all great guys, and they always have my back, so it's really fun to play with them."
Kaehler also takes his student responsibilities seriously. Seeking a degree from SDSU's highly ranked College of Business Administration, Kaehler works to balance football and school.
"The tough part is you have to plan (your schedule) out because there are days and weeks where football is really busy, so if you know that you have tests or papers or projects due that same week you have to do it in advance," Kaehler said. "And if we do get a day off, you have to spend that day mostly doing homework or studying or that kind of thing."
Despite his success as a Division I quarterback, Kaehler stresses that he sees himself first as a member of the SDSU community.
[quote]"I don't want (my peers) to think any different of me than any other student would," the business major adamantly said. "Hopefully, if they get to know me they would think of me as a friend. I would never want them to think of me as the starting quarterback and have that be some meaning more than just a regular student."[/quote]
There's Quinn Kaehler's story, ladies and gentlemen. But be ready for more because this "The Office"­ fan's story is far from ending.  Next, Kaehler will help lead the Aztecs against Buffalo on Dec. 21 at 3:30 p.m. MT in the Famous Idaho Potato Bowl in Boise, Idaho.
Photo by Monica Linzmeier, Photo Editor

About the Writer Matthew Bain, Managing Editor
Matthew Bain is the managing editor for The Daily Aztec. He's a senior journalism major with the Honors minor in interdisciplinary studies. His work...