Phi Delta Theta hosts holiday philanthropy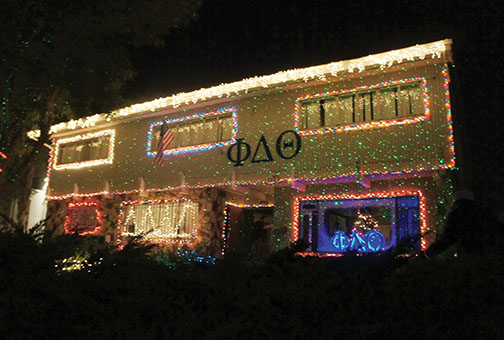 by Addie Pratico
December 10, 2013
Hang on for a minute...we're trying to find some more stories you might like.
On Dec. 6, the San Diego State's Phi Delta Theta presented its philanthropy titled "Little Drummer Phi" to benefit the Seany Foundation.
The fraternity conducted a light show synchronized with holiday songs. Hot chocolate, apple cider, and cookies were also served to accompany the display of lights. There were also ornaments available for decoration.
The Seany Foundation is a local nonprofit organization for children with cancer. The money raised by selling holiday treats was donated to the foundation.
More than 100 people attended the two-hour event and $800 was raised. Phi Delta Theta President and sociology junior Corey Polant said the event was created to unify the campus.
"The purpose of this event was to bring the SDSU community together during the holiday season." Polant said. "By creating this event, I thought it was the perfect time to truly bring together an amazing foundation and show that the holiday season is here."
Polant said the organization came up with the idea for the event last December, but planning began this semester.
The fraternity advertised its event for about two weeks by creating a Facebook page, flyers, social media, and announcing to some of the other Greek Life organizations on campus. SDSU Enrollment Services graphic designer Courtney Harmon designed the logo for the event.
"I heard about the event through Facebook and from receiving a flyer," early childhood and family development freshman Lisa Williams said. "I decided to attend the event since it seemed like it would be fun and a good way to get in the holiday spirit and spread holiday cheer. I also thought it was sweet of the men that they teamed up with a foundation that supports children with cancer."
Phi Delta Theta worked with HiTech Lights to assemble the show, which took about five hours, Corey said.
Vice President of Recruitment and mechanical engineering sophomore Marc Damore said he hopes the event continues to attract more attention and raise money for the foundation.
"I thought it was a pretty good turnout for the first time of event," Damore said. "I think it will get better ever year, it's all about giving back to the Seany Foundation… They're all nice people who are just trying to do everything for the children who have cancer."
Photo by Kelly Smiley, staff photographer.