BEATBOX: 08-02-10
Hang on for a minute...we're trying to find some more stories you might like.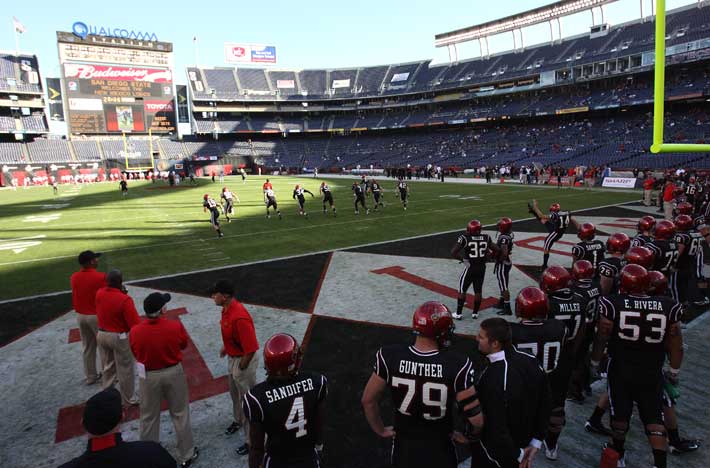 File Photo
SDSU picked to finish sixth
Like the rest of the Mountain West Conference, the San Diego State football team's brass packed its bags and headed out to Las Vegas for MWC Media Day last week.
Head coach Brady Hoke, wide receiver Vincent Brown and linebacker Andrew Preston represented SDSU, which found out it was picked to finish sixth in the 2010 MWC Preseason Poll.
Here's how the rest of the conference was picked to finish this season:
1. TCU
2. Utah
3. BYU
4. Air Force
5. Wyoming
6. SDSU
7. Colorado State
8. UNLV
9. New Mexico

Three named to All-MWC preseason squad
Brown, tight end Alston Umuolo and punter Brian Stahovich were named to the 2010 Preseason All-MWC Team at MWC Media Day last week.
Brown caught 45 passes for 778 yards last season before breaking his thumb in late October.
Umuolo, meanwhile, posted 22 catches for 243 yards and three scores last year. Stahovich was one of the best punters in the country last season, averaging 43.8 yards per boot.
Strasburg hits the DL
After electrifying the nation for nearly two months, the Stephen Strasburg show in Washington has finally hit a bump. Or, as Strasburg put it to the media in the D.C. area, it kind of hit "the wall a little bit."
The flamethrowing phenom was scratched from his start against the Atlanta Braves last week and hit the disabled list shortly after with shoulder tightness.
The Nationals didn't find anything wrong structurally with his prized arm, but decided to err on the side of caution when they sent him to the DL. He's expected to come off the list some time this week.