Short-handed Aztecs dominate Rams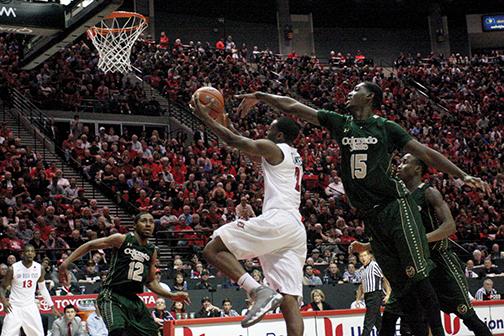 After a full week of rest, the Associated Press No. 5 San Diego State Aztecs dominated the Colorado State University Rams 65-56. With the win, the Aztecs extended their winning streak to 18 games and improved their record to 19-1. If that wasn't enough, the Aztecs have now begun the Mountain West season 8-0 for the first time in the program's 93-year history. The game also marked Steve Fisher's 300th win as SDSU head coach.
The team huddled around Fisher in the locker room after the final buzzer and gave him the game ball to commemorate the victory.
[quote]"He tried not to smile," junior guard Aqeel Quinn said, laughing with his teammates.[/quote]
The Aztecs started the game slowly, not scoring until 17:25 remained in the first half. Though, after senior guard Xavier Thames made two free throws, SDSU put together a 29-8 run until 3:35 remained in the half.
Sophomore forward Winston Shepard helped lead the team offensively and scored nine points during the stretch, including a tough and-one to put the Aztecs ahead 5-2. Freshman guard Dakarai Allen also notched six points and grabbed three boards off the bench.
CSU, 12-10 overall and 3-6 in the MWC, played tough with the Aztecs in the second half, and even narrowed SDSU's lead to single digits for most of the last few minutes of the game. Redshirt junior guard Jon Octeus played all 40 minutes and led the Rams with 24 points on 36.2 percent shooting.
[quote]"When we got 19 ahead, none of the coaches thought the game was over, nor did Larry Eustachy or his players and people make runs," Fisher said.[/quote]
As like they have all year, the Aztecs won primarily with defense. They held the Rams to 56 points—19 points below their season average. They forced 10 turnovers and scored 17 points off those turnovers. Junior forward J.J. O'Brien only scored one point, but grabbed 10 boards and led the defense. He defended CSU redshirt junior forward J.J. Avila. Avila averages 18 points per game on 48.4 percent shooting; O'Brien held him to 9 points on 23.5 percent shooting.
[quote]"He did a great job defensively today and rebounding," Thames said after the game. "You don't need to see what's on the stat sheet, but if you go back you'll see all the small things J.J. does for the team."[/quote]
SDSU's victory is even more impressive considering it was missing two key players: senior forward Josh Davis and junior forward Dwayne Polee II. Davis suffered a bone bruise on his knee on Monday and Polee has been fighting an illness all week. Several Aztecs, such as Quinn, Shepard and junior forward James Johnson stepped up in a big way to fill the void left by Davis and Polee.
"We're a pretty good team and we have good players," Shepard said. "This isn't a one-man show; Coach always reminds us that 'opportunities are seldom labeled.'"
Rejoice, SDSU fans. It appears you'll be able to watch Fisher coach the Aztecs for a long time.
"I might go after 400 before I get out of here," Fisher said. "I feel good and when I get teams like this, it makes it fun."
SDSU travels to Boise State University next to face the Broncos this Wednesday at 7:15 p.m. Fans can watch that game on CBS Sports Network or listen on The Mighty 1090 AM.
Photo by Jordan Owen, Senior Staff Photographer.

About the Writer Matthew Bain, Managing Editor
Matthew Bain is the managing editor for The Daily Aztec. He's a senior journalism major with the Honors minor in interdisciplinary studies. His work...