Complete Student Union opening projected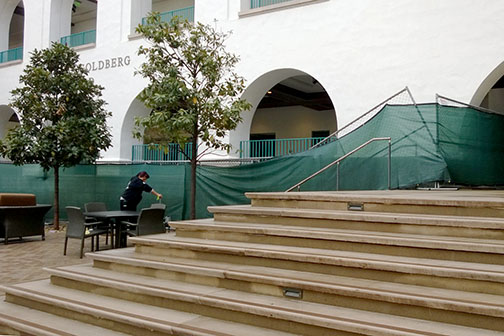 by Jaclyn Palumbo
February 14, 2014
Hang on for a minute...we're trying to find some more stories you might like.
The beginning of the spring semester marked the partial opening of the Conrad Prebys Aztec Student Union. With the grand opening and ribbon-cutting ceremony of the Student Union planned for Mar. 3-8, parts of the facility became available for immediate use.
On Feb. 5, a $20 million donation to San Diego State by philanthropist Conrad Prebys was announced and the Union's name was expanded in his honor.
"Like any business building that opens, we usually open it and run it to see how everything goes," Associated Students Vice President of External Affairs Javier Gomez said. "It is good to be able to experiment with the lighting and electrical before the grand opening. With the exception of some of the businesses, everything else in the Union is open and operating and fully functional."
Some of the amenities in the Student Union were already open for use upon the beginning of the spring semester. The Aztec Recreation Center Express gym and Aztec Lanes bowling alley were among the first parts to open.
The ARC Express includes treadmills, ellipticals and a cardio center. The location was closer to central campus and the residence halls than the full-sized ARC.
Aztec Lanes features bowling 12 lanes, five billiard tables, two table tennis tables, and a game lounge.
Along with the opening of the gym and the bowling alley, walkways were no longer obstructed with construction equipment.
"Now I can walk across the bridge and get to class quickly or sit at the Student Union and study," biology sophomore Marie Contasti said. "I think it helps the students a lot with everything they have available here and the new places that are opening up."
Though signs were already in place, the Union's new dining facilities had yet to open. On the first level of the union, Starbucks, the Aztec Market, and Shakesmart within the market opened on Tuesday, R.D. Williams, director of business development and contract housing for Aztec Shops said.
"The main reason why those locations are opening at different times is the degree of complexity of their design and construction," Williams said
The Habit Burger Grill and Chipotle, also on the first level, are estimated to be in service around the time of the grand opening of the entire facility in early March.
As of early February, opening dates of Oggi's Pizza Express and California Coast Credit Union were yet to be determined.
Since Starbucks and the Aztec Market were owned and operated through Aztec Shops Inc., SDSU was able to begin construction and design of those facilities before The Habit, Chipotle and Oggi's, which became available through third-party vendors.
"With the exception of Oggi's, which is currently scheduled to open in April, we hope that all the other locations will be open for business in time for the Grand Dedication in March," Williams said.
Photo by Jimmy Thibault, staff photographer