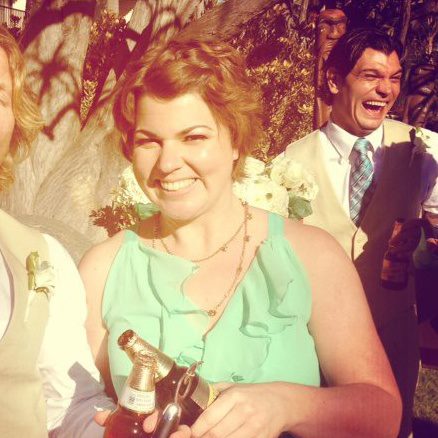 I was one of those kids who couldn't wait to go to college. Forget homesickness or missing high school friends – I was ready to pack my bags the day I graduated. In fact, I was so confident San Diego State was the school for me I hadn't even seen or set foot on the campus when I sent in my acceptance letter. I knew it had everything my ambitious 18-year-old self could dream of; a large student body, a great journalism program, and you could take surfing for school credit. I was sold and couldn't wait for the end of August so my real life could begin.
I'll never forget rolling up to the Maya dorms that summer of 2002. My roommate had already moved in and we instantly bonded over our love of the beach, Sublime, and SoCal boys. My floor was all girls and we soon formed our own sort of sorority, creating friendships that still hold strong today.
I quickly joined the staff of The Daily Aztec, and knew I had found my 'people.' I fell in love with the hustle and bustle of the newsroom and spent the next four years reporting on everything from retiring professors to Ashton Kutcher rom-coms. Nothing beats the thrill of seeing your byline printed under your article for the first time and I couldn't wait to pick up the latest edition every morning on my way to class. Plus, the clips I accumulated helped me land more than one job after I graduated.
My first job right out of school was for an entertainment news wire called Wireless Flash News. Not to date myself, but this was before celebrities gave all their business away on Twitter and we actually had to track them down for stories. I had gotten an internship with the company when I met one of the writers in an elevator on assignment for The Aztec. Danny Boyle, the future Academy Award-winning director of "Slumdog Millionaire,"was in town promoting a movie and I quickly signed up for the task. The Flash reporter was impressed with my skills and gave me her card. I followed up the next day and landed the internship that would change my life.
At the Flash I was thrown into a fun and extremely fast-paced world. I was writing 4-5 stories a day and interviewing everyone from Jon Voight to John Stossel. At only 22 years old I was on the red carpet covering the Screen Actor Guild awards and getting invited to a private party at Eddie Van Halen's house. I was living the dream and it was all because I took a chance and followed up on a business card.
I eventually left the Flash and moved to Los Angeles where being an Aztec also came in handy. I got a job as a staff writer for iconic tween magazines, Tiger Beat and BOP, and worked alongside two other former alumni during my three and a half years at the company.
I now live in San Francisco where the San Diego net is still strong. The positive reactions people have when I tell them where I went to school always makes me nostalgic for the place that has a huge piece of my heart.
If you only take one thing away from this essay, I hope it's this. Find your fit – whether it's rushing a fraternity or sorority, joining a sports club, becoming an ARC adventure leader, a campus ambassador, a member of the student council, a reporter at The Aztec – there are so many avenues for you to figure out to see what you're truly passionate about. Not only will you make life-long friends and connections, but you'll instantly be a part of a network of people who want to help you out and see you succeed for the rest of your life.
Enjoy every moment of your SDSU journey. I know it might sound cliché but you'll never get an experience quite like this again.  You're starting an amazing adventure – cultivate it and maximize every opportunity that comes your way.
Before I go, here are a few other things I learned during my time wandering through Montezuma and Hepner Halls: Don't forget your passport when you go to Rosarito, take a class that has nothing to do with your major, don't friend request a one night hook-up, take a road trip through Baja, eat a Godfather sub at 4.0 Deli, order Woodstock's pizza at midnight, take advantage of the ARC (trust me, you'll never come across a cheaper gym membership again in your life), kiss a few frogs, say yes to something completely out of your comfort zone, work hard but remember to take a minute to have fun.
Be in the moment and I guarantee you'll have the time of your life.
Maggie is a former Tiger Beat senior staff writer who used to rock out with the Jonas Brothers and Justin Bieber in sunny Los Angeles before she decided to relocate to foggy and fabulous San Francisco. After graduating from San Diego State in 2006, she landed a job with Flash News, a wire service which provided pop culture news stories to more than 800 media outlets worldwide. She now calls the San Francisco Bay Area home and she has worked for a variety of companies including Plum District, Tiny Prints, and BabyCenter. Her work has appeared in numerous publications and two of her essays were recently featured in the book, U Chic's Diploma Diaries: The Chic Grad's Guide to Work, Love, and Everything in Between. She is currently working on a young adult novel based on her time in Los Angeles.