School-wide holiday to be held for March Madness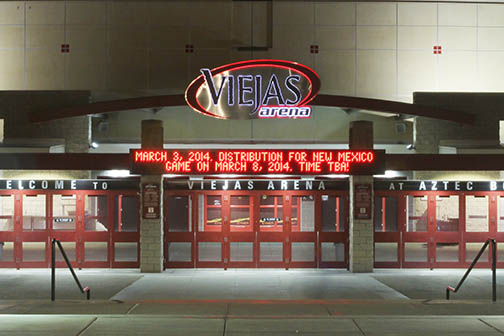 Hang on for a minute...we're trying to find some more stories you might like.
San Diego State will observe Friday, March 21 as a holiday on behalf of the NCAA March Madness tournament. There will not be classes, but campus will remain open. The University Senate approved the decision on Feb. 5.
SDSU will be hosting the second and third rounds of the tournament at Viejas Arena. Three tournament games will be played on March 21 at 12 p.m. and at 6 p.m. and the third has yet to be determined. There will be another game on March 23 at 12 p.m.
Tickets can be purchased on the NCAA website through Ticketmaster. Because the NCAA is operating all ticketing, SDSU students will not receive discounted prices. Ticket prices currently range from $240 to $600.
According to SDSU's Chief Communications Officer Greg Block, SDSU bid in 2012 to host the tournament for 2014. When choosing a city, the NCAA looks at several factors in the bid, including hotel quality and rates, air service to the city, attendance potential and projected budget. The NCAA will reimburse the approved budget cost submitted in the bid process.
"Hosting the NCAA Tournament games is great for not just San Diego State University, but for San Diego as well," Block said. "You couldn't buy the exposure those four days during one of the most watched sporting events of the year gives to our school, our campus and our arena. And, the fans of the eight teams playing here will spend several days in the region's hotels, at our restaurants, at our local attractions, and exploring our campus."
The Aztecs will not play at Viejas Arena, regardless of whether or not they qualify. The NCAA does not allow qualified teams to play on their home courts.
Despite this downfall, SDSU's Associate Athletic Director, Steve Schnall said the department is excited to host the tournament.
"March Madness is a great way to showcase our university on a national level," Schnall said.
The Dean's Office at the Division of Undergraduate Studies construct the academic calendar along with several other offices on campus, including Payroll and Compensation, Student Affairs, Office of Housing Administration, Student Disability Services and the Registrar. They found March 21 to be appealing because most students don't have Friday classes.
"Given the national attention our campus receives and the influx on campus of many out-of-town folks, I think it makes sense to cancel classes on a day when students have the fewest classes," Dean of Undergraduate Studies Geoffrey Chase said.
Photo by Jordan Owen, Senior Staff Photographer