A solid start to a new online comedy show
You've probably seen the posters around campus for "The State Report," featuring lead anchors Craig Horlbeck and Sam Skolnik, who describe themselves as "okay-looking." Like most on-campus postings, you probably haven't paid it much attention, but you should.
"The State Report" is an Associated Students San Diego State collaboration featuring comedy news that's entirely written, produced and shot by SDSU students. In addition to Horlbeck and Skolnik, the on-air team includes sports anchors Scott Granlund and Classic Tobin, as well as intern Blake Fisher.
The first episode was released on Jan. 31 and covered topics such as the SDSU vs. University of Nevada, Las Vegas basketball game, the opening of the Conrad Prebys Aztec Student Union and New Year's resolutions. One notable segment features Granlund and Tobin outside Viejas Arena asking passerbys, "What would you rank the SDSU basketball team in cuteness?" Responses varied, but it's clear the team is highly ranked by fans in both athletics and looks.
Fisher's tour of the student union is probably my favorite part of the seven-minute segment. The "exclusive look" at the student union finds the newbie intern running around and showing viewers the Aztec Lanes, Aztec Recreation Center Express and more. At one point, he stops at the northern area overlooking campus, pauses and whispers, "It's majestic."
"The State Report" admittedly has room for improvement, but it's off to a solid start. The humor is clean-cut and approachable, but there could even be funnier if it ventured into more biting territory, similar to "The Onion" news. Additionally, adding at least one female anchor would likely draw more viewers in.
Stylistically, the pilot looks and sounds great, and the anchor portions are reminiscent of "Weekend Update" on "Saturday Night Live."
Despite its flaws, the first episode is very promising and episode two is now on YouTube. As it progresses and continues to define itself, there's no doubt that "The State Report" will be one show you won't want to miss.
Also read: HBO 'Girls' divides a generation
About the Writer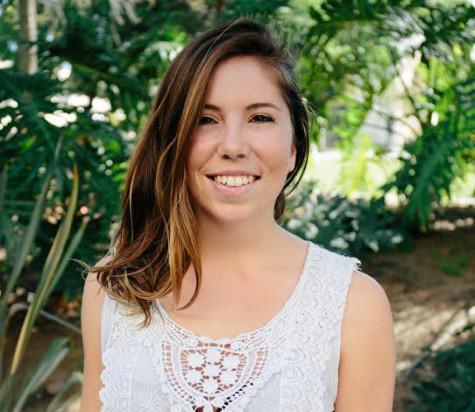 Jamie Ballard, Managing Editor
Jamie Ballard is the managing editor of The Daily Aztec for 2016-17. She has been a member of The Daily Aztec since 2013, first as a staff writer and then...