Disability empowers student to ride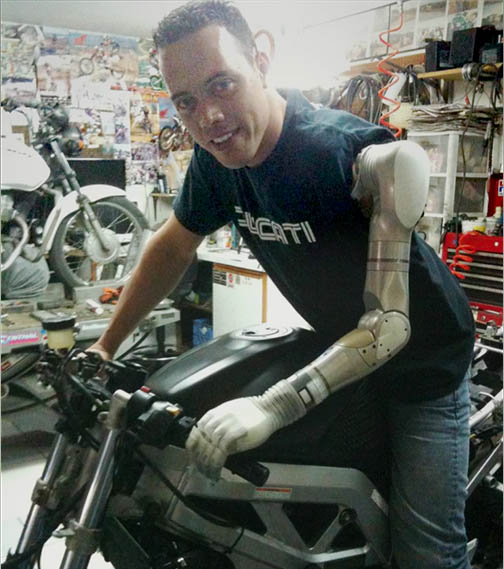 by J.D. Hodges
February 23, 2014
There's a saying among people who ride motorcycles that there are two types of bikers: those who have laid down, or destroyed, their bike, and those who will  Some bikers decide to permanently hang up their riding leathers and boots after the first crash, especially if it's serious, and understandably so.
Despite losing an arm after a traumatic wreck, international business junior Ryan Szielenski is a biker who crashed his bike but still rides with passion.
The accident
Szielenski was involved in an accident in 2003 on his motorcycle and suffered Brachial Plexus Nerve Avulsion as a result. BPNA occurs when nerves that connect the arm and shoulder muscles to the spinal column are torn apart causing severe weakness or paralysis in the arm.  Szielenski explains BPNA simply as, "My brain stopped talking to my arm."
After dealing with his arm being paralyzed for years and not being able to ride, Szielenski decided he should have his arm surgically removed.  Szielenski made his decision after thoughtful consideration following a trip to Colombia to spend time with family and friends.
"Having an arm that doesn't work is more of a pain than not having one," Szielenski said.
In 2007, exactly four years after his wreck, he surgically had his arm removed.
 Regaining confidence
After the amputation of his arm, Szielenski became involved with the Challenged Athletes Foundation.  CAF helps people with disabilities pursue an active lifestyle.
"They have a half Ironman at La Jolla Cove that I did, and after that they wanted me to go to San Francisco and do the Alcatraz challenge," Szielenski said.
Participants in the Ironman half-triathlon swim 1.2 miles, bike 56 miles and run 13.1 miles.  In the Alcatraz challenge, participants swim 1.5 miles, bike 18 miles and run 8 miles.
"After making the decision to have my arm amputated and being successful in triathlons, it gave me the confidence to go back to college," Szielenski said.
He also decided to ride again. To continue to ride with only one arm, modifications had to be made to his bike.  On a motorcycle the rider engages the clutch on the left handlebar, the front brake and gas on the right handlebar, the rear brake with their right foot, and shifts gears with their left foot.  Szielenski moved his clutch lever to the right side with the front brake so he is now manipulating three controls with his right hand: gas, clutch and front brake.
Szielenski said he has no plans to slow down in the future.  He has more plans involving motorcycles and endurance events.
"I'm opening a motorcycle school in Tijuana called Escuela de Motociclismo Tijuana," Szielenski said. "Giving people the tools to ride motorcycles correctly needs to be done."
Szielenski is also interested in getting into bodybuilding and doing more events with CAF.
"I'm going to go to Colombia this summer and do a triathlon, and I'd like to do a full Ironman triathlon one day," Szielenski said.
The "Luke" arm
After completing the Ironman half-triathlon and the Alcatraz, CAF contacted Szielenski about the "Luke" arm. The arm is a new prosthetic developed for amputees by DEKA, a research and development firm in New Hampshire. Since the initial tip-off, Szielenski has been to New Hampshire multiple times to test the arm.
According to Szielenski, the "Luke" arm is still waiting to be approved by the U.S. Food and Drug Administration. Szielenski hopes to one day have a prosthetic arm of his own like the ones he helped test.
"It's amazing when something negative occurs in a person's life, and that's precisely what ends up making them successful," Szielenski said.
Photos courtesy of Ryan Szielenski.
Update: The sentence "There's a saying…" was edited for clarity and proper attribution. The figures for the Alcatraz Challenge were corrected. The Aztec apologizes for this mistake.