Student Success Fee protest ends in president's office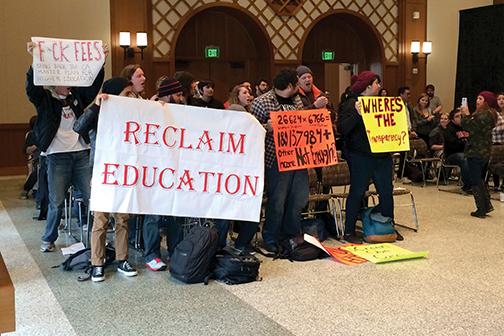 by Jaclyn Palumbo
March 3, 2014
Hang on for a minute...we're trying to find some more stories you might like.
"I didn't eat dinner last night because I was worried about my younger brother feeding himself before I did. If I can't afford to eat, I can't afford the fee," Mirna Cruz said in an open comment section of a Campus Fee Advisory Committee meeting held to discuss the proposed Student Success Fee. "You wonder why students weren't at the forum? Maybe it's because they had to work a second job because they're worried about bringing food to the table."
Cruz, a social work and Spanish senior, voiced her concerns along with the nearly 100 sign-wielding protesters who crammed into Montezuma Hall to rally against the fee increase while CFAC held its monthly meeting.
Protesters included representatives from MeChA, the Muslim Student Association, Students for Justice in Palestine, the Queer Student Union and the Student Union for Representation and Justice.
Prior to the vote on the fee increase recommendation, a 30-minute open comment session was held, opening the floor for all attendees to speak for one minute each.
Nearly 30 San Diego State students, faculty and alumni made statements during the allotted time.
"I am a low-income student and it hurts me a lot," biology and political science senior Wendy Herrera said. "I simply cannot afford it and I cannot take out more loans and put myself more in debt to get my diploma."
Students expressed their discontent with the forums and some openly criticized the methodology.
"I found that the forums were very one-sided and even if you did speak your mind, it was kind of shut down," sociology and Chicano and Chicana studies senior Fernando Perez said. "Everybody seemed to be in favor of the success fee at the forums and there was no other side as to what the negatives were."
Two faculty members attended the forum, including Department of Chicana and Chicano Studies Professor Isidro Ortiz.
"I spoke up at the hearing because as a member of the faculty, I think it's important that university processes have legitimacy and credibility and that faculty be respected," Ortiz said. "I'm very much concerned about the process; I don't believe that it had integrity."
As an adviser to MeCHA and ACHA, Ortiz works closely with students that will be affected by the fee hike.
"I think the fee proposal is insensitive to the reality that students face, and it's not just students here, but students throughout the whole (California State University) system," Ortiz said.
Crunching the numbers
CFAC took into account feedback from 39 public open forums held from Feb. 3 through Feb. 21.
Although the alternative consultation process didn't involve a traditional voting process to decide the fee, student feedback was considered through feedback forms available at the forums. CFAC allowed student organizations to host the forums in an effort to increase participation.
According to CFAC, 1,251 people attended forums during the three-week period. Of those, 1,015 students, or 3.5 percent of SDSU's enrolled students, filled out a feedback form.
Of the students that provided feedback at the forums, 36 percent were in favor of no increase, according to CFAC.
Additionally, CFAC reported that 13 percent of students were in favor a $500 fee increase, 9 percent were in favor of a $400 fee increase, 16 percent were in favor of a $300 fee increase and 26 percent were in favor of a $200 increase.
"The way the fee was decided was based on direct student feedback," CFAC member and Associate Vice President for Academic Affairs Kathy LaMaster said. "Sixty-four percent of the students that came to a forum supported a fee at some level, so the committee supported it at the $200 level."
According to the CFAC agenda, effort was put forth to ensure that all students were aware of the open forums.
A mass email was sent out to all students by CFAC Chair and Associated Students President Josh Morse. Notices were posted on Blackboard, WebPortal, NewsCenter, and The Aztec both prior to and throughout the open forum period.
Students were also encouraged to attend with a brief classroom announcement in approximately 65 classrooms.
According to the CFAC agenda, an email contact and a website were set up for comments and questions about the forums. An informational video was created, posted to Blackboard and WebPortal and viewed 1,576 times from the time it was posted until the last forum on Feb. 21.
CFAC decides on a recommendation
Throughout the meeting, students shouted phrases such as "no fees" and "this process is illegitimate."
Morse struggled to maintain order as the increasingly angry protesters overwhelmed conversation between CFAC members.
After a quick recess, CFAC unanimously voted to recommend a $200 fee increase for President Elliot Hirshman's consideration, much to the dismay of the protesters who met the decision with a cacophony of boos and insults.
Communication breakdown
With the vote complete, protesters marched to the president's office through heavy rainfall, chanting against the proposed fee increase.
The protesters gathered in the lobby, demanding to see the president immediately.
As the staff present in the office attempted to calm the crowd, an alarm went off within the building and some of the protesters began to leave in fear of being arrested.
A majority of the group stayed in the office, intent on speaking directly with Hirshman.
Associate Vice President for Campus Life Timothy Quinnan, Chief Diversity Officer Aaron Bruce and SDSU Police Department Lt. Mike O'Dean worked to keep the protesters civil as they waited for word on whether or not Hirshman was going to address the crowd.
"It's perfectly OK that the students are upset," O'Dean said. "Our goal is to make sure it's done legally."
When Quinnan informed the protesters that Hirshman was not on campus, the group decided they would continue the protest in the president's office on Monday.
Steve Allison, a recent alumnus of SDSU's geography program and protest supporter said it was sad that students and the administration could not work together to solve the issue, though he remained optimistic about the university's future.
"I think that the fact that students are organized and protesting is a sign of a healthy university," Allison said as he waited with the protesters in the president's office.
Assistant News Editor Luke Henning and Staff Writer Michelle Monroy also contributed to this story. 
Photo by Michelle Monroy, staff writer