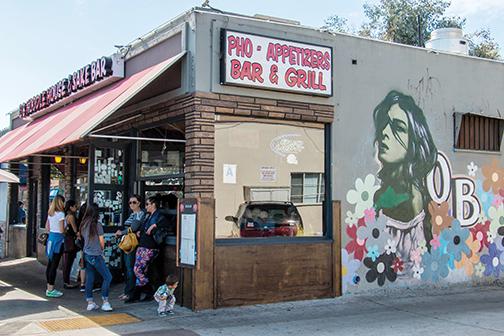 On the 2200 block of Cable St. in Ocean Beach is OB Noodle House. Don't let the size of this hole-in-the-wall Asian restaurant fool you. It may be small in square feet, but it's big in flavor—so big that Guy Fieri visited the place on an episode of "Diners, Drive-Ins and Dives."
OB Noodle House has been serving up some of the best Asian cuisine in town for the past six years. The menu features a wide range of eastern food including fried rice, chicken wings, noodles and most importantly pho, the commonly mispronounced noodle soup. Its extensive menu offers 19 different versions of the hot soup. Steak, chicken, tofu, vegetables and seafood are all options that are served in a warm broth made in-house everyday. The soup is ready and in front of you just minutes after ordering, making for a pho-nomenally quick meal.
For those who have a little bit more time to eat, OB Noodle House has a food challenge that will put diners in a food coma. The "Pho 20 Challenge" is more than 2 pounds of ingredients, not including the broth. Challengers must finish a bowl of pho with 1 pound of steak, 1.5 pounds of noodles and a pint of Stone beer in just 42 minutes to reign supreme. The challenge is commonly attempted, but rarely completed.
"A lot of people have tried—more than 300," Manager Farrah Yeng said. "But few have succeeded."
Challengers who persevere through the deep dish earn a place on the wall of fame inside the restaurant.
OB Noodle House pairs its flavorful food with a wide selection of beer and spirits. Local breweries such as Ballast Point, Stone Brewing Co. and Societe Brewing Co. make up part of its more than 40 beers on tap. Since San Diego is home to such a large micro-brew consuming population, the beer selection at this noodle joint is always changing. It's never consistent, Yeng said. Some beers will run out within a few days of tapping them.
The rapid expulsion of beer could be credited to the bargain happy hour specials OB Noodle House offers. Every day one select beer is offered for $1 a pint until 5 p.m. The entire beer selection's prices are also cut in half 3-6 p.m. daily.
Overall everything is moderately priced, which is perfect for foodies looking for a quality meal on a reasonable budget. So customers can become connoisseurs and afford a little something from OB Noodle House.
Photos by Staff Photographer Megan Wood